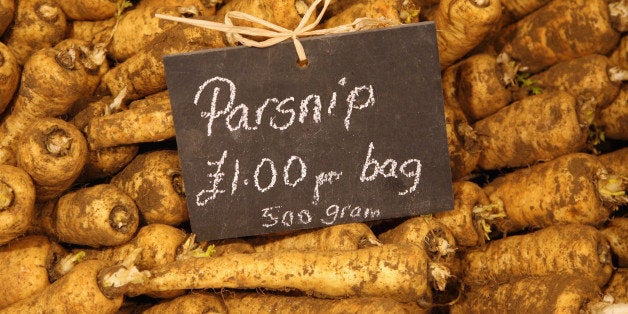 The parsnip is a taproot in the carrot family. A poisonous cousin grows wild in Eurasia, but the sweet parsnip we know is a Mediterranean vegetable that was familiar to the Greeks and Romans. Parsnips were an important staple all over Europe before that conquering starch, the potato, arrived from the New World. Sadly, the colonists did not eat the parsnip with the same enthusiasm, and it is still under-appreciated in America, although in Jamestown, in the early seventeenth century, the settlers made a wedding cake with parsnip flour.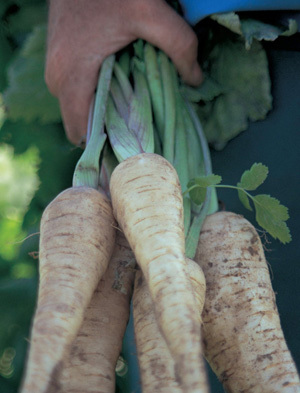 Parsnips are first dug in late September, then stored in root cellars. They can also be left in the ground, where they keep well until February or March. They are sweeter after a light frost, which converts some of the starch to sugar.
A tender parsnip is two to three inches across. Large roots have a tough core and woody texture. Tender and True, a Victorian variety with a long root, and White Gem, a shorter one, have the best flavor. Parsnips are rich in potassium, folic acid, and vitamin B6.
Do not peel parsnips. The skin is thin, and positively delicious when roasted. Try not to boil them either, unless you are making purée or glazed parsnips. They get soggy in water. They are better roasted or sautéed, which removes water and concentrates the sugars. Sautéing takes patience, and the parsnips must be cut into small pieces. Parsnips are good glazed. Put them in a wide, shallow pan with butter, honey, salt and just enough water to cover them -- or apple juice, if you have a sweet tooth. Cover the pan and bring it to the boil, then remove the lid and reduce until the liquid is dark and thick.
Parsnips go well with nutmeg, cream, Jerusalem artichokes and leeks.
As with all vegetables, the trick to perfect doneness lies in cutting the parsnips into even pieces. My method: Cut the root in thirds cross-wise, so you have a thin, medium and thick piece. Set each piece on its end, like a stump, and cut downward, in sticks of equal thickness. You will get more sticks from the thick piece, and just a couple from the thin end, but they will all be the same size.
Dug in late September, early October. From storage (or the ground) until March.
Firm, heavy for their size. An old parsnip is light and spongy. Uneven skin is fine, but avoid spots of rot.
In the fridge or as cool as 32°F for several weeks. Or let the farmer store them!
MAKING THE MOST OF A SURPLUS:
Purée is convenient and freezes well.
STEWED SHOULDER OF LAMB WITH PARSNIPS AND PEARS:
The shoulder is the sweetest cut. Here it is stewed until it is falling off the bone with sweet flavors: pink peppercorns, parsnips, and pears. Fresh bay leaves right off the plant are more pungent than dried.
1 shoulder of lamb, about 4 lbs
6 tbsp olive oil for braising
4 large leeks, trimmed, washed and sliced
4 fresh bay leaves
1 tbsp pink peppercorns, crushed
1 cup rosé
1 cup lamb or vegetable stock
2 cups parsnips
2 firm pears, such as Concord
Heat half of the olive oil in a large, heavy saucepan with a tight lid. Brown the lamb well, about 5-7 minutes on each side. Do not let the oil smoke or the meat burn.
Remove the lamb from the pan, discard the fat, wipe the pan, then heat the remaining olive oil gently.
Add the leeks, bay leaves and pink peppercorns. When the leeks begin to soften, add the wine and stock.
Set the lamb on top of the leeks, baste and cover. Cook for at least 3 and probably 4 hours on the lowest heat, until the meat is very tender. If the lid is not tight-fitting, weigh it down. Baste once or twice during the cooking time but don't leave the lid off: the lamb is partly poaching, partly steaming. A low oven or slow-cooker also works well.
About an hour before the lamb is finished, wash and cut the parsnips and pears in bite-sized pieces. Do not peel.
Add parsnips and pears, turn the meat, and cook until parsnips are soft.
Check for salt and add more pink pepper to taste.
Carve the lamb, and serve it with a few spoonfuls of vegetables and some stock, in a bowl on its own or over rice.
This is even tastier the next day. After seasoning, store it in a cool pantry or the fridge. Lamb is rich: when the fat has risen and congealed, lift it out and discard it. Reheat and serve.
SMOKED HADDOCK AND PARSNIP FISHCAKES:
If you do not use smoked fish, add 1 tsp anchovy essence or fish sauce before forming the cakes. Or salt to taste.
2 cups parsnips, peeled and chopped
2 tbsp butter
1 lb un-dyed smoked haddock
1½ cup milk
1 tsp turmeric
1-2 eggs
2 tbsp chives, chopped
mixture of flour and fine polenta for dusting
vegetable or light olive oil for frying
Aïoli to garnish (see Basic Recipes)
Boil the parsnips in salted water. Drain and mash lightly, mixing in the butter.
Heat the haddock in the milk and turmeric until simmering point, then remove from heat and drain. Remove the skin and flake the fish.
Beat 1 egg and mix it with the fish, chives, and plenty of fresh black pepper.
Gently mix the parsnips and fish. Flour your hands and form cakes about 1 inch thick and 2-3 inches across. They can be refrigerated for several hours.
If the fishcakes are moist, pat them on all sides with the flour and polenta. If they are dry, brush them with the second beaten egg, and then dust them with the flour and polenta.
Heat enough oil in a heavy pan to brown the fishcakes half-way up each side. Fry each side for 3-4 minutes, until crisp. Drain on kitchen paper and serve hot with Aïoli.
Variation: Mix 1 tsp each of ground cayenne and turmeric into the flour and polenta mixture.
ROASTED PARSNIPS WITH HONEY:
Roasted vegetables are easy and delectable. Try any simple combination of carrots, parsnips, rutabaga, beets, potatoes, or winter squash, cut into cubes or fat matchsticks, with a fresh herb.
1 lb parsnips (about 3 large), cut as described in the parsnips introduction
2 shallots, finely chopped
2 tsp olive oil
freshly grated nutmeg
1 tsp honey
Mix the parsnips and shallots together with the olive oil in a baking tin. Sprinkle some salt and grate fresh nutmeg over them.
Spread them evenly in not more than two layers and bake until the edges are brown and they begin to stick, about 10 minutes. Set the timer, or you may burn them.
Shake the pan, stir in the honey, reduce the heat to 350°F, and cook until tender, about 15-20 minutes. Shake the pan occasionally to prevent sticking.
1½ lbs parsnips, chopped
½ lb potatoes, peeled and chopped
1 large yellow onion, chopped
½ tsp salt
1 sprig rosemary, leaves chopped roughly
2 bay leaves
2 tsp olive oil
Put all the ingredients except the oil into a saucepan with some water, bring it to a boil and cook until vegetables are soft. Drain, reserving a little water.
Purée with the oil, thinning to taste with the reserved cooking water. Season with salt and pepper.
Variations: Cook a Bramley apple, peeled and quartered, with the parsnips and potatoes.