In Part and Parcel, I talk with writers and artists about a fascinating facet of their work.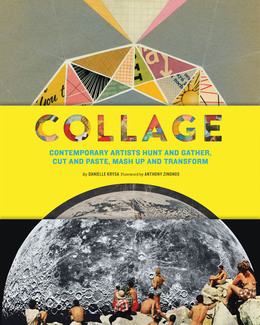 Recently, I watched a documentary about Steve Sabol, the irrepressibly creative president and co-founder of NFL films; I loved learning that he was also a mixed media artist. Speaking about his vision for film-making and storytelling, Sabol shared this quote from Cézanne: "All art is selected detail." I kept thinking of this phrase while enjoying the gorgeous, bizarre and intriguing pieces in Danielle Krysa's Collage: Contemporary Artists Hunt and Gather, Cut and Paste, Mash Up and Transform (published by Chronicle Books). In the book, Krysa showcases the work of thirty contemporary collage artists; additionally, she challenged each of them to create a new work starting with the same image.
Krysa is an accomplished selector of detail, in both her own artwork and her efforts to champion other artists. She runs The Jealous Curator, an art site in which she highlights art that makes her feel envy and admiration. Krysa's joy in making and sharing art is evident in Collage -- the pieces in this book are playful, inventive, and utterly inspiring.
NOTE: My questions appear in bold. Scroll down to see images from the book, including the original image that artists were provided with. All images come from Collage by Danielle Krysa, published by Chronicle Books, 2014.
Q: In the introduction to Collage, you say that "it's the treasure hunt -- the finding and sorting and selecting of images -- that is for many the most rewarding part of the process. Nothing makes a collagist happier than digging through a box of images or a stack of books until we uncover that perfect image -- the kind of image that stops the heart, just for a second, because of the amazing creative potential it holds." What strikes me about these lines is how you expose not only the charge that the artist feels while creating, but also that flutter, that ache that we can feel in looking at someone else's art. Your work as The Jealous Curator seems similarly driven by the idea that viewing art feels like a treasure hunt.

What commonalities exist in the art that moves you? And as an artist, what aspects of your own work cause you to feel this charge? Creatively-speaking, what is it that you feel you are hunting?
A: Those are amazing questions! Yes, searching for work to feature on The Jealous Curator feels like an exciting treasure hunt, too. Sometimes I actually gasp out loud when I find pieces that I love! I suppose the art that moves me most is work that I wish I had made, i.e., work that uses similar images or techniques to my own. If I go back through the close to 2000 posts that I've written, the commonalities tend to involve portraits, muted palettes with pops of bright color, found images... oh, and I have a major soft spot for work that incorporates thread in some way. I also love work that has a wink to it... a bit of an edge, or a touch of humor that is just so clever you have no choice but to admire it.
When I'm creating my own art, I absolutely love feeling that heart-racing charge! It's a combination of things that can lead to a perfect day in the studio for me. It usually involves old books filled with pages and pages of slightly bizarre images (in those moments I literally cannot wait to get my hands on a pair of scissors), and I'm never happier when the embroidery that I'm totally winging actually works. On a day like that, everyone in my house should fully expect to order take-out for dinner because I'm not coming out of the studio until 3 a.m.!
What am I hunting creatively? Such an interesting question that is coming at a very interesting time for me. I think I've been searching for where I belong in the art world. As a curator? Yes, absolutely. As an art writer? Totally. As an artist? Hm, I don't know. I used to be a painter, but after a terrible critique in my last year of University (in which my painting prof said "You should never paint again"), I quit painting altogether, and proceeded to completely second guess every piece of art that I've made over the last 19 years. As far as collage goes, I've always loved it so much, but because I enjoy it, I feel like maybe it doesn't count as "real art"... isn't that the most ridiculous thing you've ever heard? Doing the book tour for Creative Block, and now Collage has been the most artistically healing thing I've ever done. I have finally realized that I am an artist. I am a collage artist. And it counts.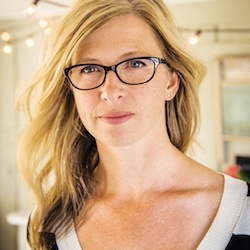 Danielle Krysa has a BFA in Fine Arts, and a post-grad in graphic design. She is the writer/curator behind the contemporary art site, The Jealous Curator. Along with writing a daily post on her own site, Danielle has also written guest posts for West Elm, Style by Emily Henderson, Etsy, and many other blogs. She is a regular contributor to SFGirlByBay.com, and has written articles for Frankie Magazine, and Anthology Magazine. In February of 2014, Danielle's first book, CREATIVE BLOCK, was released by Chronicle Books. Her second book, titled COLLAGE, is now available.
Related
Popular in the Community