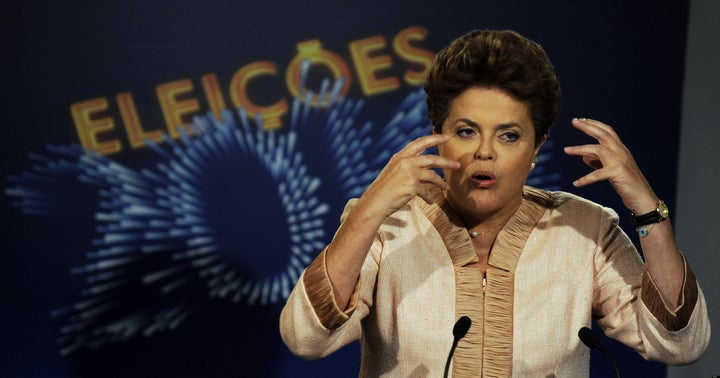 The following is the third part in a five part article series. To read part I, click here. To read part II, click here.
Eager to showcase not only Brazil's presidential debate but the election itself, my hosts shuttled our entourage from Rio to the capital of Brasilia. A modern and sprawling city which sports imposing government monuments reminiscent of the Washington Mall, Brasilia is also home to the nation's Upper Electoral Court overseeing the nation's presidential election.
Once again, I was taken aback by our hosts' largesse: three star lodging at a local hotel; a musical outing to see a jazz fusion concert and a tour of iconoclastic buildings designed by acclaimed architect Oscar Niemeyer. At one point, our group was taken to a bountiful restaurant where young waiters dressed in colorful cowboy outfits hurtled to and fro. A vegetarian, I was startled by the huge skewers of barbecued meat brought to our table. On another occasion, we had lunch in a banquet hall that must have housed a thousand people.
Proud of their local attractions as well as Brazil's governing institutions, the organizers brought us to the Upper Electoral Court which was abuzz with cameras and media activity. At the court, we were plied with booklets dealing with Brazil's electoral system and even supplied with fancy leather briefcases containing a CD-ROM explaining various technicalities pertaining to the vote. As the first presidential round unfolded, our team was given access to ongoing press updates in a central briefing room. This was the sixth Brazilian presidential election held since the return of democratic rule, and the country hopes to close the chapter on its turbulent past at long last.
Judging from what I saw in Brasilia, these hopes are not unfounded. Brazil is a vast country and some polling stations lie in remote areas like the Amazon. Despite this, the authorities were able to tabulate the vote expeditiously. Not only that, but Brazil has made significant technological strides. According to the Economist, the country has the most advanced electronic voting system in the world. The compact machines were introduced not only to simplify voting but also to cut down on corruption and end the practice of stuffing ballot boxes. Brazil is also leading the charge in innovative biometric technology which it uses to identify voters and thereby cut down on impersonation.
Impressive enough to be sure, though it's difficult to measure people's overall confidence in the system. In Brazil, voting is mandatory for all except the illiterate and people under the age of 18 and over the age of 70. This makes for quite a bustling Election Day and when I visited one polling station in Brasilia I found it difficult to navigate the vast throngs of crowds. As I observed the election unfold, however, I wondered how many people would show up to vote if Brazil did not have a compulsory system. When I posed the question directly to Carlos Eduardo Caputo Bastos, a former minister of the Upper Electoral Court, I received the following response: "no more than 60% of the electorate" [my italics].
There are other signs that Brazilians may not view the political system with as much enthusiasm as government boosters. During the first round, Brazilians elected a real life television clown named Francisco Oliveira Silva (known as "Tiririca") to Congress. During his campaign, Silva had mocked the electoral process, thereby tapping into public cynicism. Like the U.S, Brazilian democracy has been perverted by special interests and big business. Political scientist Nicolau of Rio de Janeiro State University says that corporate influence is a major challenge and many scandals are related to the issue of campaign funding. To consolidate democracy, Nicolau says, Brazil should draft a new campaign financing law.
Personally, I also found some particularities of the election to be rather perverse. At one point, during a tour of the Electoral Court, our guide proudly displayed one of the electronic voting machines. Doing a double take, I noticed the Diebold company logo embossed at the bottom of the machine. Why would Brazil turn to Diebold, whose machines have been criticized as unreliable in the United States, for assistance? When I brought the matter up with Ricardo Lewandowski, the President of the Electoral Court, the latter responded that the company had merely provided casing for the machines. "You shouldn't read anything into that," he said.
There were yet other oddities: as our team toured the Upper Electoral Court, we heard that Lucio Gutiérrez, a former army colonel and president of Ecuador, was serving as an electoral observer in Brasilia. That got my attention, as Ecuador's current president Rafael Correa had only days before accused Gutiérrez and his Patriotic Society Party of playing a role in a police rebellion which took on the flavor of an actual coup d'etat. Gutiérrez has not denied that he wants to see Correa out of power but says he seeks to accomplish this through legitimate means and not through force. When I asked Lewandowski why Brazil would allow Gutiérrez's participation, the official replied that authorities do not discriminate on the basis of ideology or political stripes when selecting observers. Despite these oddities, one would have to say that, on balance, Brazil has made great strides on the political front. Whatever its problems in consolidating its democratic system, Brazil looks a lot better than other countries in the neighborhood. Indeed, since its return to democracy, Brazil has enjoyed a remarkable period of internal peace and stability, there's been no terrorism and the army has been quiet with little threat of a coup. That is no small accomplishment in a region which has witnessed guerrilla insurgencies, lawless militaries, and violent social unrest.
Moving beyond the election, what are the chances that Dilma Rousseff can consolidate the Brazilian political-economic system and turn her country into a veritable world player? Though she will face many domestic challenges, Rousseff has significant support from both the business sector and social movements, which in turn bodes well for ongoing political stability. If Serra had won the first round, however, things might have turned out differently: the head of the Landless Peasant Movement, known in Brazil as the MST, warned that in the event of a Serra win Brazil would see the "complete hegemony of agribusiness. It will be the worst of all worlds. There will be more repression and therefore more tension in the countryside."
To be sure, Brazil faces incredible odds as it seeks to join the more affluent developed nations. A technocrat, Rousseff will continue Lula's development policies and promote greater infrastructure, the latter sorely needed given the lack of basic sanitation, treated water and efficient public transportation in many areas of the country. For Brazil, consolidating such public works has become a political and economic imperative -- there is no way the country can sustain its population growth in light of its grave infrastructure deficiencies.
As if these problems were not enough, Rousseff will also have to address glaring human rights abuses. Even as Brazil seeks to project an image of modernity to the outside world, vigilante justice still remains a fact of life in many areas of the interior. Prisons meanwhile are plagued by torture, overcrowding and violence. Rousseff had better hope that the Brazilian economic boom continues and the poor continue to ascend up the social ladder, as the alternative could be further growth of criminal gangs and drug trafficking in the favelas [a recent report issued by Human Rights Watch, detailing many of these abuses, makes for sobering reading].
Related
Popular in the Community