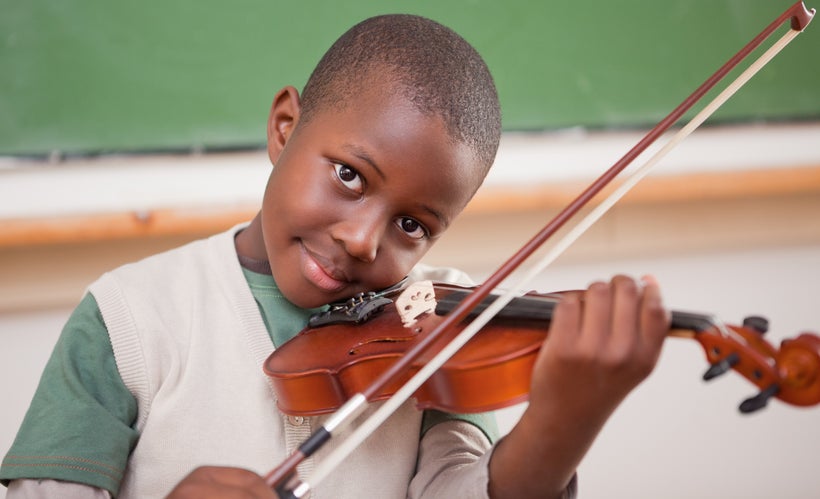 By Victoria Bussert and Jacqueline Pearce
William Christopher Handy states, "Setting my mind on a musical instrument was like falling in love. All the world seemed bright and changed." Anyone can learn to play an instrument like a professional, and once you learn the benefits, you will be inspired to get started.
Victoria Bussert, Director of the Music Theatre Program at Baldwin Wallace, Professor of Theatre, and Freelance Director, shares her experience playing an instrument:
"My Mom was a Music Teacher.  She actually volunteered to teach for free at my elementary school and did so for years until they decided they should start paying her.  She was responsible for every second grader learning how to play recorder (and getting their own instrument).  I couldn't wait to start learning an instrument.  I wanted to play the string bass, but my hands were too small, so I chose the cello.
I started when I was 6 and played nonstop for 10 years in school and in a youth orchestra.  I still have the cello my parents bought for me in high school.  I cherish it (and am working on getting my skills back since I've been asked to play for a senior recital next year).
I went to summer orchestra camp on two different college campuses. That experience allowed me to learn about other students from around the country while learning how to function independently (living in dorm room at age 10) and with with a new group (as part of a new orchestra).
I often sat first chair.  It has occurred to me that the leadership position probably contributed to some of my early directing skills.
I think playing cello also inspired some of my early feminist stirrings.  It wasn't a normal instrument for girls to pick and I relished the uniqueness of being the only female cellist in my high school orchestra.
Playing cello became part of my identity. Although, I rarely play now, I can't imagine my life without it. It has definitely impacted the way I enter a score of a musical. It's very organic for me.
We have an extraordinary female cellist playing LIZZIE in Denmark and London -- listening to her play just stops me in my tracks (and has motivated me to learn that part).  I may try to secretly sit in on an LIZZIE orchestra rehearsal before we present it at Playhouse Square in April!"
The Physical Benefits of Playing an Instrument
Studies have proven that children show long-term positive results from playing an instrument. In fact, they have shown that the benefits of music, has been more effective in strengthening reasoning skills in younger and older children, than teaching them computer skills.
Social-Emotional Benefits of Playing an Instrument:
Enhancement of coordination
Sharpening of reading and mathematics skills
Improved respiratory and central nervous systems
Increased listening skills
Promotes sense of achievement
Reformed time management skills
Increased memory capacity
Promotes happiness in one's life
Try not to overextend your brain with questions like, "What instrument should I introduce to my child? How much will it cost?" Just be aware of the extensive benefits of learning a musical instrument and investigate the wonderful world of music at a pace relevant to your life and environment - resources in your child's school or after school, funded programs in the community, even a family member who may be proficient playing an instrument. It is up to parents to keep children interested in playing instruments by limiting video games, identifying music that they may love and finding good teachers. Do not be afraid to to have your child try their hand at one or more instruments that they may enjoy.
Revolution, Health Fitness. "Top 10 Health Benefits of Playing an Instrument • Health Fitness Revolution." Health Fitness Revolution. N.p., 16 Oct. 2016. Web. 06 Feb. 2017.
Part V: Vocal Music and Social-Emotional Learning
Calling all HuffPost superfans!
Sign up for membership to become a founding member and help shape HuffPost's next chapter
This post was published on the now-closed HuffPost Contributor platform. Contributors control their own work and posted freely to our site. If you need to flag this entry as abusive,
send us an email
.