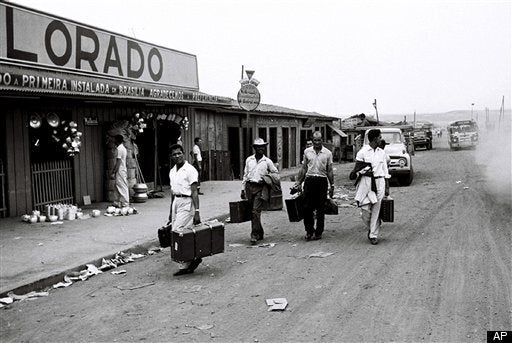 The following is the fourth part of a five part article installment. To read Part I, click here. For Part II, click here. For Part III, click here.
If Rousseff does prove to be a strong leader, it is not inconceivable that the government can at least get a grip on some of these grave problems. If that is the case, then it begs the question of what role Brazil might seek on the world stage. Traditionally, Brazilian politicians have not emphasized foreign policy during their campaigns, preferring instead to dwell on domestic concerns. Indeed, as I watched the presidential debate in Rio, I was struck by the utter lack of discussion about foreign affairs. On the other hand, outgoing President Lula has pushed a much more aggressive foreign policy agenda than his predecessors. While he has maintained friendly ties to the U.S., Lula has also courted the support of leftists Hugo Chávez as well as the Castro brothers in Cuba [for a more detailed discussion of these intricate foreign policy questions, see my previous article here]. Presumably, Rousseff will continue Lula's orientation which augurs well for regional stability and South American political and economic integration proceeding along progressive lines.
Don't expect Rousseff to rock the boat, however: when I asked Congressman Eduardo Cardoso of the Rousseff campaign to explain his boss' position on U.S. bases in Colombia, which represent a provocation for neighboring Venezuela, he replied categorically "there won't be a change in Lula's foreign policy. We have an excellent relationship with the U.S. Don't expect any radical change." Such a response is perverse, however, if Rousseff seeks to live up to Brazil's stated goal of pushing a pacifistic foreign policy. Both Colombia and Venezuela lie on Brazil's natural borders. What better place for Brazil to act as an international arbiter than within its own backyard?
In Brazil, one hears much reverence for the so-called "elite" diplomats at Itamaraty, the nation's Ministry of Foreign Affairs. Yet in recent years, these diplomats have pursued a perverse and erratic foreign policy as Lula has sought to establish warm ties with Iran's Mahmoud Ahmadinejad. To be sure, Brazil may claim that its shuttle diplomacy was instrumental in averting a major Middle Eastern war between the U.S. and Iran. In a novel move, the Brazilian urged Western countries to drop their threats of punishment over Iran's nuclear program and negotiate a just solution.
Even more surprisingly, Lula led an effort to head off more United Nations sanctions against the Islamic Republic by helping to negotiate a deal allowing Iran to send parts of its stockpile of enriched uranium abroad for additional processing. Yet Lula has gone much farther than that, proclaiming his "friendship" and "affection" for Ahmadinejad, a man who has denied the Holocaust. What is more, the Brazilian president has held discussions with Iran on how the two countries might boost trade and collaborate in key areas such as biotechnology and agriculture. More significantly perhaps, Ahmadinejad hopes to extend cooperation on nuclear technology so as to generate electricity. In the final analysis, however, Lula gained little from such controversial maneuvers save suspicion from Washington and animosity from human rights campaigners who decry Iran's practice of stoning women to death for adultery. It is difficult to imagine how Rousseff, herself a woman, could in good conscience continue Lula's policy toward Iran. A more sensible way for Brazil to challenge the U.S. would be for the South American giant to play an assertive role in Latin American affairs, for example in Colombia and Venezuela and even elsewhere. Rousseff would be foolish not to take advantage of Brazil's greatest asset on the world stage: Lula himself. Provided she is not afraid of being overshadowed politically, Rousseff could send her former boss abroad to negotiate thorny international problems, much as recent U.S. presidents have called on Bill Clinton to act as an international envoy. Perhaps, Lula could be an effective intermediary between the United States and Cuba, or the Brazilian could work to achieve greater democratic freedoms in Central America for instance.
Related
Popular in the Community