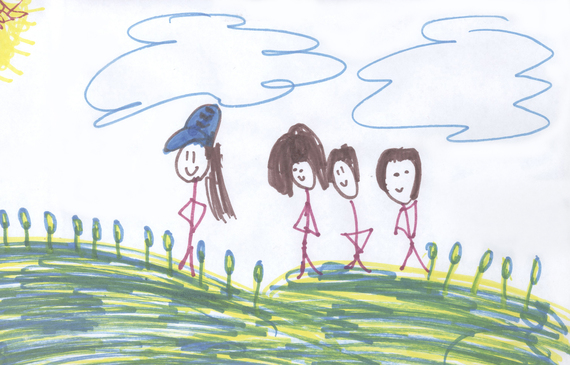 This is Part One of a two-part series.
You can teach a child to swim, but she will still drown in a stormy sea.
What if the child is a 29-year-old mother? Instead of learning to swim, she learns how to budget. And, instead of being thrown into a stormy sea, she receives just $428 a month in TANF benefits on which to support herself and her two children.
According to Shafir, context is everything. Information by itself doesn't change behavior as much as we like to think.
He convinced the audience of this at a lecture sponsored by Children's Law Center on December 1st at the NPR building in Washington, DC. Shafir said in simulation after simulation drivers talking on hands-free phones exhibit the same level of impairment as drunk drivers.
"Even knowing this," Shafir went on, "most of you will talk on the phone during your drive home from this lecture." The audience's uneasy laughter proved his point.
Our tendency to underestimate the power of a situation has implications which risk even more lives than driving while talking on the phone.
Imagine a mother who hits her 8-year-old son, leaving a welt on his cheek. Fortunately, his concerned teacher calls the child abuse hotline. A social worker threatens to remove the son unless the mother takes an anger management class.
Now let's add the "situation." What if the mother, like the one I mentioned earlier, has two children and lives on $428 a month. Her electric bill, rent, bus fare, toilet paper, soap, diapers and clothes eat up her meager income half way through the month.
The mother likely spends every day calculating and recalculating how to make the money stretch.
When it doesn't, she tries to find a friend to lend her money.
Then, without bus fare, she walks, baby in tow, to social service organizations to ask for help.
Now imagine her baby gets sick and vomits through the night. She can't afford Pedialyte.
Then her other child loses his winter coat and his teacher calls to say he can't go out to recess without a new one.
Exhausted, stressed and angry, the mother slaps her son, leaving a welt on his cheek.
What will anger management classes accomplish? Are the classes yet another barrier that leaves the mother more stressed?
Who will watch her children while she attends? How will she afford bus fare?
If the goal of child welfare is to keep children safe, Shafir's research suggests anger management classes might do more harm than good. Instead, helping parents change their situation is the smarter solution. Increasing parents' financial support, for example, or creating community centers with easy access to social services and providing a chance for neighbors to support one another.
I know it works because I see it every day. Communities succeed when children succeed. Children succeed when their parents succeed. But in a storm, even the most ferocious swimmer can't make it to shore without a lifeboat.