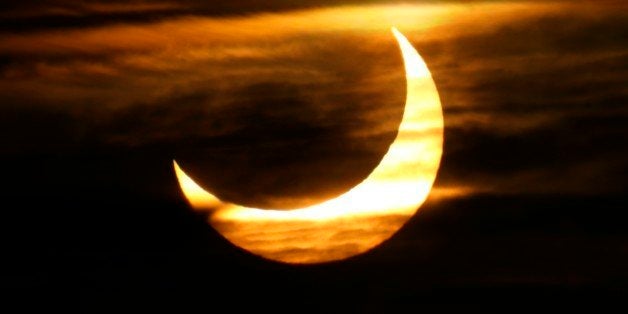 (Animation of the "penumbral shadow"
sweeping across our planet. Credit:
NASA/Sinclair)
It's already been a big week for skywatchers, and more celestial fun is on the horizon.
A partial solar eclipse occurs when the new moon passes in front of the sun, casting a shadow on Earth and blocking a portion of the sun from view.
(Story continues below.)
Click here to find out when the eclipse will begin in your area and when it will reach its maximum.
If you snap a great photo of the eclipse on Thursday, we want to see it! We'll be hosting a live blog of the event on the evening of Thursday, Oct. 23 from 5 to 7 p.m. EDT.

You can tweet your photos with hashtag #HuffPostEclipse. Or submit them directly to our "Partial Solar Eclipse" slideshow.

We'll be collecting user photos from all over, and yours may be featured!