Detroit neighborhoods are blooming. We know this from films like Urbanized, and Urban Roots, both of which celebrate community gardens in Detroit and recently screened at the San Francisco Green Film Festival. But neighborhoods in Detroit are also blooming with an urban art renaissance. Just look at TAP, which stands for The Alley Project.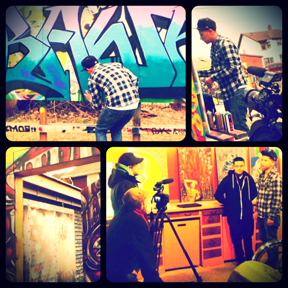 In 2004, The Alley Project wasn't a project. It was just an alley with four garages. Community residents let local graffiti artists work on stuff there, but people were worried about vandalism and safety. Slowly, however, a community started to form around the young artists and some of the older residents. "They've adopted each other," Erik Howard told me in an interview. Erik is the director of Young Nation, a youth and community development non-profit. He has helped guide TAP from a local hangout into a vital resource.
The larger community might target vandalism as a problem, but the graffiti artists are also part of the solution.
"Problems are not just problems. They are also solutions that are waiting to be found," said Erik.
Looking at problems to provide hints for solutions is a smart way to look at community. This is even smarter: Looking at the assets a community might provide and leveraging that social capital. TAP didn't mushroom up magically, although there was a strong community base for it to begin with. It evolved in a partnership of participatory design.
Dan Pitera of the Detroit Collaborative Design Center (DCDC) at the University of Detroit Mercy School of Architecture, where Will Wittig is currently Dean of the School of Architecture, worked with students and met with community members. Dan and Will were both active in the planning and design of TAP and made the project a joint venture between the Design Center and School of Architecture. "We would go out to the school and the studio," Erik told me, "and give the thumbs up or thumbs down to designs. "Architects were learning about community and the community was learning about architecture."
Architecture wasn't always so. If you examine the model, say, of Frank Lloyd Wright, architectural design was wisdom that was handed down to clients from on high; in the process the architect's brilliance permeated everything he or she touched, from landscaping, to the art on the wall, to the furniture. The client was the willing acolyte. But now architecture is becoming more of a conversation, and projects like TAP would never be adopted by communities without dialogue. "Good design speaks to activities and people. Then those get translated into design solutions," Erik said. "The best design is built around people."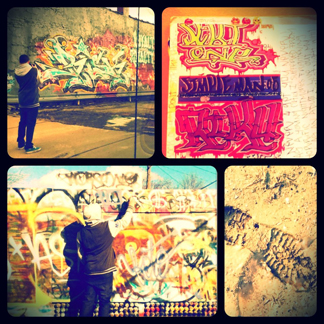 Erik is looking at a community's needs as a to-do list and its assets as a toolbox. TAP, officially launched only last summer, has already nurtured powerful inter-generational relationships. The young artists are learning from the neighborhood elders, and elders have come to appreciate the passion and dedication of the young artists. Stereotypes are being broken down, art is being created, and a neighborhood is reconnecting with itself.
The latest projects at TAP include its first artist residency, with an artist named Katie Craig. She will be working on a solo show at TAP. Watch for it on the TAP Facebook page.
Photo credit: youngnation.us
Popular in the Community