 Twenty-nine states plus DC offer persons the option of declaring a party affiliation when they register to vote. Party registration totals thus provide a snapshot of the overall partisan balance within a state. Comparisons of these statistics over time provide a broader picture of overall trends.
First some important definitions.
Keep in mind that while surveys show party self-identification is a strong predictor of a person's voting patterns, a person is free to vote for any general election candidate. Party registration is not exactly party self-identification, either. It is more sticky in that registrants need to fill out a form to change their party registration, while survey respondents are free to articulate their party preference of the moment to an interviewer. Typically, party registration is used as a qualification for voting in party primaries. A Republican living in a heavily Democratic area might register as a Democrat in order to cast a meaningful vote in a Democratic primary. Particularly in Southern states, where a long-term realignment towards the Republican Party has been occurring, a person may register as a Democrat to vote in state and local Democratic primaries but vote for Republican candidates in general elections.
One further aspect of voter registration is important to understand is the difference between active an inactive voters. Election administrators are constantly challenged to keep the voter registration rolls accurate. New registrations are constantly pouring in. If a voter who recently moved provides information that identifies their former address, election administrators will attempt to remove or port over the registrant's voter registration record in their former local jurisdiction. This is known as purging. Often people do not notify election officials that they have moved. The National Voter Registration Act of 1993 (a.k.a. Motor Voter) outlines the procedure for election administrators to purge records of registrants who have not voted in recent elections, who filled out a National Change of Address Form with the Post Office, or to whom an official letter sent from their office was returned as undeliverable. Most election officials maintain two lists of registrants: active and inactive. Although the exact procedures vary among localities, inactive voters are generally registrants that election officials believe should be purged, but all of the procedures to do so have not been satisfied. In the tables below, I provide statistics for active voters, where active voter statistics are available in 2008 and 2010.
OK, enough with the important definitions. Let's get to the good stuff!
The table below provides current party registration statistics for all states with party registration, except Utah, which does not post party registration statistics on-line. While most state reports are very current, some may be for a primary earlier in the year. I provide the reporting date to help identify a report's shelf life. Registration has not closed in many of these states, so these are not the final numbers for Nov. election. As a comparison point, I provide the percent change in the party registration from the November, 2008 election. I aggregate all minor party registrations into one category, and note that eight states do not report any minor party on their on-line reports, either because no minor parties are recognized by the state or because minor parties are grouped with unaffiliated in a residual "other" category.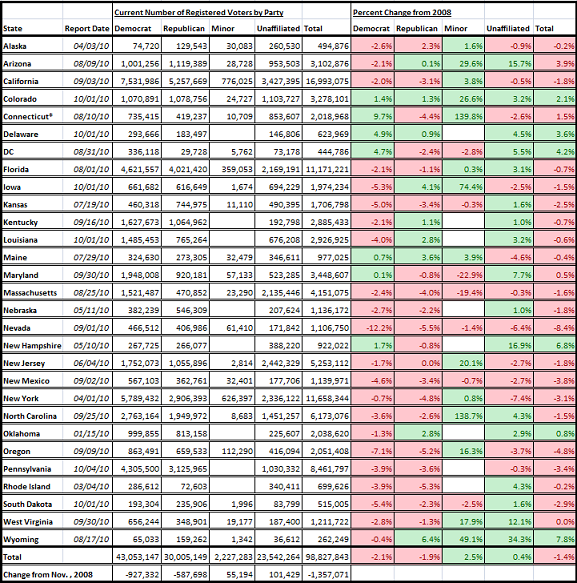 Overall, a continued registration trend away from the major political parties is evident, one that observers began noticing in the 1970s. The Democrats lost 927,332 registrants and the Republicans lost 587,698 registrants since Nov. 2008. There are substantially more Democrats than Republicans, so as a percentage change, Democrats lost 2.1% and Republicans lost 1.9% of their Nov. 2008 registrants. Minor party registrations increased by 55,194 registrants or 2.5% and unaffiliated registrants increased by 101,429 or 0.4%.
The state-by-state trends reveal uneven patterns of change among the states. Some of these changes appear significant in what they illuminate about hotly-contested races.
In Nevada, the economic downturn as taken its toll on registrations, with an overall decline of 101,011 registrations since 2008. The effect is weighing more heavily on Democrats. Democratic registrants have declined a whopping 12.2% since 2008, while Republican registrations have only declined 5.5%. These changes are likely fueling the tight Senate battle.
In Delaware, Democratic registrations are outpacing Republican registrations. This evidence appears to confirm surveys that show a comfortable lead for the Democrat in the Senate race.
In Iowa, Democrats registrations have dropped 5.3%, while Republican registrations have increased 4.1%. This confirms the Republican advantage in Iowa's Senate and Governor polling. I speculate that at least part of this pattern is due to students who registered in 2008 to take part in the Democratic caucuses but have now moved from the state.
In Connecticut, Democratic registrations have surged, but Republican registrations have declined. Perhaps Democrats are indeed well-positioned in the Senate and Governor races, as polling suggests. (Note that for this one state, I report party registrations for the Aug. 10, 2010 primary, while the minor party and unaffiliated registrations are from a Sept., 2009 state election report.)
In states like Kentucky, Louisiana, and Oklahoma, I believe that declines among Democrats in comparison to increases for Republicans are part of a long-term trend of realignment from the Democratic to Republican parties in these states.
Finally, a fascinating trend is the rise of minor parties. This is despite the large decline in Maryland, when the State Board of Elections closed the Independent Party earlier this year because they determined it was not operating as a real party. Now, there are only 2,227,149 minor party registrants, so they start from a small base. Still, they are gaining while the major parties are in decline. This is NOT just a Tea Party movement. For example, in Maine, the growth is primarily among the Green Party.
Popular in the Community