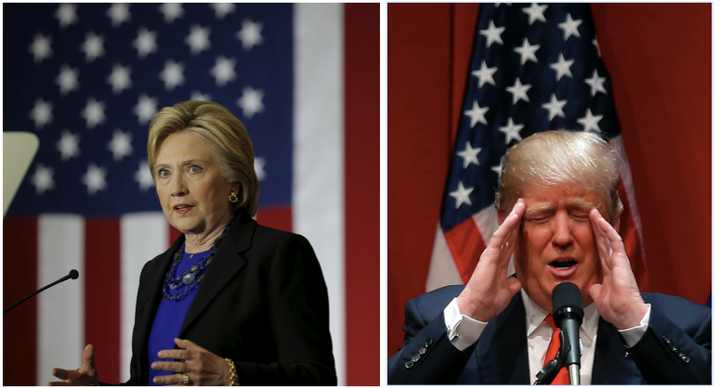 Americans' discontent could have more to do with partisanship than the economy. The battle for delegates is heating up. And Ted Cruz could stymie Trump in Wisconsin, but other upcoming states look good for the business mogul. This is HuffPollster for Monday, April 4, 2016.
HOSTILITY BETWEEN PARTIES IS GROWING - Lynn Vavreck: "Data on the nation's economic recovery, people's reactions to current economic conditions and their overall sense of satisfaction with life doesn't suggest Americans are angry. In fact, historical measures indicate people are about as happy and satisfied with the economy and with their lives as they were in 1983 when Ronald Reagan told us it was 'morning again in America.' If that's the case, why does it feel more like a 1 a.m. bar brawl?...Today's voters have sorted themselves and polarized into partisan groups that look very different than they did in the late 1980s. To make matters worse, members of each side like the other side less than they did before. Americans aren't annoyed only by the economy; they're also annoyed with each other." [NYT]  
Anger at Donald Trump and Republicans might motivate Democrats - Joshua Green: "A new Democracy Corps poll conducted for the Women's Voices Women Vote Action Fund illustrates the Democratic counter-reaction to Trump. As this chart shows, interest in the 2016 presidential campaign has soared among each of the key Democratic constituent groups—minorities, millennials, and single white women….As strong a motivator as Trump has been for his core constituency, this new poll suggests that he's at least as strong at motivating his Democratic opposition." [Bloomberg]
CONDITIONS MIGHT BE RIGHT FOR AN INDEPENDENT PRESIDENTIAL CANDIDATE - Susan Page: "If Donald Trump loses the Republican presidential nomination, he says he might run for the White House anyway. And if Trump wins the GOP nomination, anti-Trump candidates from the party establishment are considering doing the same….In an election season that already has upended the expected, there are the ingredients that have fueled third-party bids in the past. They include a mercurial potential contender with money — Donald Trump, meet Ross Perot —  and the sort of ideological divide that prompted moderate congressman John Anderson to run when the GOP shifted right in 1980 to nominate conservative Ronald Reagan. The power of the parties has gotten weaker since then and the rules for getting on state ballots easier.Voters increasingly are open to voting for someone other than the Democrat or the Republican. In the most recent USA TODAY/Suffolk University poll, taken in February, only a third of those surveyed said the two major parties did a good job of representing Americans' political views….Running for president this year as a third candidate isn't easy. That doesn't mean it's impossible." [USA Today]
INDIVIDUAL DELEGATES COULD HAVE A BIG ROLE IN THE GOP- Jeremy W. Peters: "For the first time in 40 years, the delegates to the Republican National Convention could be more than just a rubber stamp on their party's nomination process….The procedural peculiarities of the nominating process this year are adding a new twist. All 50 states, plus the five territories and the District of Columbia, have a vote, but several states and territories have given themselves outsize influence by allowing their delegates to act as free agents….Uncommitted delegates are free to decide whom they will support. They can promise allegiances or switch at will, operating with no constraints binding them to the outcome of a statewide primary….All told, there could be several dozen totally uncommitted delegates on the convention floor in Cleveland, a tiny fraction of the 1,237 needed to clinch the nomination, but enough to swing a close race." [NYT]
Delegate strategy matters for Democrats, too - John Ralston: "Despite losing the state on Feb. 20 in the caucus, Bernie Sanders' campaign swarmed the Clark County caucus and probably flipped two delegates from Hillary Clinton's camp….because the caucus process allows some delegates to be unbound, 12 [delegates] were up for grabs at the 17 county conventions Saturday.Sanders had 600 more delegates in Clark on Saturday despite losing the state's most populous county by nearly 10 percentage points.." [Ralston Reports]
TED CRUZ COULD HURT TRUMP BY WINNING WISCONSIN - HuffPollster: "Wisconsin's GOP primary may be crucial for Republicans hoping to stop Donald Trump from clinching the nomination outright, with recent polling giving them hope that Sen. Ted Cruz (R-Texas) could pull off a significant win. The state has 42 delegates up for grabs, with 24 awarded by district and 18 going to the statewide winner. Even if Cruz wins by a small margin, he'll automatically take all 18 state delegates and likely a good portion of district level delegates. That would probably keep Trump below the level he needs to win a majority before the Republican convention. Of the six surveys taken of the race since March, all but one show Cruz ahead, with margins ranging between 1 and 10 points. Recent Marquette Law School and Fox News polls, both of which were conducted using live interviewers, each find Cruz with a relatively comfortable 10-point edge, up significantly from earlier in the year." [HuffPost]
Looking farther ahead, Trump has big leads in New York and Pennsylvania - Anthony Salvanto, Fred Backus, Jennifer De Pinto and Sarah Dutton: "In [Donald] Trump's home state of New York, however, Trump has a dominant lead over the field, 52 percent to 21 percent for Cruz and 20 percent for Kasich. The billionaire leads by wide margins as best to handle multiple issues including terrorism, bringing back jobs, and the ability to defeat Hillary Clinton if she is the Democratic nominee. And in Pennsylvania, coming up at the end of April, Trump also enjoys a strong lead at 47 percent while Cruz and Kasich are well back at 29 percent and 22 percent respectively...There isn't a lot of evidence that Donald Trump's most recent controversies have hurt him, at least in terms of costing him supporters, though it may be limiting his ability to convert new supporters." [CBS]
HUFFPOLLSTER VIA EMAIL! - You can receive this daily update every weekday morning via email! Just click here, enter your email address, and click "sign up." That's all there is to it (and you can unsubscribe anytime).
MONDAY'S 'OUTLIERS' - Links to the best of news at the intersection of polling, politics and political data:
-Jonathan Martin and Nate Cohn argue that Donald Trump would have a difficult time winning the general election. [NYT]
-Former Marco Rubio pollster Whit Ayres (R) explains why he thinks Trump has no chance of winning in November. [WashPost]
-Keith Gaddie and Kirby Goidel examine Wisconsin's unhappy GOP electorate. [HuffPost]
-Lance Fortnow explains how to vote strategically in Wisconsin. [PredictWise]
-The U.K.'s youth may decide whether the country stays in the European Union. [The Guardian]
-Satellite images can identify regions of poverty in a way surveys can't. [NYT]
Calling all HuffPost superfans!
Sign up for membership to become a founding member and help shape HuffPost's next chapter