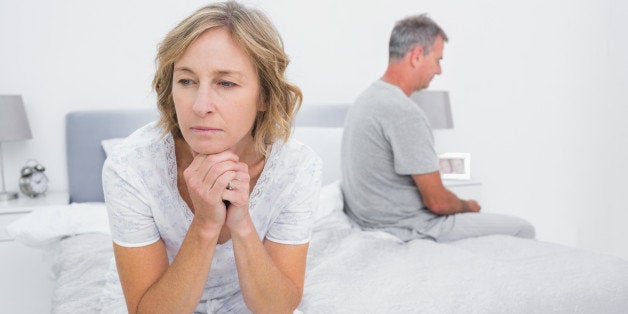 SPECIAL FROM Next Avenue
It's a problem experienced by both men and women, in heterosexual and same-sex relationships: One of you is feeling amorous. The other isn't.
There may be a longstanding pattern in your relationship or you may take turns being in the mood. Either way, unequal levels of desire can cause difficulties, ranging from feelings of rejection to resentment to anger.
"When they're younger, most people expect and want sex, but as they get older, some people decide it's optional," said Pepper Schwartz, a professor of sociology at the University of Washington and love and relationship expert for AARP.
Or, they may not be as interested in sex, she said, especially if they have gained weight, have heart disease or experience erectile problems.
When the other partner frequently gets told, "Not tonight, honey," it can sting, Schwartz said.
"They feel trapped and they feel humiliated, because no one likes to ask for intimacy and be refused occasionally, much less repeatedly," she added.
Dr. Dudley Danoff, a urologist and founder of the Cedars-Sinai Tower Urology Medical Group in Los Angeles, said the problem is more common for men — who have a higher level of sexual desire than women, on average.
Trying to repress the sexual feelings is the wrong approach, he said.
"You might stop initiating sex altogether rather than face the possibility of rejection," he said. "You might begin to shy away from all displays of affection. And, of course, you might be tempted to look elsewhere for sex."
Problems with sexual desire are the number one reason couples seek therapy, said Barry McCarthy, a psychologist and co-author with his wife of Rekindling Desire.
Women are often unfairly blamed for the sexual problems in a relationship, McCarthy said. But as men get to age 50 and beyond, many pull away from sex because of performance anxiety spurred by erectile and orgasm issues.
McCarthy said when the sex is good, it is an important but not a major factor in the relationship, adding about 15 to 20 percent to a couple's vitality and satisfaction. However, when sex provokes conflict, it takes on an inordinately powerful role, destabilizing the relationship.
"When you get into power struggles about sex… the power struggle is the poison," he said.
Try these ideas for putting that spark back into your love life:
1. Talk. The best approach is honest communication, Danoff said. "Talk openly and candidly about your needs and about the discrepancies in your desire levels. Educate your partner. She might not understand the importance of sex in your overall happiness," he added.
Both partners should talk about what they like to do and what makes them feel good.

2. Bring touch back. McCarthy suggests thinking of five dimensions of touch: affection, sensual, playful, erotic and intercourse. "Think about pleasuring, giving and receiving touch, rather than foreplay," he said. "The idea of expanding what is sexual empowers men."
Schwartz agrees. Some women complain during her relationship workshops that their partners steer away from sex for fear of not "performing" well, she said. But these women say they're willing to accept less than a hard erection or any erection. "She wants lovemaking," said Schwartz. Another piece of advice: make touch ordinary in the relationship — not something that happens only in the bedroom.
3. Don't feel pressured to get erotic. "Most of the sex advice about eroticism actually ends up intimidating people rather than motivating and empowering them," McCarthy said. An example? Playing out fantasies "ends up being a sexual dud," because fantasies are just that; they're not real life, he said.
4. Experiment with toys. Lower blood flow to the genitals, combined with diminished production of both testosterone and estrogen, can make it harder for women to reach orgasm, Schwartz said in a recent article for AARP. Sexual toys like dildos and vibrators can help fix that problem and spice up a couple's sex play, she said.

5. Consider physical causes. Men should realize that research shows erectile dysfunction may be an early warning sign of heart problems. Talk openly about your doctor to find treatments for both issues if necessary.
For women, menopause and the resulting drop in estrogen can cause vaginal dryness and painful intercourse. There are products and treatments that can help, such as over-the-counter lubricant and prescription estrogen creams.
6. Ask for help. If you and your partner have tried unsuccessfully to have a better sex life, you may need professional help. Schwartz suggests that partners of men frame the idea as "relationship therapy," rather than "sex therapy," and present several potential areas to work on, not just your sexual conflicts.
Support HuffPost
The Stakes Have Never Been Higher
Related
Popular in the Community