Love Illustrated is a HuffPost comic series that captures the realities of modern love.
There are two kinds of significant others in this world: those who live to take nicely lit, magazine-worthy photos of their boyfriend or girlfriend for Instagram, and those who can't take a cute photo to save their lives.
Illustrator Dami Lee's boyfriend Matthew falls firmly in the latter camp. While Lee has snapped some super-cute photos of her guy in the almost three years they've been together, Matthew's photo-taking skills remain depressingly bad. Like, really bad.
"My boyfriend is extremely talented when it comes to capturing the worst photos of me possible," the New York-based artist told HuffPost. "He's made me look like everyone from Mozart to Dwight from 'The Office' when he cuts off the face of the CPR doll."
Yikes.
In the comic below, Lee illustrates what it's like to get the portrait treatment from Matthew. It's sure to touch a nerve if you're in love with someone who's decidedly not a photographer.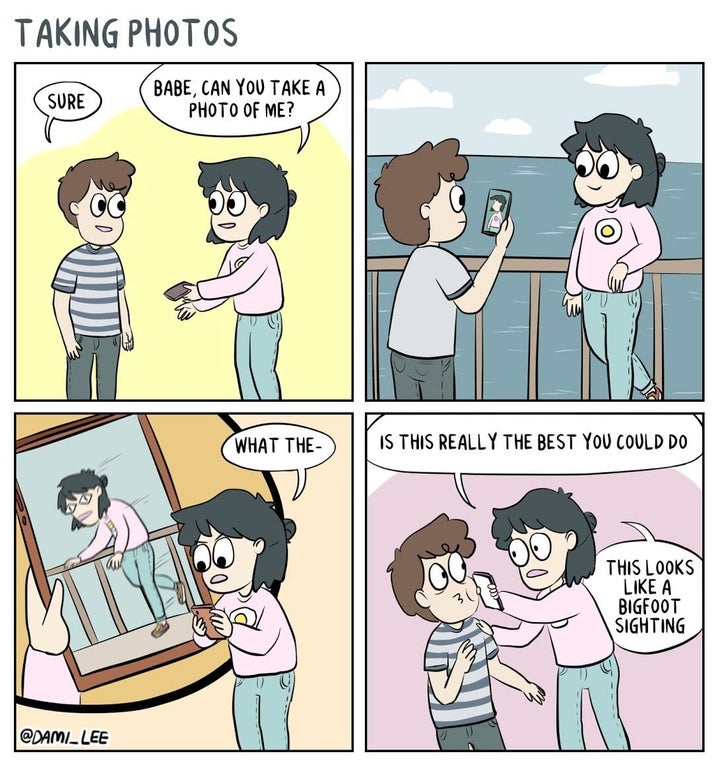 Will Matthew ever get his act together? Probably not, Lee said.
"He hasn't gotten any better because he thinks it's funny to take candid photos, and he's going to continue that strategy," she said.
Lee just published an illustrated mini-memoir about growing up Korean-American in Texas, then moving back to Seoul as a confused adult. The book, Be Everything At Once!, is available now.
Creatrs is a collective of Tumblr's most talented artists. HuffPost has partnered with Tumblr — which is also owned by Oath, HuffPost's parent company — to create this original illustrated series.