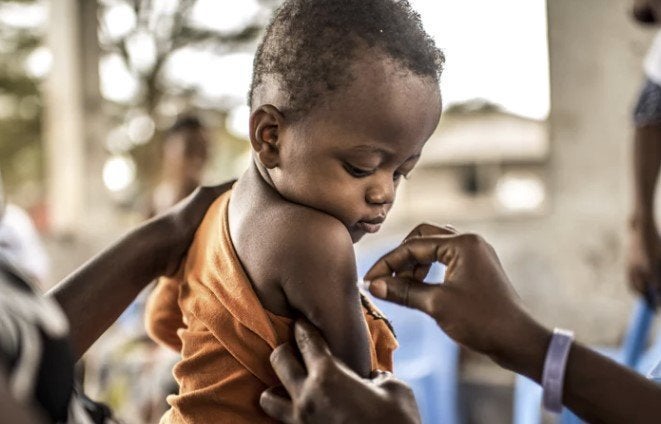 Co-authored by: Carolyn Miles, CEO, Save the Children (US); Lisa Bonadonna, Global Head, Access to Medicines, GSK; David Fleming, Vice President, PATH; Joe Kiani, CEO, Masimo; Stefan Peterson, Chief of Health, UNICEF; Kate Schroder, Vice President, Clinton Health Access Initiative; Kevin Watkins, CEO, Save the Children (UK)
We have "eradication" targets for polio, "elimination" targets for malaria, and "generation-free" targets for HIV/AIDS, but for a disease that kills more children under five than all three combined, we have…well…very little.
Pneumonia, which has been attracting less than 2 percent of international development assistance for health, and low national health funding, kills nearly 1 million children every year.
But change is brewing, driven by new leaders, new alignments between governments, businesses, United Nations' agencies and non-governmental organizations (NGOs), and technological innovations with the potential to dramatically improve the cost-effectiveness of care in low and middle income countries.
"Thirty organizations are joining forces in a public-private partnership with an ambitious, measurable goal: to end preventable child pneumonia deaths by 2030."
The Every Breath Counts Coalition will be announced at UNICEF headquarters in New York on November 3rd, at a special event co-hosted by the Bill and Melinda Gates Foundation and "la caixa" Foundation in honor of World Pneumonia Day.
We are all deeply concerned about pneumonia's high death toll - each year 178,000 newborns and 773,000 children under five die according to UNICEF - and the slow rate of decline. Between 2000 and 2015, child pneumonia deaths fell by 47 percent, compared to 85 percent for measles, 61 percent for AIDS, 58 percent for malaria and 57 percent for diarrhea. We need faster progress.
The situation is particularly dire in sub-Saharan Africa. Due to a combination of low vaccine coverage, breastfeeding rates and female literacy, and high malnutrition and solid cooking fuel use, this region is home to the largest populations of children at greatest risk of death from pneumonia.
Most of the child pneumonia deaths happen in just 15 countries. Countries like Chad, Nigeria, Angola, Niger, Somalia, Mali, the Democratic Republic of Congo, Afghanistan, Pakistan and Ethiopia are especially vulnerable. Focused national and international efforts to identify and close gaps in pneumonia prevention, diagnosis and treatment in these countries could prevent more than 250,000 child deaths from pneumonia each year.
Expanding pneumococcal vaccine coverage across countries is an important priority. In addition, improving access to health services and health workers and ensuring that they have the proper diagnostic and treatment tools like pulse oximetry, child-friendly antibiotics and oxygen are key. Working more directly with mothers and families to improve breastfeeding rates, child nutrition and female literacy will also boost progress across all countries. Children who are malnourished are nine times more likely to die from pneumonia.
To stop children dying from pneumonia, the governments most affected will need to lead ambitious national efforts to mobilize attention and resources toward pneumonia prevention, diagnosis and treatment, especially at primary health care level. In addition to enhanced domestic resources, countries will also need to target a greater share of their foreign health aid to fighting pneumonia, especially if they are eligible for Global Financing Facility funding from the World Bank and/or receive support from the Global Fund to Fight AIDS, Tuberculosis and Malaria. Efforts to better integrate the management of the "febrile" child will not only improve treatment outcomes, but also the rational use of drugs and combat antimicrobial resistance.
In addition to investing more to help governments with the largest populations of at-risk children fight pneumonia, the Every Breath Counts Coalition will enlist the support of existing child pneumonia initiatives, including the United4Oxygen Alliance, HO2PE, the Pneumonia Innovations Network, Stop Pneumonia/World Pneumonia Day, the ARIDA Project, the Save the Children and GSK partnership, as well as work underway by Results for Development and the Clinton Health Access Initiative. Every Breath Counts will also build bridges between the focus countries and the various innovation pipelines, including Saving Lives at Birth and Grand Challenges Canada and relevant research underway, including the multi-country enhanced community management and clean cooking trials.
Focused efforts in a sub-set of countries where children are most vulnerable are critical, as these countries will not achieve the Sustainable Development Goals relating to child survival nor fulfill their obligations to the Global Strategy for Women's, Children's and Adolescents' Health without a special push to reduce child pneumonia deaths.
It's time to bring together our collective efforts and support country government efforts to ensure that no child dies of a disease we know how to prevent, diagnose and treat.
Carolyn Miles, CEO, Save the Children (US)
Lisa Bonadonna, Global Head, Access to Medicines, GSK
David Fleming, Vice President, PATH
Stefan Peterson, Chief of Health, UNICEF
Kate Schroder, Vice President, Clinton Health Access Initiative
Kevin Watkins, CEO, Save the Children (UK)
For more information on Every Breath Counts, please visit www.stoppneumonia.org.
Support HuffPost
The Stakes Have Never Been Higher
Related
Popular in the Community