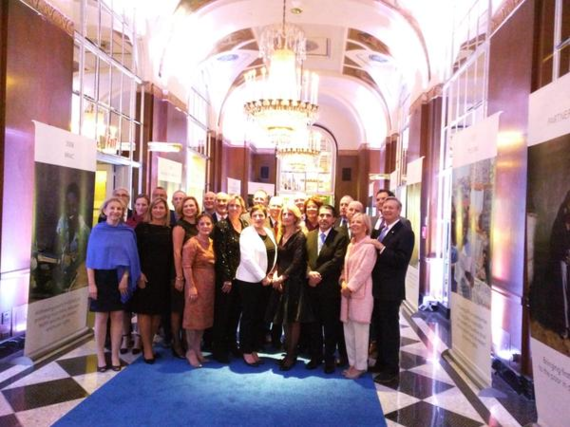 Last month, the United Nations released new Sustainable Development Goals. These goals are lofty: seeking to end poverty and hunger and to provide education for all.
There is a huge amount of work ahead for these 20 organizations and others like them, but a ray of hope shone through when the World Bank announced earlier this month that -- for the first time in world history -- the number of people living in extreme poverty will fall below 10 percent.
This is a major accomplishment, but to reach the new U.N. Sustainable Development Goals, each and every one of us will be required to do all that we can to help eliminate the worst suffering that exists on our planet. Individually and collectively, we must commit to ending global distress in a way that we never truly have in the past.
Since our founding in 1972, Covenant House covenanthouse.org has focused on those who are most innocent and most in need: children. Fifteen years ago, a major breakthrough occurred when Covenant House Casa Alianza) was awarded the Hilton Humanitarian Prize for our work in Guatemala, Mexico, Honduras and Nicaragua.
At the time, Casa Alianza Nicaragua was a fledgling program, only serving about 15 youth in a country where the needs were enormous. The Hilton Humanitarian Prize, the largest of its kind, directly funded our ability to build on our important work in one of the poorest nations on earth.
The result was a beacon of hope in Nicaragua called the Hogar Hilton (translation: The Hilton Home), which now houses up to 108 boys and girls between the ages of 12 and 18. The residence, situated near some of the poorest barrios of Managua, serves abandoned youth from all over the country who have been abused, exploited or trafficked. It serves as a safe haven, providing services that address the many needs of these children, including emotional and physical health services, education, vocational and employment preparation, sports, recreation and art programs, and a full range of legal services.
Today, some of the poorest barrios in Nicaragua have been transformed. Streets that were once ruled by violence and drugs are now lined with children playing and small micro-enterprises, such as a metal workshop where teens learn skills and sell the objects they make in the marketplace. Casa Alianza Nicaragua has also been able to use sports as one of the most important pathways to healing for youth who have been traumatized in multiple ways, and the boys' and girls' soccer teams have been invited twice to participate in the Street Child World Cup.
While the Hilton Humanitarian Prize allowed Casa Alianza to build a new residence, it also allowed us to convert our original residence into a Teen Mother and Baby program, which now serves many young women who have become pregnant through abuse or sexual exploitation. We are forever grateful for the Hilton Foundation's support.There is no other place like this home for teen mothers and their babies in Nicaragua, and we are most always (unfortunately) filled to capacity.
During Pope Francis' recent visit to the United States, his message regarding children was clear: all children have the right to a home, food, education, healthcare, freedom from emotional or physical abuse, and freedom from the growing industry of human trafficking.
This message is our message. For nearly four decades, Covenant House has worked to provide what should be basic necessities to children. If there is one constant, it is this: we need more help.
The Hilton Home and the Teen Mother and Baby program are examples of the kind of commitment that the poorest among us need if we are going to meet the new goals set by the U.N.
As Pope Francis said, "We need to see each child as a gift to be welcomed, cherished and protected. We need to care for our young people, not allowing them to be robbed of hope and condemned to a life on the streets."
Calling all HuffPost superfans!
Sign up for membership to become a founding member and help shape HuffPost's next chapter