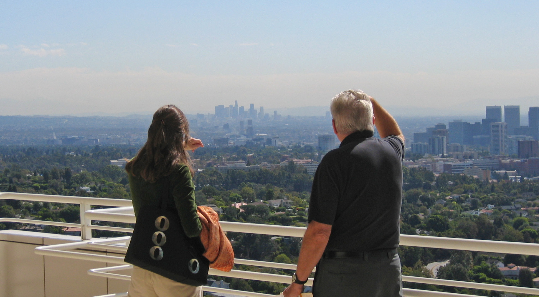 Looking toward downtown LA
Downtown Los Angeles contains one of the nation's finest collections of early 20th century architecture. Most of these buildings sat vacant for decades, until a carefully targeted Adaptive Use Ordinance (ARO) removed regulatory barriers, provided incentives, and helped make it possible to repurpose more than 60 historic buildings over the past 14 years as new apartments, lofts, and hotels.
But many more buildings remain empty or underused in the downtown area and nearby commercial districts.
A report released today by the National Trust's Preservation Green Lab and the Urban Land Institute documents how more than 10 million square feet of space in the city's urban core is currently vacant. The report, Learning from Los Angeles, was presented to Mayor Eric Garcetti this morning, at an event organized by the ULI Los Angeles District Council. It describes strategies that build on the success of the ARO to unlock the economic and community development potential of underused older buildings. The report documents demolition, building, and vacancy trends throughout the city and recommends strategies for removing regulatory barriers, streamlining approvals, and providing incentives to make building reuse easier to accomplish.
Learning from Los Angeles is the first in a new series of research and policy reports being developed by the Preservation Green Lab through the Partnership for Building Reuse, a joint effort of the National Trust and ULI. Launched in Los Angeles in 2012, the Partnership for Building Reuse is designed to foster market-driven building reuse in major U.S. cities.
The project brings together two national organizations, as well as local preservation partners, to convene dialogues with community stakeholders about building reuse challenges and opportunities. With a network of 52 District Councils across the United States, the ULI is the nation's leading real estate development organization. ULI staff and members bring practical, inclusive leadership on critical real estate challenges and public policies.
For the Los Angeles pilot project, the Preservation Green Lab conducted research on building demolition and construction trends across the city. Maps created from this research informed a series of conversations organized by ULI Los Angeles to identify key barriers to building reuse and recommend solutions to overcome these obstacles. The Los Angeles Conservancy was a key partner in this effort, and served on the project Advisory Committee along with practitioners in real estate development, planning, design, construction, community revitalization, and local government.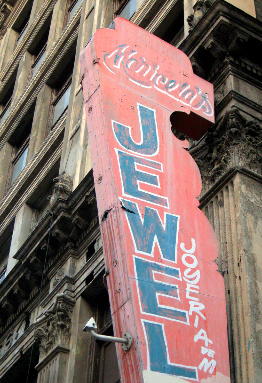 Although more than 60 buildings in downtown Los Angeles have been rehabilitated since 1999, opportunities remain in many vacant and underused structures
Several lessons emerged from the pilot project in Los Angeles that may be useful for city leaders, property owners, and developers dealing with vacant properties in other cities. These lessons learned include:
Modernize outdated zoning and building regulations to align them with comprehensive plans for re-urbanization, including the reuse of existing structures, alongside strategic infill construction.
Remove regulatory barriers to make building reuse easier, rather than adding layers of review and process.
Create more flexible zoning code definitions of building use to make it easier, faster and less expensive to adapt to changing market needs.
Integrate building reuse as a goal in other policy initiatives and reforms, such as zoning code updates, building code reforms, parking policy changes, transit-oriented development guidelines, and climate adaptation plans.
Use downtown as a policy innovator to test new ways to encourage building reuse
.
For property owners and developers
Conserve the authentic character of existing buildings, including architectural features and building materials that tell a unique story to prospective tenants and buyers.
Plan for diverse uses and frequent changes in use when investing in new building infrastructure and services, including elevators; heating, ventilation, and air-conditioning systems; soundproofing; and building access.
Design flexible interior spaces that appeal to the growing market for open plan living and work environments.
Promote the speed to market advantages of building reuse projects to prospective tenants and buyers when compared to new construction.
Support efforts to create diverse, mixed-use urban neighborhoods that attract and support building reuse projects.
Using the Los Angeles process as a model, the National Trust and ULI will work with local ULI district councils, preservation organizations and other partners to address building vacancy and reuse issues in four additional cities in 2013-2014. A national summit and publication of key "Principles for Building Reuse" is planned for 2015.
REAL LIFE. REAL NEWS. REAL VOICES.
Help us tell more of the stories that matter from voices that too often remain unheard.