Nationwide, part-time faculty account for more than half of academic appointments at colleges and universities. As tenure-line appointments become more scarce, those wishing to teach at the collegiate level opt for term-limited appointments, many of which are part-time. Many campuses -- and academic departments -- view part-time faculty as a way to provide budgetary savings, plug temporary academic vacancies, or teaching specialized courses closely tied to industry.
As the ranks of individuals employed in part-time academic appointments have grown, many part-time faculty lack the support of the colleges and universities where they work. A new report released today by the Higher Education Research Institute highlights that many part-timers go without office space (shared or private), voicemail accounts provided by their campus, and some even lack institutional email accounts.

Critics of part-time faculty suggest that part-timers are less effective in their teaching and are largely unavailable to students. Others claim that the influx of part-timers into the academic labor force diminishes the quality of students' education. Why some choose to aim their fire at the individuals working in exploited positions is unclear, as the evidence more often suggests that institutions' general lack of investment in part-time and contingent faculty undermines their potential for greater success.
For example, findings from the 2013-2014 HERI Faculty Survey indicate that 12.9 percent of part-time faculty receive less than two weeks' notice of their course assignments. How prepared can anyone expect a professor to be with such little time to cobble together a syllabus and get up to speed on the readings and assignments for the course. What's more -- another 17 percent of part-timers reported receiving notice of course assignments just three or four weeks before the start of the term. Sure, sections may be get added to the schedule of courses late to accommodate greater numbers of students trying to enroll, but it should alarm parents and students that nearly one-third of part-time faculty in this study reported having less than a month to prepare for teaching.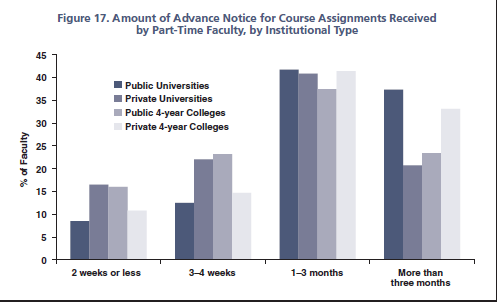 Part-timers also receive criticism for their lack of availability to students, but this critique ignores the fact that most institutions hire part-time faculty to teach a specific course. The vast majority of part-timers receive no compensation to meet with or advise students. In the 2013-2014 HERI Faculty Survey, 82.7 percent of part-timers who responded to the survey indicated they receive no compensation to advise or counsel students. Even without a formal compensation mechanism, however, nearly three-quarters (73.3 percent) report spending at least one hour each week advising and counseling students.
In addition to providing more advance notice with regard to course assignments and compensating part-timers for their time spent advising students, campuses might consider strategies to engage part-time faculty in professional development opportunities. Findings from the survey indicate that just 13.5 percent of part-timers in the study had access to professional development funds. Given their increasing reliance upon the talents of part-time faculty, administrators should consider providing opportunities for part-timers to connect with colleagues in their field and to improve their teaching.
Finally, it's important to remember that the population of part-time faculty represents a diverse group of individuals with varying reasons for teaching part-time. Some choose to teach part-time to supplement their income from working full-time in industry. Many others teach part-time in hopes that the position serves as a stepping stone to full-time employment in academe. Indeed, 40 percent of part-timers in the 2013-2014 sample reported teaching at more than one institution. The 2010-2011 HERI Faculty Survey monograph highlighted some important differences between part-time faculty who choose to teach part-time versus those who would prefer full-time employment at a college or university.
Given the amount of data pertaining to part-time faculty collected by the 2013-2014 HERI Faculty Survey, researchers at HERI will continue diving into the data in the months and years to come. These initial findings, however, highlight important areas where administrators can begin investing now to improve the working conditions and effectiveness of part-time faculty.
Popular in the Community