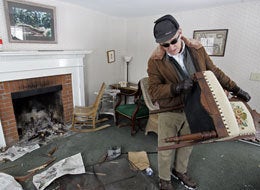 When about a dozen people--mostly teenagers--showed up at a Middlebury College classroom last week to learn about Robert Frost, they weren't sharing an interest in poetry; they were satisfying a court order.
Why the poetic justice? (I couldn't resist) In December of last year, the "students" had partied--illegally--at Robert Frost's long-time summer home in nearby Ripton, Vermont. More than fifty of them had crammed into the small house (now college property) and suffice it to say they weren't having wine and cheese. How bad did it get? Try $11,000 worth of damage bad. The AP article mentioned vomit and urine.
Middlebury takes its Frost very seriously. One partygoer told the AP that her role in the fiasco had hurt sales at her parents' business. So it's perhaps not surprising that a local prosecutor named John Quinn got the idea of sending the offenders to a class on Frost as part of their punishment. Quinn told the AP, "I was thinking that if these teens had a better understanding of who Robert Frost was and his contribution to our society, that they would be more respectful of other people's property in the future and would also learn something from the experience."
It's a good idea, I think, and with well-known Frost biographer Jay Parini volunteering to teach the class, it was a good opportunity for the overzealous partygoers to learn about a great American poet. Parini drew comparisons between a few of Frost's great poems and teenage life, even referencing the class' legal troubles: "Believe me, if you're a teenager, you're always in the damned woods. Literally . . . And metaphorically you're in the woods, in your life. Look at you here, in court diversion! If that isn't 'in the woods,' what the hell is 'in the woods'? You're in the woods!" He was speaking of The Road Not Taken. You've surely read this passage from the poem:
Two roads diverged in a wood, and I--

I took the one less traveled by,

And that has made all the difference.
Parini riffed on it, saying, "You come to a path in the woods where you can say, `Shall I go to this party and get drunk out of my mind? Everything in life is choices." I would argue that deciding to get drunk at Robert Frost's house is taking the road "less traveled by." But then poetry is subjective.
Did the class have any effect? I mean, if you're willing to urinate on the carpet of Robert Frost's house, you probably aren't inclined towards poetry. At least one student was impressed. "It did bring some insight...It shined a light, at least to me," he said, speaking anonymously.
I've been to Frost's house myself as part of writers' conference held nearby. A group of us sat in the yard and read a few poems aloud. We took a quick but reverent look inside. The house sits in some beautiful country, rich with the landscapes that permeate Frost's poetry. It looks, very much, like him.
The party incident, while unfortunate, doesn't bother me much. The house can be cleaned up, and while the partygoers broke a chair and a few dishes, they didn't touch Frost's legacy, which lives on so grandly in his poems.
I'll end with an excerpt from the poem Birches, in which Frost fittingly considers, among other things, his youth. I hope it encourages you to make the trip up to see Ripton and the beauty that inspired him. Consider it an invitation ... without the BYOB.
So was I once myself a swinger of birches.

And so I dream of going back to be.

It's when I'm weary of considerations,

And life is too much like a pathless wood

Where your face burns and tickles with the cobwebs

Broken across it, and one eye is weeping

From a twig's having lashed across it open.

I'd like to get away from earth awhile

And then come back to it and begin over.

May no fate willfully misunderstand me

And half grant what I wish and snatch me away

Not to return. Earth's the right place for love:

I don't know where it's likely to go better.

I'd like to go by climbing a birch tree,

And climb black branches up a snow-white trunk

Toward heaven, till the tree could bear no more,

But dipped its top and set me down again.

That would be good both going and coming back.

One could do worse than be a swinger of birches.