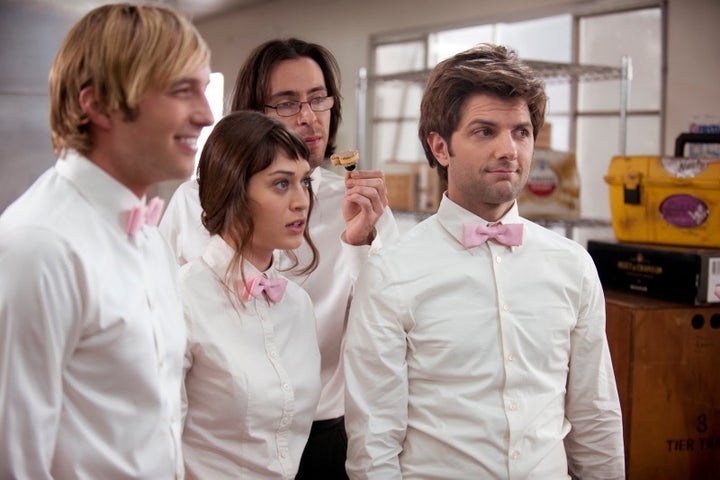 Party Down may have one more event to cater. And it'd be their biggest job yet.
A two season, twenty episode workplace comedy on the subscription cable network Starz, "Party Down" featured an impressive cast playing Hollywood hopefuls (and burnouts). Axed by the network despite fan protest, the show has begun to attain true cult classic status. Speaking to The Huffington Post on Tuesday, star Lizzy Caplan talked about what's becoming a growingly rabid fan base, and the cast and producers' desire to bring the crew to the big screen.
"It's starting to increase in the past few months, more so than when it was actually on," Caplan said about her getting recognized, and thanked, for being on the show. "People are finding out about it now, it seems like, which is great, because I think it will have legs and hopefully become more of a cult thing, which will encourage us to make a lovely feature film."
Adam Scott, now on NBC's "Parks and Recreation" led the cast as Henry Pollard, a burnt out actor haunted by the one success he ever had: a famous, and famously cheesy, beer commercial. Caplan co-starred as Casey Klein, his love interest and an aspiring comedian; her dry wit contrasted perfectly with Scott's self-hatred, and along with the hilarious Jane Lynch, Martin Starr, Ken Marino, Megan Mullally and Ryan Hansen, the show mixed zany, lovable characters and scathing satire of the Hollywood community.
While "certainly nothing is set in stone," Caplan told HuffPost that the series could hit the big time that its characters always chased.
"Yes, it's something that we all really want to do," Caplan said of making a film. "People are busy with their television shows and whatnot, but it's definitely something that we all want to do, so I think we'll do everything we can to make it happen."
When the series ended, fans were given some closure to Pollard's struggle with returning to Hollywood, as well as his struggles with his mutual infatuation with Klein. But there was a lot more planned.
"I think that the great thing about that setup is that there is infinite things to do," Caplan offered wistfully. "As far as the romantic arc, I think we could have gone back and forth for on it at least a few more seasons. It's such a bummer, it's still the most heart breaking thing ever. You'd think it would not still not be as raw, but it certainly is."
Pain over the cancellation isn't just a pang against Caplan's ego; she said she truly did love the show.
"It sucks so bad, I don't understand. Still sometimes I'll see portions of episodes -- I've never wanted to watch something I'm in, and I can't get enough of watching that show... it's just beyond me that our tiny show that cost no money to make was too much of a burden on Starz."
Nothing's guaranteed, but as the show's legend grows, that tiny TV show could become a big screen hit.
WATCH
:
Support HuffPost
The Stakes Have Never Been Higher
Popular in the Community