Former New York Gov. George Pataki won't support fellow presidential hopeful Donald Trump, according to statements he made on Twitter and reiterated during Wednesday night's "undercard" debate. But when debate co-host Hugh Hewitt pushed back and asked whom Pataki would vote for, the former governor simply said he would vote for the Republican nominee -- he's just betting that won't be Trump.
Republicans nationwide are likely to come to the same conclusion: They'll probably vote for whichever Republican gets nominated, since most believe the worst Republican is better than any Democrat.
According to a recent HuffPost/YouGov poll, a whopping 74 percent of registered voters who identify as strong Republicans somewhat or strongly agree that "the worst member of the Republican Party is still better than the best member of the Democratic Party." Democrats are almost as strongly attached to their party's members. The majority of strong Democrat registered voters -- 65 percent -- say "the worst member of the Democratic Party is still better than the best member of the Republican Party."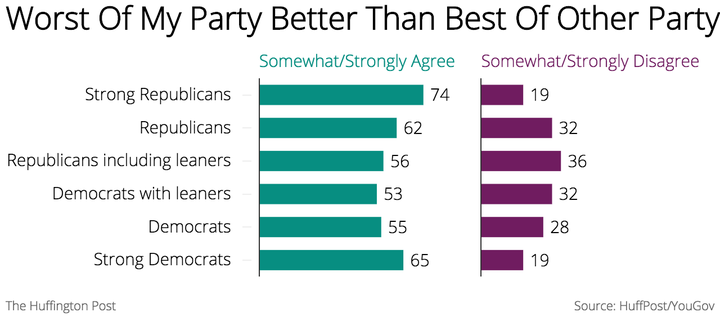 It's unclear whether poll respondents were thinking of politicians or regular people when they answered the question, but the results are striking nonetheless. Among all Republican registered voters, including independents who say they lean toward the GOP, 56 percent agree that a bad Republican is better than a good Democrat. Among all Democrat and Democratic-leaning registered voters, 53 percent prefer a bad Democrat over a good Republican.
Similar patterns are evident in respondents' self-reported voting patterns. Large majorities on both sides say they have never voted for a presidential candidate from the other party. Fifty-nine percent of registered voters who identified as Republicans have never voted for a Democratic presidential candidate, and 72 percent of registered voters who identified as Democrats have never voted for a Republican presidential candidate.
Just how polarized the public is along party lines has been debated heavily among political scientists. There's general agreement that politicians are more divided by party lines than ever, but it's not clear that the general American population is quite as divided. 
But Pew Research shows that partisan animosity has increased over time as well. Thirty-eight percent of Democrats and 43 percent of Republicans reported very unfavorable views of the opposing party in 2014, compared to only 16 percent and 17 percent respectively in 1994.
Emory University political scientist Alan Abramowitz has argued that these patterns demonstrate increasing polarization among Americans. He says that polarization in Washington is a direct result of polarization in the American public: "The roots of polarization are in our changing society -- and above all the growing racial and ethnic diversity of the American population."
The HuffPost/YouGov poll results lean toward the latter explanation. Most partisans see so much difference between the parties and what they stand for that they think even the worst of their party is better than the best from another party. Pataki is vehemently anti-Trump, but chances are that Trump will still gets his vote, and the votes of others who share Pataki's views, in November of 2016 if the businessman is the Republican nominee for president. 
The HuffPost/YouGov poll consisted of 1,000 completed interviews conducted July 24-27 among U.S. adults, using a sample selected from YouGov's opt-in online panel to match the demographics and other characteristics of the adult U.S. population. The numbers in this article are based on 884 registered voters who participated in the poll. Of that group, 36 percent are Republicans or independents who lean Republican, 29 percent are non-independent Republicans and 16 percent are strong Republicans. An additional 45 percent are Democrats or independents who lean Democratic, 36 percent are non-independent Democrats and 23 percent are strong Democrats. Non-leaning independents comprise only 19 percent of the sample; independents including leaners comprise 36 percent. Full crosstabs of the result, including party breakdowns, are available here.
The Huffington Post has teamed up with YouGov to conduct daily opinion polls. You can learn more about this project and take part in YouGov's nationally representative opinion polling. Data from all HuffPost/YouGov polls can be found here. More details on the polls' methodology are available here.
Most surveys report a margin of error that represents some, but not all, potential survey errors. YouGov's reports include a model-based margin of error, which rests on a specific set of statistical assumptions about the selected sample, rather than the standard methodology for random probability sampling. If these assumptions are wrong, the model-based margin of error may also be inaccurate. Click here for a more detailed explanation of the model-based margin of error.
REAL LIFE. REAL NEWS. REAL VOICES.
Help us tell more of the stories that matter from voices that too often remain unheard.