PHNOM PENH -- As John McCain prepared to concede the 2008 Election, expats at the Foreign Correspondents' Club momentarily disappeared in a cloud of silly string and fake snow. But their shrieks and shouts didn't.
Chants of "Obama! Obama!" and "Yes we can!" echoed through the popular Phnom Penh restaurant, while a supporter sporting an Obama mask worked the crowd.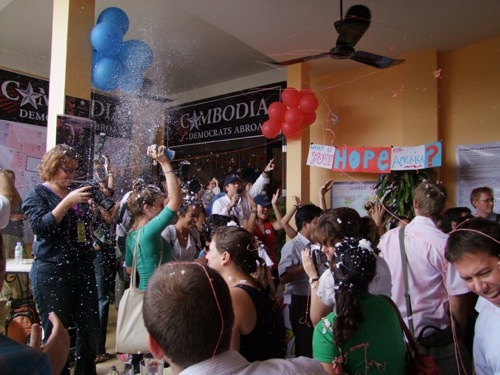 Expats in Phnom Penh celebrate Obama's victory.
"The hopes of the whole world are on Obama," Roberta McLaughlin, a Democrats Abroad volunteer, told me as Americans and non-Americans alike celebrated the historic electoral win. And while, like McLaughlin, I worry that managing those global expectations may be one of Obama's great challenges, I tried to put aside those anxieties today.
I wanted to appreciate the spirit of unity that Obama's election had engendered. Much has been made of the staggeringly diverse and internationally widespread nature of Obama's support. Not only has he turned "red" states "blue;" he has truly captured the hearts and imaginations of people throughout the world. Even in far-flung Cambodia, I have seen this first-hand.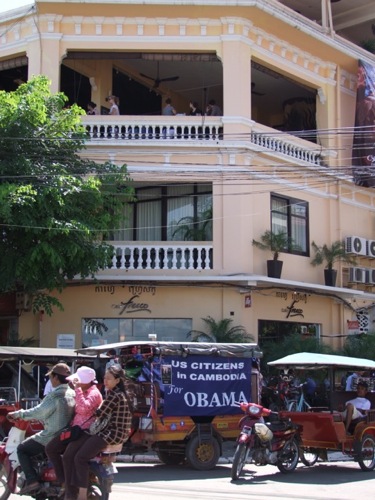 Outside the FCC on Phnom Penh's waterfront.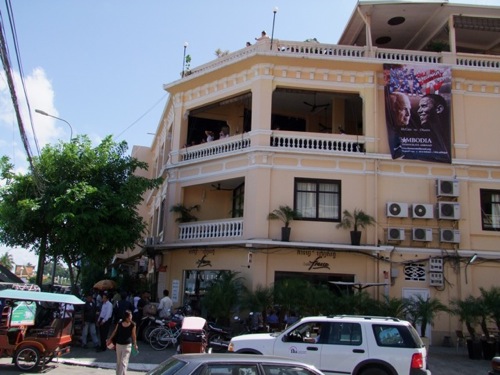 Outside the FCC on Phnom Penh's waterfront.
Energized by a particularly active chapter of Democrats Abroad, people of all nationalities have gathered at the FCC every weekend to watch replayed debates and speeches. Although it is generally believed McCain has strong support among Cambodians and Cambodian Americans (some think he has a better understanding of the region given his history here) I have certainly encountered numerous Cambodians who do not fit this stereotype. People I talk to every day -- from the girls who work at the newsstand I frequent, to the moto and tuk tuk drivers outside my apartment -- have been counting down the days to the U.S. election, hoping for an Obama win. A local university's mock U.S. election Tuesday resulted in a decisive victory for Obama; he garnered 292 votes next to McCain's 72.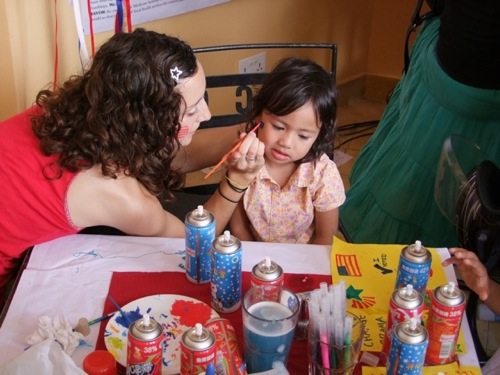 A little girl gets an American flag painted on her face.
"Obama's worldview is what we need for today," McLaughlin told me, as two of her local deaf students congratulated her in sign language on Obama's victory. "We need to change the way the rest of the world sees America, and the way we see the rest of the world."
Indeed, many Americans hope our country can begin to move away from the fear and suspicion of the outside world that has characterized the last eight years. Of course we have enemies. But America has many potential allies as well.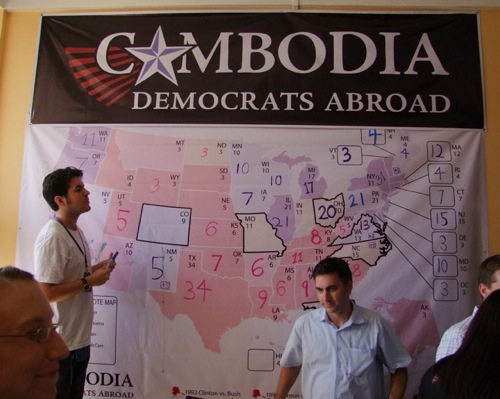 Democrats Abroad volunteers keep track of the vote count.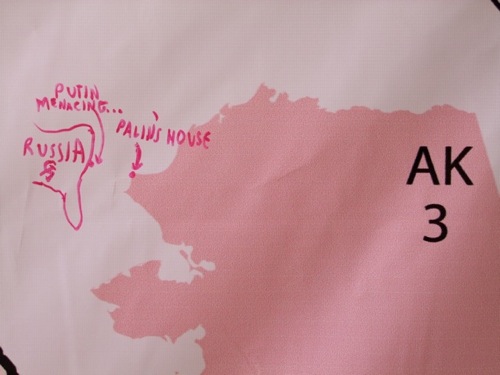 Democrats Abroad volunteers keep track of the vote count.

An Obama presidency will help mend some of the global relations that were severed in recent times, and begin to restore America's image abroad, Wayne Weightman, Cambodia chair for Democrats Abroad, told me.
"Before, I never advertised" being an American, Weightman said. "Today, I'm proud."
I can understand the sentiment. Having only traveled abroad after 2000, I'm used to revelation of my nationality eliciting groans and anti-Bush tirades from people of all nationalities.
Today, my citizenship inspired warm smiles and cheers of "Go Obama!"
As Obama works to heal the partisan divide in America, uniting the country for the challenges ahead, I hope he will remain engaged with the world at large as well. There are plenty of people in it ready to give America a chance.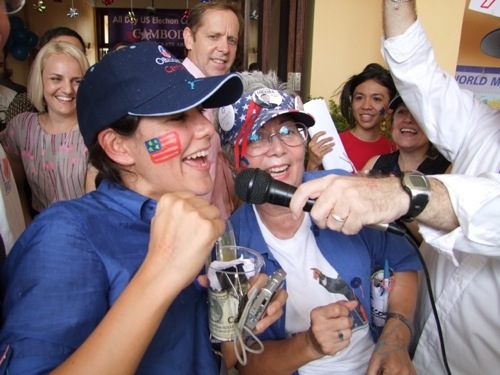 Supporters chant for Obama.
REAL LIFE. REAL NEWS. REAL VOICES.
Help us tell more of the stories that matter from voices that too often remain unheard.