 It was Burning Man 2012. We had prepared for the worst, and hoped for the best as reports of epic sandstorms streamed in via texts from friends who were already out on the playa. The playa: an empty lake bed that is now flat terrain for desert and dust for as far as the eye can see until the mountains claim the horizon. The open space sets the tone for expansion, with the promise of nothing to hinder your ideas, self expression or dreams and fantasies, except for the elements of the heat of the day, the cold of night, or the white clouds of dust that settles in your eyes, nose and lungs.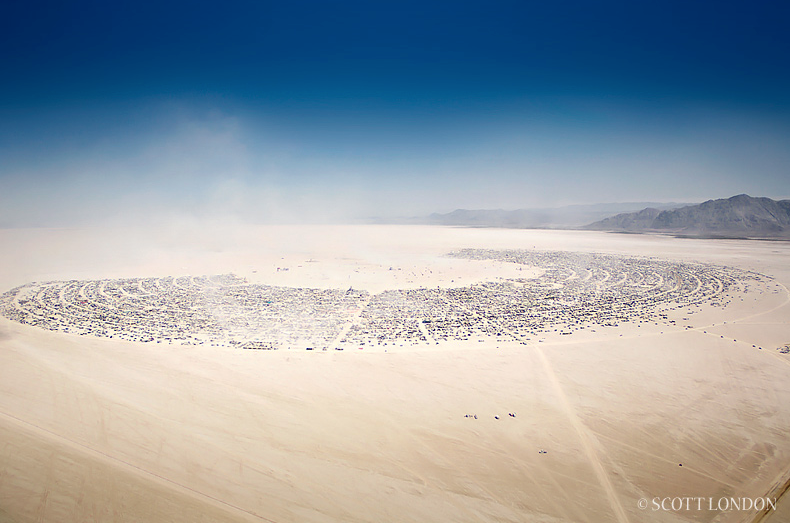 (photo by Scott London)
This gathering is lazily categorized as a debaucherous rave party with epic proportions of drugs and sex. But I like the definition one of my campmates handed to me: it is the largest gathering of ninjas and jedis, cowboys and cowgirls, and aliens on the planet. Translated: The ninjas and jedis are your healers, energy workers, creatives, dancers, and artists. Your cowboys and cowgirls are utterly competent in any situation, can and will survive anything, and are a little rough and tough around the edges, as they can live on any new frontier; and then there are your aliens... well... enough said; they're out there. And then there are the muggles: the ones who come to observe. You barely notice them actually.
My favorite way to explain Burning Man to someone who hasn't attended is by saying that you are with thousands of people who have traveled great distances to get there (it's a pilgrimage of sorts). Upon entering through the gates, the first words you hear from the greeters are, "welcome home." Once trough the gates, it is as if you are attending a huge party thrown just for you. The other pressing detail: you are living in a gift economy where no money is exchanged. Hungry for breakfast? Go get bacon and pancakes to the tune of Black Sabbath at Camp Cape Diem. Need some coffee? Head to 9'oclock and Plaza, to Coffee, Tea, or Me. Desperate for some TLC? Wash your worries away at any number of the spas at Black Rock City; you can enter a steam room, get a foot massage or your hair washed. And on your way you may be stopped by a man giving out necklaces. All for free. Or rather, for the price of your playful and open presence.
This was my sixth year on the playa. I have attended this event almost every way possible: My first year I got a ride on Craigslist, became fast friends with the woman who was driving, and was ensconced into her camp. I have gone by myself, gone with a group of friends, hitchhiked out after 30 hours, and on one particularly rough year at work, on Wednesday (halfway through the festival), my co-worker and I decided if we could get a ticket we would leave the next day. This was the first time I attended the entire week and got to witness the rise and fall of Black Rock City. This year I got Burning Man in a whole new way.
Don't get me wrong, I have always loved Burning Man. I have loved it for the magic, the serendipity, the all night dance parties, the extraordinary art, the sunrises, and the images, situations, and one liners that really just couldn't happen anywhere else in the world ("Are my bunny ears too dusty to go with this tutu?"). But more than anything, I have loved it for providing the time and space that has created new friendships, and deepened old ones. It's easy to tell you stories, such as the time I attended a memorial service and a wedding in the same day, spoke with a young man who was convinced he was an alien (or maybe I was the one who was convinced... ) or met three members of a marching band wearing buttless chaps and leopard skin tights at the farthest edges of the parameters of the festival to watch the first light of day reclaim the horizon.
I only have one rule while living in Black Rock City: I am always in the right place at the right time. It is my way of declaring radical presence, open to whatever serendipity magnetizes toward me or attracts toward a specific direction. Or, another way of simply putting it: it is my way of avoiding the inevitable pitfalls of FOMO (fear of missing out) since at any given moment there is a performance, a great meal, a ride on an art car, a dear friend, a new friend and a hot guy swirling about you in the cosmic mix. It means that no matter what is happening -- how fun or not fun the moment is -- you are still claiming that you are in alignment with the cosmic flow of the universe, and are receiving the exact experience you need to be having in that moment. One of my campmates compared my right place right time dogma to how others have faith in God. He stopped me in my tracks. I was almost offended. Faith in God meant that he/she/it was in charge of what happened. My right place right time declaration was a choice -- point: It wasn't God creating an experience for me -- it was my decision to surrender to not questioning or doubting that something better, smarter, sexier, more interesting, more intriguing, more fascinating was out there (even though we all know it was...). I was going to declare radical presence and be happy and content and possibly even thrilled with everything just as it is. Even when it sucked.
But let's talk about God.
Wow. Where to go from here? The logical thing to do is head to the beginning -- in this case childhood, when we are first shown what it looks like to commune with God. In my case my Jewish/Protestant parents explained one version: there is an ethereal presence known as spirit, your relationship is extremely personal; and then they showed me another way when I was sent to a private Catholic school. The indelible mark was made: I believed if you wanted to connect to God one must go inside, sit down, and shut up. Future associations would also include the concepts of making oneself small, going without, guilt, and more unfavorable associations that inspired me to develop my relationship with the god/spirit in private.
Something shifted in my twenties when I stumbled into the world of being a wilderness guide with youth at risk. I began to believe that something much larger was at work when the teens I was working with started having epiphanies that I know I didn't help facilitate. I started discovering God (or the goddess, or a higher power, or the sacred) in the miracle of a plant growing in the middle of the desert, in the grandness of canyons, in the expansiveness of the mountains, and in the epic beauty created by the detailed lines found in the petal of a flower. It became a tangible relationship. One that I met with pleasure and pain as I stretched and discovered my limits under extreme circumstances of snow storms and lightening storms while trying to protect a group of 13 youth in the midst of it all.
I learned what it meant to pray. Well, that's a lie. I didn't learn how to pray until I got cancer. But that's a different story. This story is about how I learned to party with God on the playa. It's hard not to want to mock myself alongside you for saying such a statement. Instead let's look in the direction of the first time I discovered that honoring God didn't have to be a painfully boring occurrence. I was attending a blessing ceremony (known as a puja) at Everest Base Camp. I came with my pseudo-reverent ways (aka, shut up and sit still), and sat in awe as a party ensued that included the consumption of liquor and painting our faces with rice flower (and digressed into a food fight) while the Llama prayed over our expedition all the while. Who knew one could honor the gods in this way?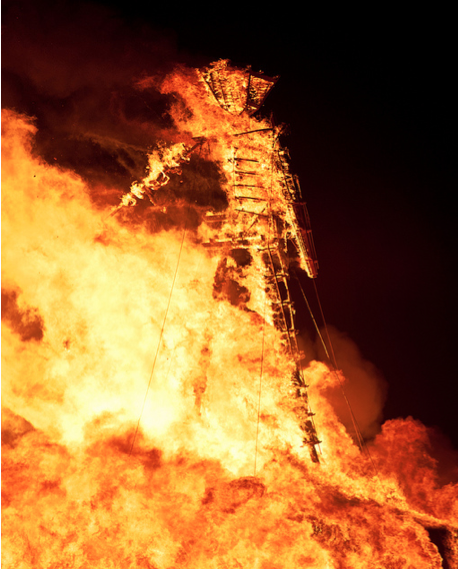 Photo by James Addison
But let's go back once again. Or forward. To the night of the burn of The Man. The night of "the burn" is a climax of sorts. Near the end of the festival, it is a huge burning of a sculpture of a man. For most of us, it is the closest we will ever come to feeling the power of fire that close. The first time I saw it I was... confused. I didn't get it. It was this huge event that thousands of people had gathered to witness that had all of these gestures of rituals. There was fire dancing, there was drumming, there was ritual performances, there was... no meaning in it for me. After a few more years of visiting the playa and witnessing the constant change of the landscape as new additions of amazing and sometimes larger than life sculptures are added, celebrated and burned, it has become a lesson in understanding that the culture of Burning Man is about valuing the act of creating and sharing creativity, and holding those moments as valuable (dare we say precious), rather than trying to preserve them forever. This concept of immediacy is actually one of the ten principles created by the founder, Larry Harvey.
The takeaway is that I am left with an undeniable experience of how rare and precious every moment is that I am in the presence of this place -- because soon it will all be gone and return back to a flat desert.
I would be remiss if I did not mention that amidst the all-night raves, art, performance, and dust storms, there is also a temple. A temple where people place their prayers, their photos, homages to their loved ones, their requests, and even their seemingly idiotic comments. It requires a bit of a journey -- as it is further out on the playa, perhaps over half a mile, so one usually has to make a point of going there rather than stumbling upon it in a drunken stupor (although I am sure that happens too). At this gathering of people from around the planet, in the city that never sleeps, amidst the wild dust storms, all-day and -night dance parties and relentless booming of beats, there is a space that is treated as sacred; where people gather late into the night and again at sunrise; where it is acceptable to pray, sing, dance, play music, and where silence is revered. In the middle of this wild festival of radical self-expression there is space held by walls to commune with whatever higher power you may choose to name.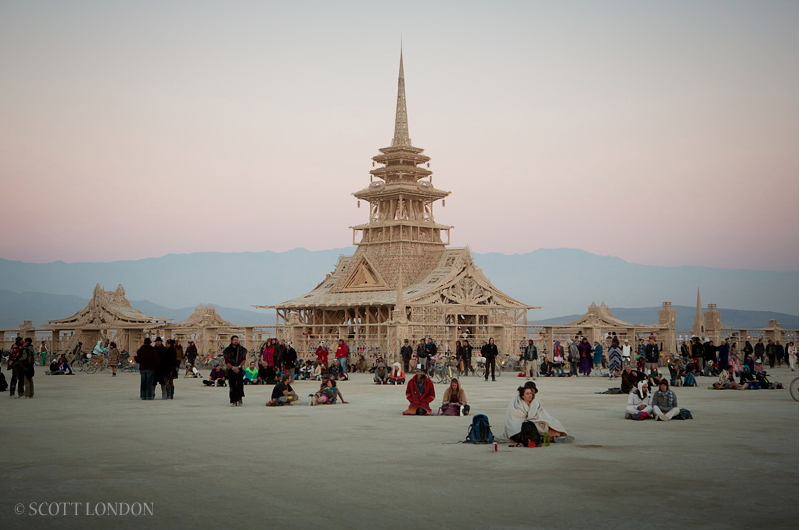 (photo by Scott London)
I found myself within the walls of the gates of the Juno Temple one evening, lying on a blanket with old friends with nothing to do but look up at the sky. It was a magnificent night, the sky was filled with clouds that acted as blankets and kept the night air warm. The light of the full moon danced and glided across the sky, lightening sprayed sparks that competed with the stars. And we had nothing to do but be exactly where we were, and watch a great show hosted by the night sky. It was there that I came to understand how ancient Greek mythology was born, how when one looks, one can see the gods and deities living in the clouds. As I watched the clouds, felt the rain, reveled in the lightning, I finally understood that this celebration, this expression of true, radical happiness, is food for the gods, and they had come to the party.
Go ahead. Roll your eyes. I can't blame you. To be true, I'm a bit timid to share this revelation with you. It made me return to the first time I read the Dalai Lama's book on happiness where he stated that, "The purpose of our lives is to be happy." That one sentence nearly sent me over the cliff -- it challenged so many of my beliefs, such as that working hard to the point of exhaustion is a badge of courage, that sacrificing my own health and well-being in the name of community work and activism was righteous, and that doing without and being in lack in the name of protecting the environment made me better. It has taken years to unfold those concepts and arrive to the realization that it is not just about conserving water, but also about treasuring every drop one uses, and then relishing in the comfort provided. It is in the doing less, and being more present to friendships, kindness, and compassion that rejuvenates me rather than depletes me; that it isn't about how much I get done or what I succeed at, or the length of my resume that will declare my worthiness (ok, lets face it: to many it will); but to me, my measure of success is the sense of ease, peace, and happiness I experience when I wake in the morning and when I go to sleep at night. As the Chinese curse goes, may you live in interesting times... and that we are. Our world feels unstable as I look at our economy, environment, changing world order and, depending on what lens you look through, it feels like doom is lingering on every horizon; so the the act of celebration, creativity, and happiness is a choice -- it is a choice not to be driven by fear and the potential of misery.
But again, I digress. As I mentioned, I have attended Burning Man for six years and never stayed to watch the temple burn. On the final night, with most of the markers that help direct you around the city now burned and gone, I was in awe as thousands of people from different forms of religious and cultural backgrounds sat in (mostly) silence as we watched the temple that held the prayers, wishes, and losses of our instant community burn to the ground. Over the course of the week I have felt connected to, and even responsible for caring for strangers who were out of water or without lights at night, or were without enough clothes when it is cold. I felt responsible to honor their prayers and wishes as they rose in flames.
And for the first time I got Burning Man in a whole new way: this gathering is one of the oldest forms of celebrating the sacred that mankind has known, and that the ability to reclaim this and integrate it into our lives is there for the taking. If you want it. And it was in that moment that I came to understand that this gathering of people from around the world could be a party for the planet that honored the sacred. That the act of celebrating the lives we are given and being in the practice of experiencing pleasure in what it means to be human: making the time to dedicate ourselves to connecting with others, enjoying the pleasures of our bodies via dance and self-expression, being creative beyond measure, that this was one of the most ancient ways of honoring the gods, or whatever source of life you choose to name (or not name). I had read about it in books, Joseph Campbell has provided many examples, but now I was experiencing it real time.
The transition back to what is referred to as "the default world" can be challenging. Upon arriving in a restaurant in Truckee, I caught myself wanting to give a huge hello when I walked through the door and strike up a conversation with everyone sitting near us. One is confronted with the idea that the way you have been living for the past few days or a week -- living in connection with the daily cycles of the natural world, being present with the people who cross your path without the distractions of phones, computers or deadlines, the expectation that you will play when engaging with others -- may be separate from your every day existence. It's hard to leave the feeling of connection with... everything. And now, I stand fully in the understanding that as Dalai Lama says, "Love and compassion are necessities, not luxuries. Without them humanity cannot survive."
There is an expression one uses after an exceptionally good day or night on the playa... "I won Burning Man." It means you did it right, you slipped into the flow of the universe and something magical happened. You stepped onto an art car that suddenly lifted 30 feet into the air above the traveling disco fish, someone sang you a love song just in time to keep your heart from closing to the one you love, you were walking at sunrise when two guys on bicycles (one wearing a headdress and the other pedaling backward) start circling you and then spontaneously hop off and offer you a ride (but not before telling you and your pal, "You look fancy"). I look forward to burning man because I know I will be surrounded by thousands of people who are ready, willing, and prepared to live life in a connected way -- lets call it magic, or commitment to live in a sacred way that honors and appreciates all expressions and walks of life. Now, the work is to bring the magic, the creativity, the readiness for adventure, the connection to land, the commitment to meet everyone who crosses your path as if you just arrived at their surprise party... to this home.
Related
Popular in the Community