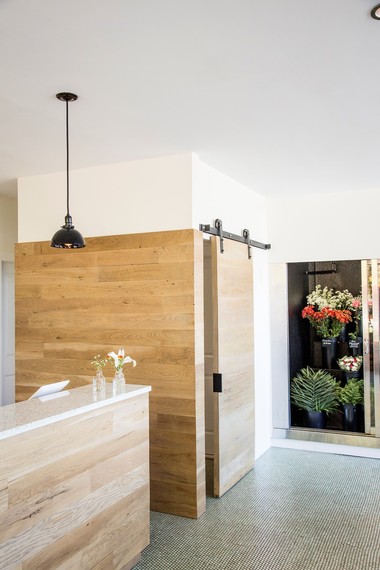 (Photo: Beth Perkins)
So, you have one item on your to-do list. Easy, right?
Well, it's a pretty big item: Build a new wing off the back of your house. Not so easy. You have the space worked out in your head and can imagine it as a new dining room, an extension of your living room, or a brand new kitchen, but there are a couple of things stopping you from taking up your hammer and raising a few walls. For starters, how exactly do you build an addition? And then how will the new space merge with the old one? You need help, so who do you turn to?
A full-scale build like constructing an addition or even just raising a new wall to divide a room requires a lot of planning and architectural know-how. Do you have much experience tearing down walls or raising roofs? Do you want to deal with hidden electrical issues by yourself? What about designing a space for optimal natural light? Or figuring out just how much space you can use and finding out it's not enough? You want to create your dream space, not weeks and weeks of headaches on an unpredictable timeline.
That's where designers and architects come in.
They're the ones who plan, solve problems, manage materials, and look for ways to save your budget while creating the living space you truly desire. With a well-coordinated team, renovations and construction do not have to be a The Money Pit situation.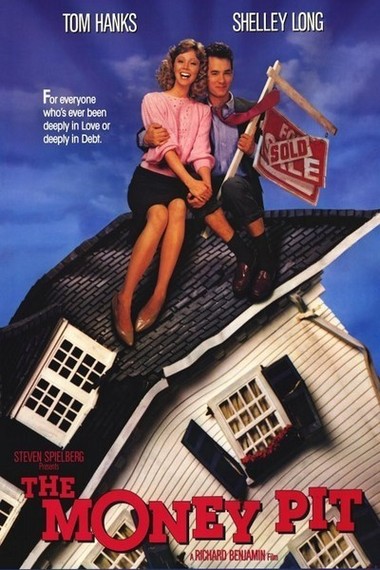 (Photo courtesy of RogerEbert.com)
But what exactly is the difference between a DESIGNER and an ARCHITECT?
INTERIOR DESIGNERS work with the form and functionality of a space, which means that they know how to manipulate a space to be both aesthetically pleasing and also as useful as possible. Qualified through education and experience, interior designers identify, research and resolve design issues to configure interior spaces to make them workable and check off all of the items on the client's wish list.
ARCHITECTS specialize in sculpting the space for the client by carving and shaping the form out of the designer's idea. The architect is responsible for creating the structural shell, with exteriors ranging in purpose from residential to commercial. Architects build from the ground up, creating new structures and architectural additions, and they know the limits of their trade. Because of this, many architects opt for a team approach, working in unison with with each design specialist doing what they do best.
To further explore the relationships between designers and architects, I talked with one of Manhattan's top architects Kent Johnson, principal of Milktrout, Inc., and we came up with a list of the top five ways your designer and architect can work together to make the renovation process smooth.
1. Designers and architects ensure that the exterior of your home complements the interior themes.
Interior designers use furnishings and accessories to construct the look and feel of the internal spaces of your home, but they only work well when they coordinate their design with the architect's exterior scheme. Kent Johnson notes,
It's critical for the architect to understand the designer's objectives regarding furnishings and finishes early in the process. Although furniture and art are often the last things to be installed, an understanding of how the space will be experienced as a whole should be established early on.
Living room furniture, for example, informs the architect's decisions in terms of where to locate audio-visual equipment, light switches, and convenience outlets. Furniture and finishes are intended to complement the architecture and vice versa. It's how you experience a space in its finished state that leaves a lasting impression, and it's that lasting impression that designers and architects work toward.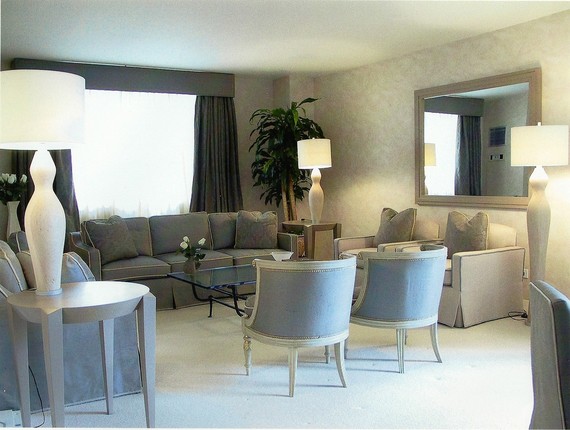 (Photo: David Estreich)
2. Interior Designers and architects make light a crucial element of their design schemes.
Designers work with light to make a room as bright or as dark as needed, and they will select light fixtures that enhance the aesthetics and function of a space. The architect will specify more architectural types of lighting, such as down lights, cove lighting, and built-in types of fixtures to further enhance the space. They will also be able to locate the junction boxes and, together with the designer, figure out the proper height and positioning of different lights in relation to the furniture arrangements. Kent adds,
The best design will fall flat if the lighting isn't properly worked out. The designer and the architect should work together to identify the 'mood' of each room or space, and some spaces need a number of moods. While purely functional day-to-day lighting is essential, a party or entertainment scene can set off the subtleties of the architecture.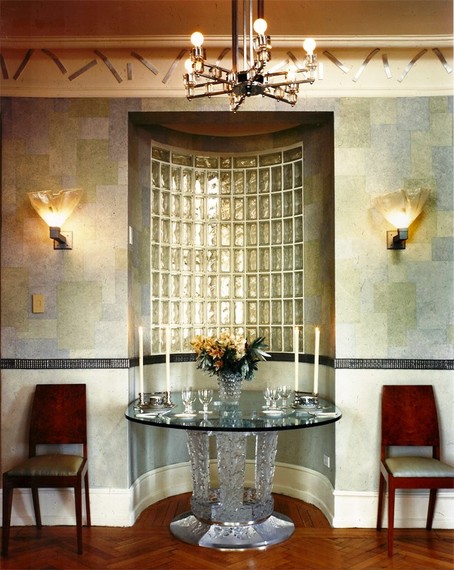 (Photo: Phillip Ennis)
3. Architects and designers also collaborate on ceilings, which are important features that help define the "mood" of a space.
The height of a space is a critical factor in how one experiences the room. Vaulted ceilings, for instance, make a room feel taller, wider, and more open, while low ceilings can make a room feel oppressive and cave-like. For both architects and designers, ceilings can have a lasting impact on establishing the feel of a room, especially when used with effective lighting or other features, such as plaster moldings.
"Subtle differences in height can help the architect and designer delineate intimate spaces from more public spaces," Kent says.
Transitioning from a relatively standard foyer ceiling height to a living room with vaulted ceilings has the potential to be a dramatic moment, and one the design team can capitalize on. If the project is a renovation, an understanding of the existing architecture is critical to taking advantage of these opportunities.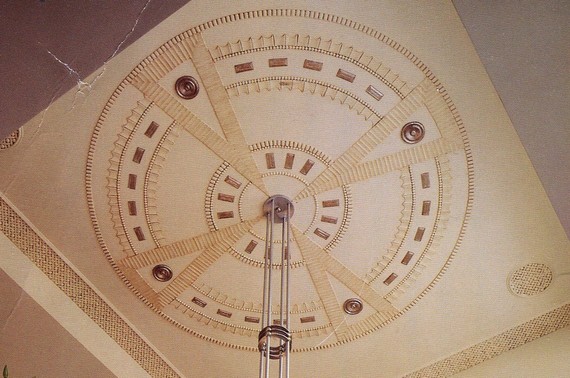 (Photo: David Estreich)
4. Architects and designers work together to utilize cabinetry to capitalize on storage and a sense of space.
Cabinetry oftentimes defines a space by either, in the case of a low unit, bridging two spaces, or in the case of a tall unit, by dividing a space. Generally, the architect will design the built-in storage cabinets while the designer will select the finish and color, but both disciplines ensure that each piece works within the whole context of the room. "Cabinetry and millwork are for more than just the closet," says Kent.
A well-designed bookcase, entertainment unit, or even a radiator cover can contribute to not only the functionality, but also to the aesthetic of a room. A high-gloss lacquer finish on a series of floating shelves may play a key role in showcasing a collection of classic books or decorative art.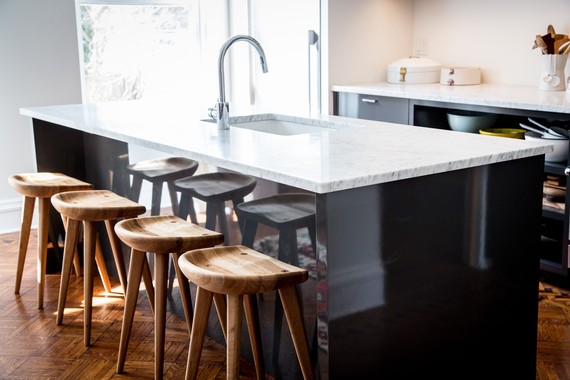 (Photo: Beth Perkins)
5. Designers and architects consult with each other to reorganize and define different spaces by creating walls.
While the architect may design and build the wall, the designer will work with the client to specify its treatment, whether it is paint, glass, metal, stone, or some other material. "Walls are for more than just paint. An upholstered wall -- in leather or fabric -- or a paneled wall can make a huge difference to the style of the room," says Kent. "Wainscoting can be traditional or have a modern spin. Regardless, the designer and the architect coordinate the construction to accommodate whatever finishes the wall is intended to receive."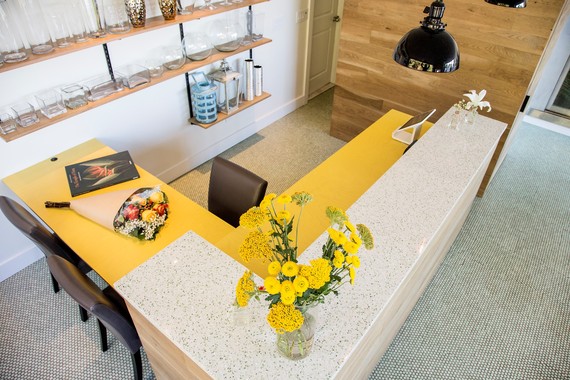 (Photo: Beth Perkins)
Related