In all of the wine travel we have taken, we have never heard anyone say that they won't visit Burgundy -- which clocks in 1.5 million wine tourists a year -- because it is too far from Paris. Google "distance from Paris to Beaune," and you will learn that takes 2 hours and 50 minutes to get there, which about the same amount of time it will take you to get to Paso Robles from either San Francisco or Los Angeles. On a recent visit to Paso Robles, on California's Central Coast, we were awed by the beautiful natural landscape, the delicious wine, the wonderful food, the friendliness of the people, and the complete lack of traffic or overcrowding so prevalent in other US wine regions.
The Paso Robles AVA (American Viticultural Area) contains over 200 wineries and 26,000 acres of grapevines. Although it is known in the wine world as the home of Rhone varietals -- that's mainly Syrah, Grenache and Mourvedre for the red grapes, and Viognier, Marsanne, and Roussanne for the whites -- Paso Robles is home to a surprising number of different types of grapes and wine, including Chardonnay, Pinot Noir, Cabernet Sauvignon, Zinfandel, Petite Sirah, Tempranillo, Touriga Nacional, Sangiovese, and Nebbiolo. It is also home to some of the friendliest folks we have met in a long time. Paso Robles left three distinct impressions on us: The wine is delicious, the food is wonderful, and the people are just so darn nice.
Wineries range from small family affairs producing 1,000 or 2,000 cases a year (that's 12,000 to 24,000 bottles) to large producers such as J. Lohr, Hope Family, and Tobin James. The latter has a wine club boasting 26,000 members, which is said to be the largest winery club in the world. And although many of the more petite wineries do not have national distribution, if you can't live without a steady supply of your newfound favorite Zinfandel or Petite Sirah, almost everyone in the area ships direct to consumers either via online ordering or through their wine club.
Just as wineries come in different shapes and sizes, winemakers do too. Chronic Cellars' Josh Beckett is a surfer whose fun-loving attitude translates into funky labels and goofy names fronting some very serious wine. Cypher's owner/winemaker Christian Tietje, the self-proclaimed ZinBitch, puts lip-smaking Rhone blends and Zins into tattoo-art covered bottles that any metal head would be proud to drink straight out of, but as a former chef, he understands that most of us will be drinking his wine alongside a meal and may prefer to use a glass. Epoch's Jordan Fiorentini is not only a winemaker but also an artist, and her unusual "tasting notes" feature sketches which give a visual dimension to information that in less creative hands can come across as dull at best.
A longstanding farming community, Paso Robles was home to fruit orchards, fields of vegetables, and ranches long before the first grapes were planted, and that tradition continues today. There is a very strong farm to table ethos among local food producers, restaurants, and even winemakers who sell their bottles either out the winery door or directly to area dining establishments. Downtown Paso Robles is home to a number of restaurants serving locally grown food and locally made wine, and several wineries offer lunches whose ingredients have mostly been sourced within county limits. Look for grass-fed beef, local olive oil, and even Ocean Rose abalone raised on a unique oceanfront farm in nearby Cayucos.
Accommodations range from large hotels to winery guesthouses and rentals outfitted with multiple bedrooms and full kitchens, perfect if you are travelling with a group and like to occasionally cook at "home." We spent a couple of nights in an apartment in the center of Paso Robles, right above Il Cortile. It was perfect to stop downstairs for an aperitivo at the bar, and we were also able to walk to the farmers market on the main square to stock up on vegetables for dinner, as well as an amazing box of caramels from Sugar & Spoon. If you're wandering around town, it's also worth a quick stroll to Di Raimondo's Italian Market and Cheese Shop to stock up on cheese from around the world and Italian specialties such as prosciutto and sopressata. We enjoyed lunch at a few wineries, notably Aronhill Vineyards and Farmstand 46 (at Cypher,) but when the sun sets and dinner time rolls around, if there's no designated driver on hand we prefer to eat in or enjoy a meal in town.
A good way to sample all that Paso Robles has to offer is to visit during Wine Festival weekend, which this year is held May 17-19. You can also look out for bottles from artisanal producers at restaurants or wine bars. Look for bottles or glasses from Eberle, Kenneth Volk Vineyards, Starr Ranch, Giornata, Broken Earth, Jacob Toft, Ranchero Cellars, Jack Creek, Booker, Terry Hoage, Derby Wine Estates, Cayucos Cellars, Lone Madrone, Clayhouse Winery, and kukkula.
Want to pick up some great wine country cooking tips? Noted cookbook author Brigit Binns, whose latest tome, The New Wine Country Cookbook: Recipes From California's Central Coast drops on May 7, offers cooking classes at Refugio, her gorgeous outdoor kitchen in Paso Robles. Upcoming classes that have our mouths watering include "Outlaw Wine Pairings," featuring hard-to-pair flavors like cumin and cilantro with wine, and "Wood Fire Cooking in Your Fireplace," in which participants will learn to cook dishes such as ember roasted artichokes and fire roasted mussels. Ranchero Cellars winemaker Amy Butler will be on hand for the Outlaw Wine Pairing class, pouring her small-batch wines.
It is said that it takes a lot of beer to make good wine, a reference to the fact that after a long day in the winery, many winemakers cool their palate down with a nice cold brew. If you long to do the same after a day of tasting, Firestone Walker Brewing Company (1400 Ramada Drive) should be on your wine country checklist. And if your designated driver needs a little pick me up, be sure to include Merry Hill Coffee and Teas (1121 Rossi Road, Templeton, and 6570 Morro Road, Atascadero) on your itinerary.
Tobin James Cellars: Founding partner Toby James can be found personally pouring full-flavored yet value-priced Cabernet Sauvignon, Syrah, Zinfandel, or Chardonnay (among many other varietals) in the large Wild West styled tasting rooms. If you think wine tastings are stuffy, snobs-only affairs one visit to Tobin James and a glass of Liquid Love will change your mind forever. 8950 Union Road, Paso Robles CA
Hope Family Wines: At Hope Family's updated version of a classic barrel room, you can taste through the Liberty School, Treana, Austin Hope, Candor, and Troublemaker lines of wine. Quality and quantity are definitely not in reverse proportion here; many of the wines make major wine magazines' annual listings of "Best Buys" and "Top Values" for their excellent flavor to cost ratio. 1585 Live Oak Road, Paso Robles CA
Chateau Margene: Mike and Margene Mooney opened Chateau Margene in 1997, and although they only make 3,000 cases a year of handcrafted Cabernet Sauvignon, Pinot Noir, and Rhone-style blends, they have two tasting rooms -- one at their "east side" winery and vineyard, open only on weekends, the other at Limerock Orchards, on the more heavily trafficked Peachy Canyon Road. 4385 La Panza Road, Creston CA or 6996 Peachy Canyon Road, Paso Robles CA
Steinbeck Vineyards and Winery: The Steinbeck family has been farming in Paso Robles for seven generations, and although patriarch Howie Steinbeck is happy to sell highly prized grapes to his higher profile neighbors, daughter Cindy decided to open a winery. Winemaker Steve Glossner uses only 1% of the Steinbeck Vineyards total grape production for this 1,000 case per year winery that produces Cabernet Sauvignon, Petite Sirah, Viognier, and Zinfandel. Cindy and Howie take visitors out in into the vineyards in vintage Jeeps for a closer look at how grapes are grown and where wine comes from. 5940 Union Road, Paso Robles CA
Ancient Peaks Winery and Margarita Adventures: If you want a little ziplining to go along with the zip in your glass, don't miss out on a trip to Ancient Peaks. The name Ancient Peaks harkens back to the geologic influence that formed the vineyards, which are part of a ranch that was first planted by missionaries in 1780. We suggest starting your day with the zipline adventure before heading back to the quaint town of Santa Margarita (which is within the confines of the large ranch) for a mid-afternoon tasting of award-winning wines. 22720 El Camino Real, Santa Margarita, CA
Il Cortile Ristorante: Chef Santos MacDonal combines Italian taste and technique with the freshest local ingredients. Homemade pastas recall a trip to Tuscany without boarding a plane. The wine list nicely mingles the best of California and Italy. On a recent visit we could not get enough of beef carpaccio with parmigiana cream sauce and fresh shaved truffles, and we might have split a second helping of homemade pappardelle with wild boar. 608 12th Street, Paso Robles CA
Artisan Restaurant: Chef Chris Kobayashi sources local ingredients for an ever-changing seasonal menu. We especially enjoyed a salad of fried razor clams with celery, blood orange and espelette, and housemade rabbit paté was a terrific way to start our meal. The all-California wine list is heavy on Paso Robles, as it should be, and offers some interesting flights in addition to extensive selections broken out by varietal and type of blend. (A move is underway; double-check address before visiting.) 1401 Park Street, Paso Robles, CA
Thomas Hill Organics: French-born Chef Julie Simon uses produce from the restaurant's own organic farm to create a la carte dishes and thoughtfully prepared wine tasting meals, many with an Asian flair. A recent pairing dinner featured chicken wing confit with sriracha glaze followed by spicy duck two ways, offering side-by-side breast and leg. Ask for a table in the awning-covered garden. 1305 Park Street, Paso Robles CA
La Bellasera Hotel & Suites: The only game in town in terms of a large hotel with restaurant and wine bar, Bellasera is centrally located. It's a great place to base yourself for daily wine country touring. Where else can you enjoy a glass of Paso Zin in your in-room hot tub? 206 Alexa Court, Paso Robles CA
The Inn at Croad Vineyard: Martin Croad combines his native New Zealand style with classic California Mission in this villa-style three bedroom accommodation set amid the vines, just steps from the popular Croad tasting room. Rent out the whole house or just one room, all with ensuite bath. A private chef can be arranged for dinners in the large dining room with beautiful vineyard views. 3550 Vinedo Robles Lane, Paso Robles CA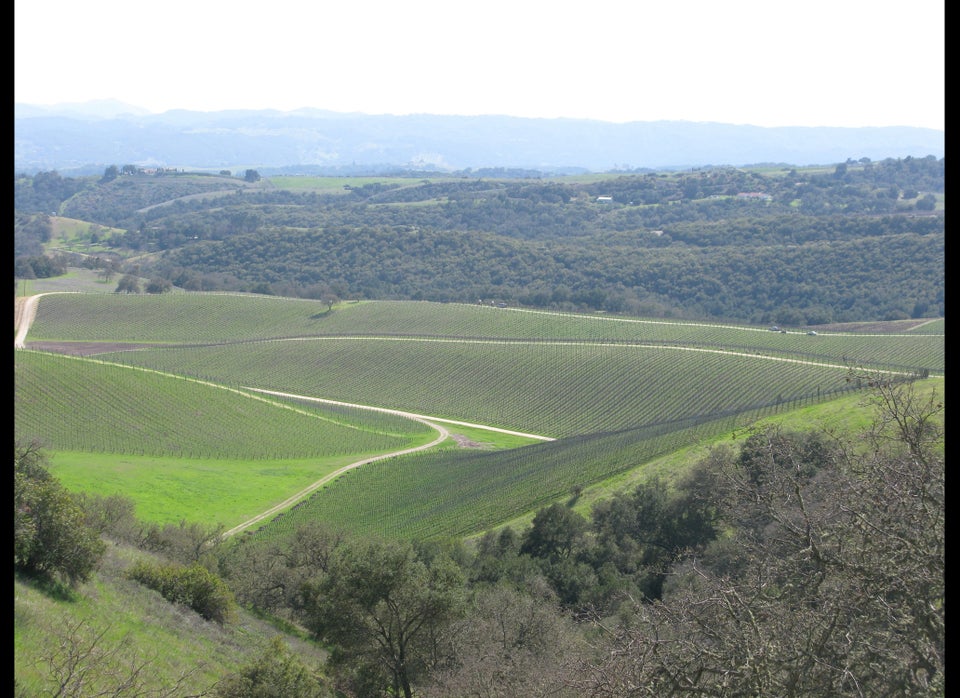 Wine, Food and Fun Share the Stage in Paso Robles
Related