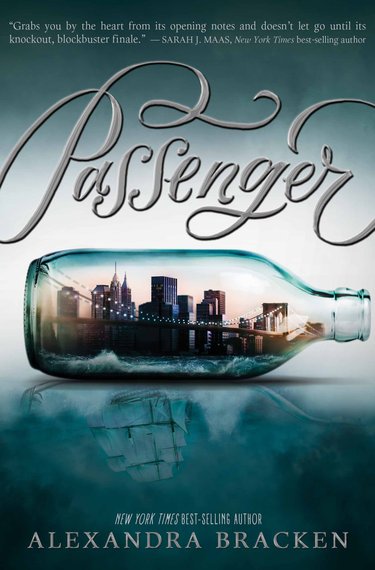 passage, n.
i. A brief section of music composed of a series of notes and flourishes.
ii. A journey by water; a voyage.
iii. The transition from one place to another, across space and time.
In one devastating night, violin prodigy Etta Spencer loses everything she knows and loves. Thrust into an unfamiliar world by a stranger with a dangerous agenda, Etta is certain of only one thing: she has traveled not just miles but years from home. And she's inherited a legacy she knows nothing about from a family whose existence she's never heard of. Until now.
Nicholas Carter is content with his life at sea, free from the Ironwoods--a powerful family in the colonies--and the servitude he's known at their hands. But with the arrival of an unusual passenger on his ship comes the insistent pull of the past that he can't escape and the family that won't let him go so easily. Now the Ironwoods are searching for a stolen object of untold value, one they believe only Etta, Nicholas' passenger, can find. In order to protect her, he must ensure she brings it back to them--whether she wants to or not.
Together, Etta and Nicholas embark on a perilous journey across centuries and continents, piecing together clues left behind by the traveler who will do anything to keep the object out of the Ironwoods' grasp. But as they get closer to the truth of their search, and the deadly game the Ironwoods are play­ing, treacherous forces threaten to sep­arate Etta not only from Nicholas but from her path home...forever.

Alexandra Bracken's Passenger had, in late 2015, been categorized by book-lovers as one of the most highly anticipated releases of 2016. The author of The Darkest Minds series proved her new book was worth the hype as she topped the New York Times Bestselling List at #1 for two straight weeks.
Passenger is a time travel story about a young girl named Etta, who is a violin prodigy living in New York City. Etta feels pressure from both her mother and teacher to be perfect and exhibits her talent throughout the beginning of the story, but readers can relate to her scenario of having to sound perfect all the time (I say "sound", because she is a violin player, after all). Our second protagonist is Nicholas, the boy that Etta meets when she lands on the Challenger. Nicholas is witty and fearless, falling into the category of "Most Lovable Characters Ever Written".
Bracken does an incredible job with both description and dialogue, giving both elements a touch of complication, yet fluidity. Etta and Nicholas' dialogues ring with wit and sarcasm, but the author has a way of keeping romance to a suitable level and doesn't allow it to dominate the whole storyline. The balance is well-kept and keeps the story interesting for lovers of all genres.
Passenger has easily become one of my favorite books of all time. Bracken's writing is of an unforgettable style and captivates anyone who reads her books. The story is brilliant, of a new style, and overall, rivals every other time travel novel I have ever read.

Note: An advanced copy of this book was sent to me by Big Honcho Media and Disney Hyperion for an honest review. All opinions in the review are my own.
Calling all HuffPost superfans!
Sign up for membership to become a founding member and help shape HuffPost's next chapter