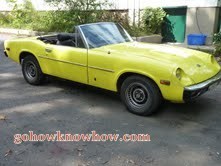 Last week a tow truck pulled up to my house, loaded a 1974 Jensen-Healey sports car on the bed and left. Pulling out of my driveway the autumn leaves swirled a bit before settling back on the street. Seasons come and seasons go and so do cars.
The departure of that one was a news-making event in some quarters. My husband Jim wrote about it for The New York Times Wheels blog, which you can read here. As with most stories, there is more than one side. Here's mine.
The Jensen-Healey was my husband's first love and an occasional irritant in our 30 year marriage. When we were young and dating, the car added to his appeal. It was impractical and fun. How does a 24-year-old girl respond to a fall foliage road trip through New England with the car top down and Vivaldi's Four Seasons cranking through the speakers when a handsome driver is steering confidently through the turns? She marries him.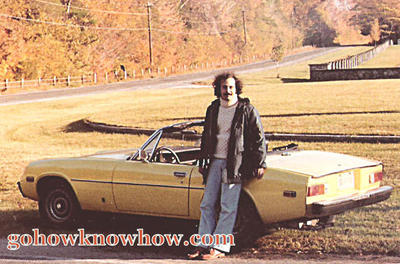 Jim bought the two-seater after serving a stint in the Navy. He spent every cent of his savings on her in an exuberant response to re-entering the civilian world. The Jensen was small and fast with a throaty roar that to Jim surely sounded like "free at last." She was long, low slung and as yellow as a gumdrop.
After two years working on an ammunition oiler in the South China Sea, Jim was something to look at too; hard and tan with a head full of dark brown hair. When he drove the Jensen-Healey onto campus after enrolling in the University of Connecticut -- older and worldlier than the average freshman -- I have no doubt the two of them turned many a head.
All of that has an impact on a young man in his formative years and when we married he was loath to give the car up. I didn't push it. In fact, we made our honeymoon trip in the Jensen and we drove her to Chicago when I got a job there the following month.
As the years passed, however, the car became less relevant. That was my opinion anyway. I set out to convince Jim that it was time to say goodbye to the Jensen. It was an impractical car. We had four children, a dog and a minivan for Pete's sake. We'd have to hire a baby sitter just to take it out for a drive.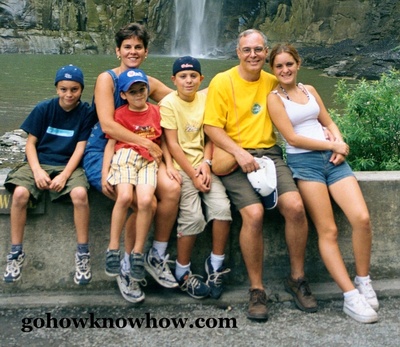 Repairs weren't cheap either. Replacement parts and mechanics who could work on it were hard to find. In the winter when the Jensen could not safely be driven on snow and ice, it was removed from our insurance policy. I frequently reminded my husband that I knew of no other antique car worth even less than the day it was purchased.
The year Jim turned 50 I had a small victory. I'd come into a small inheritance and as his luck would have it, I bought him a pre-owned BMW he'd been talking about. It's true that nothing cures an old love like a new one or maybe it was gratitude, or simple practicality, whatever, at that point, Jim had to agree with me that it made sense to put the new car into our one-car garage. The Jensen could be stored at a rental property we owned in northwestern Connecticut. Out of sight. I was hoping that Jim would finally see the wisdom in getting rid of her altogether.
While all this was going on, my children were growing up and learning to drive. My boys started to notice cars, especially my middle son. Sam's love of driving and his aptitude for mechanics came together in one ray of attention that focused with adolescent ferocity on Jim's Jensen-Healey.
This is how the car came rumbling back into my life about seven years ago on a shiny black and crimson tow truck. The Jensen rolled off, rumpled and worn, all soft tires and faded paint; The years as apparent on her as they are on me.
Standing in driveway watching the return of the car, this is not what the men in my life saw. Jim was seeing his past. The coeds he'd wooed. The summer he'd driven coast-to-coast, camping supplies stowed in the Jensen's tiny trunk. Perhaps he even remembered starting his married life in her, crossing the states from Connecticut to Illinois in the summer of 1983 with the top down and the sun baking our heads.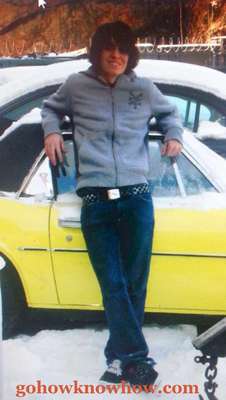 Sam, was envisioning his future; most likely some contemporary variation of his father's adventures, also including girls, independence and the open road.
My old rival was back to take the attention and the resources, of two of my men this time. And this she did but not with the same power. The season of the Jensen was passing.
Sam returned to college in August to study auto journalism and when he left, he did not take the car with him. He had already dialed up to a 1990 Mazda Miata and did not look back. Jim takes me on drives in his BMW convertible and the Jensen was beneath the kitchen window with leaves collecting on blistering yellow paint.
Seizing the moment, I wrote a quick narrative, attached some photos and posted it all on Craig's List. The next day it was sold. Jim came home to an empty driveway and, most curiously, a feeling of relief.
To everything there is a season. Recognizing its arrival is easy. Letting go with appreciation comes with autumn.
Calling all HuffPost superfans!
Sign up for membership to become a founding member and help shape HuffPost's next chapter