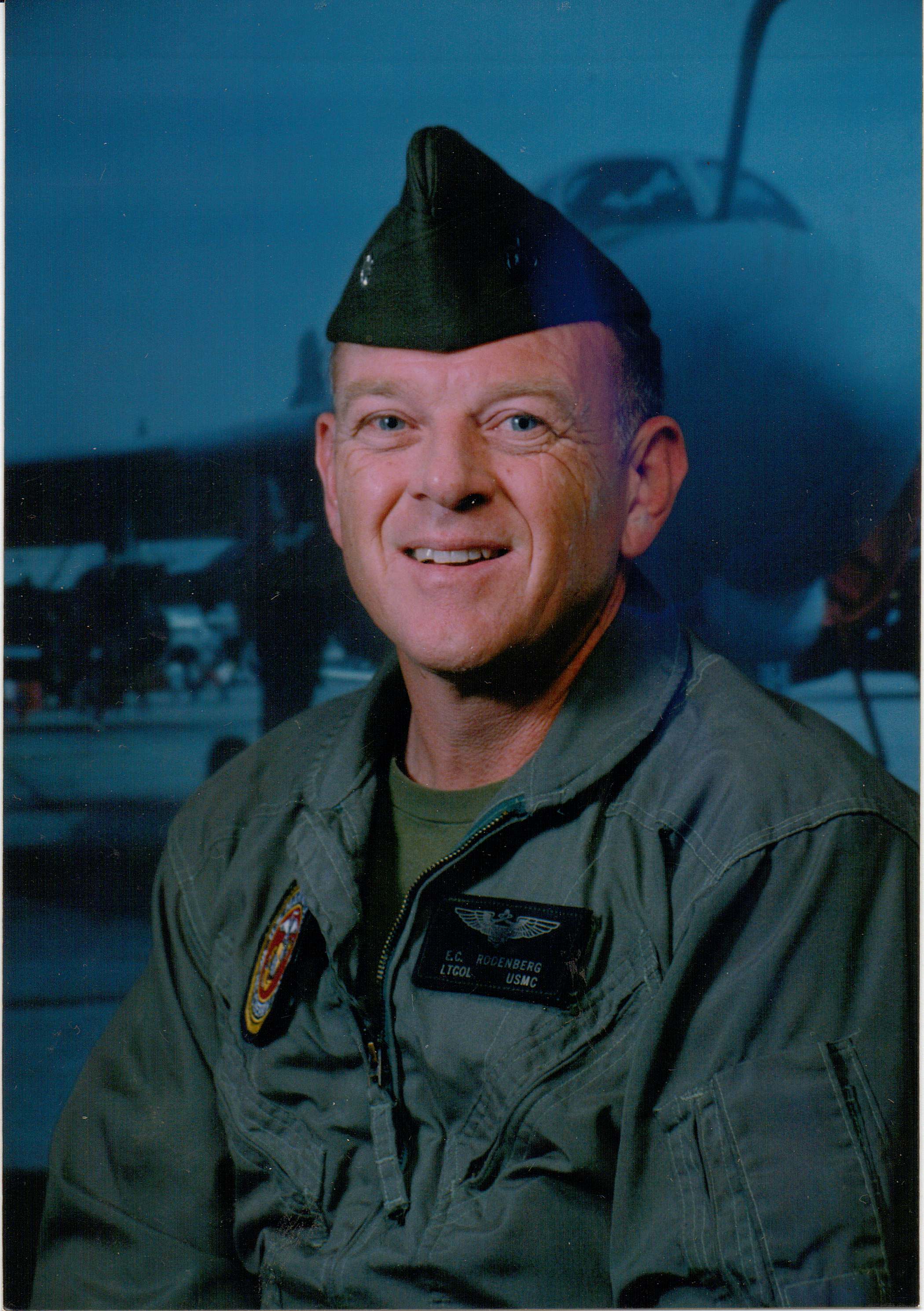 A few weeks ago I attended the "Celebration of Life" Service for a dear friend and neighbor who passed away after a long and valiant struggle with cancer.
My friend's final battle was as courageous as was his long service to Country and to the Marine Corps.
Marine Lieutenant Colonel Earl Charles "Charlie" Rodenberg served his country with distinction for 24 years as a combat Naval Aviator including in Vietnam and during Operation Desert Storm.
Thus it wasn't surprising to hear these aspects of Charlie's career fittingly highlighted during the Service at a church filled with family and friends here in Austin, Texas.
As part of the Eulogy, another retired Marine Corps officer spoke.
Michael Beggs, who had been friends with Charlie during their young cadet days at Texas A&M, told the celebrants how, after their graduation and commissioning in the Marine Corps in 1968, they went their separate ways -- Charlie went into Marine aviation and Beggs became a Marine infantry officer.
Beggs also told the congregation about his own service in Vietnam and about one unforgettable and particularly dangerous combat mission 40 years ago.
Interested as we were in Beggs' Vietnam service, this celebration was about Charlie -- about who Charlie was...
Little did we know that what Beggs was telling us was all about Charlie.
During a firefight in Vietnam in 1971, Beggs and his Marines had been taking sniper fire from a small hill when suddenly one of Beggs' Marines found himself in the middle of a minefield. Beggs tried to "talk" his man to safety, but the Marine couldn't move.
Instinctively, Beggs ran up the hill to rescue his man. Then he stepped on "it"
"It" was a landmine. When it exploded, I was not only full of holes, but also had a leg almost torn off and was blown into the air. When I came back down to earth, I landed on my head, which apparently ended up pinching some nerves in my spine. So there I was, with the memory of my wife's last kiss fresh in my mind, lying in the red dirt of Vietnam, rapidly losing blood. In addition, I was blinded and paralyzed from the waist down, temporarily as it turned out, thank God. But all I knew then and there was that I was badly hurt, and that I might never see my wife and children again.
One of Beggs' sergeants immediately called for a "MEDEVAC" flight and soon a heavily bleeding Beggs would hear his radio operator acknowledge the MEDEVAC's helicopter's pilot "inbound" call "Roger, Peachbush 1-7 inbound five mikes." That meant that in five minutes the helicopter would arrive and Beggs would be airlifted to the nearest medical facility and hopefully survive.
However, there was one "little problem." The area where Beggs lay critically wounded was beneath a dense jungle canopy with no suitable location for the helicopter to land and pick up Beggs. The only way to rescue Beggs was with the use of a "jungle penetrator," a piece of equipment designed for such circumstances, but also so perilous that its use had been temporarily suspended.
Fortunately for Beggs, the pilot of the CH-46 helicopter decided that a Marine's life was worth the risk and as he -- with superb skill and nerves of steel -- maintained the helicopter virtually motionless about 200 feet in the air, while braving sniper fire, his crew lowered the jungle penetrator. Minutes later, Beggs was winched up into the safety of Peachbush 1-7 on his way to life-saving medical treatment.
It took Beggs many years to recover from his serious injuries.
But it also would take Beggs many years -- almost 40 years -- to find out who Peachbush 1-7 was, to find out who had saved his life.
Although Beggs stayed in contact with his Texas A&M classmates -- including Charlie -- it was only recently that Beggs discovered who the pilot of Peachbush 1-7 flight was.
During an e-mail exchange on the subject, Beggs got a reply from Charlie with the following simple words: "Mike, Peachbush 1-7 was yours truly."
The author of these words would go on to earn the Air Medal with 25 "Strike/Flight" awards for heroism and meritorious service flying many more helicopter rescue and attack-bomber combat missions.

Thank you, Captain Beggs for your service, for your sacrifice, for telling us about Charlie's bravery, about what Semper Fi really means -- for telling us what Charlie was all about.

And, did I say that Charlie was a very modest man?