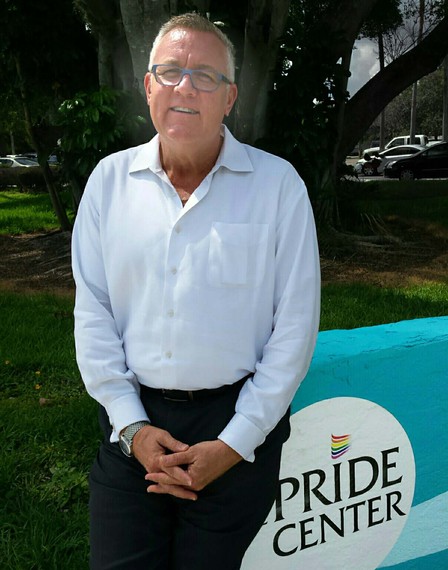 As I travel around the country for the Network for LGBT Health Equity, I get to hear the greatest stories from people. I heard a local newspaper profiled Robert Boo's incredible wellness story, so I asked him to tell me more.
It all started with the Smart Ride, a 165-mile bike ride that raises money for HIV/AIDS. Robert Boo is the Chief Executive Officer of The Pride Center, Ft. Lauderdale's LGBT community center, so he was crewing for the event.
People tried to get me to ride the first year and I was like 'Are you crazy?' But then I'm driving the van and I'm seeing all these people who were older and more physically challenged than I am so I thought, 'there goes my excuse.' Then as I watched all these people cross the finish line. It was so emotional I was crying; I wanted to do it.
"One of my board members does triathlons, he saw I was interested and next thing you know he's taking me out to shop for all this gear." Robert laughs, "I looked like a stuffed sausage in my lycra." Had he even ridden a bike recently? "Oh I used to have one, but I was tired of using it to dry clothes, so I gave it away."
So Robert started training with the other riders, and eventually he got rid of the shirt and shorts he was wearing on top of his lycra. "Come to find out I loved the riding, I loved everything about it. And it turns out I was really good. Here were all these really skinny, young, good-looking guys in their biker shorts looking all pretty. And I was all sweaty and gross-looking but I could go faster than them."
Robert was riding every weekend, making new friends, slowly building his mileage up to 150 miles a week of riding. "I got hooked into it and then the weight just started coming off. I modified my diet a bit too and over the course of eight months I lost 75 pounds. People couldn't believe it, it was a whole new me." I asked him if he'd ever imagined losing that much weight. "No, I'd tried before of course, but I just came to terms with being 'big boned.' So now it's wild."
Then the day of the big ride came. This time Robert wasn't behind a wheel, he was out there with everyone else raising money for The Pride Center and it felt great. "It's not a race, it's not a competition, but on the first day out of 480 riders I came in 30th. And I'm an HIV positive 53-year-old!" he adds. "It was wonderful, I felt like I could have ridden the whole 165 miles that day." When he crossed the finish line the second day he was crying again, but this time for intensely personal reasons, "I never expected how much it would change my life."
It's been a year since that fateful ride; one of the things Robert didn't expect is how much of an impact his journey would have on everyone else around him. "So many people come up to me and say I inspired them to start training and working on their own health." Knowing that he's become a role model for others helps Robert too, "I know I have to keep the weight off, so I'm swimming several times a week. People tell me they could never do it but I just say 'seriously if I can do it, anyone can.' There's nothing special; I hate going to the gym but I like being outside so that's why cycling worked for me."
The Pride Center offers senior wellness classes several days a week, Robert used to go by the classes as he gave tours and they'd always beg him to come in, now he happily jokes they're not working hard enough. "They're almost religious about those classes, I love seeing that enthusiasm." The Pride Center also offers a LGBT health directory of welcoming doctors and runs cancer support groups in conjunction with the local Gilda's club chapter.
Robert finds himself the unofficial mascot of wellness at the Pride Center but is more than pleased he's in that role. For him the ride was the beginning of a lifetime commitment and all the people he's inspired are in turn inspiring him to new heights. As we end the interview his face breaks into a big grin, "I even just competed in my first triathlon. Bucket list: check!"
Popular in the Community