Editor's Note: This post is part of a series produced by HuffPost's Girls In STEM Mentorship Program. Join the community as we discuss issues affecting women in science, technology, engineering and math.
This is a story of how a one-woman run fashion startup helps one female tech entrepreneur on a global mission to bridge the digital divide for rural women in America.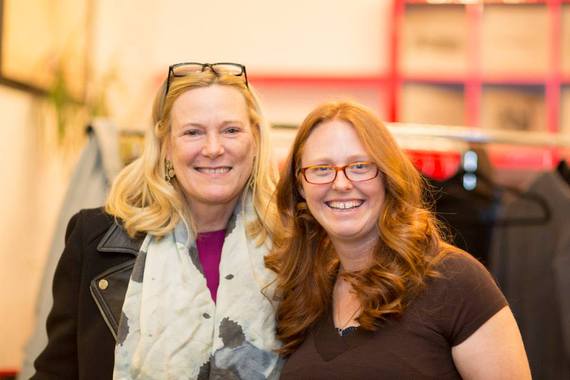 Jenn Shaw of Bella Minds (right) with Deborah Jackson of Plum Alley (left)
Jennifer Shaw isn't your typical redhead: she's one spunky woman with big ideas on changing the way digital divide makes women the "haves" and the "have-nots". As technology literacy becomes an increasingly valuable skill in the workplace, those who can operate with these new tools gain a distinct advantage over those who can't. Over two years, she's built NYTechWomen, a New York City-based organization connecting 3,000 women in technology and female entrepreneurs, creating an environment that allows its members to help each other through friendships, referrals, and business introductions.
For many, building such a community of such scale would be a laurel to rest on. For Jennifer, she's already dreaming bigger. Her latest project, Bella Minds, is on a global mission to alter tech education for mid-career women, starting in the heartland of America. Like many Americans, Jennifer Shaw came from a small community with few opportunities. Every time she visits her hometown of Alliance, Nebraska, she sees the struggles her female peers deal with, like lack of college completion and service jobs that pay less than $9 an hour. Despite the efforts to bring more women into technology, the U.S. rate of 24 percent of technology jobs held by women is down from 36 percent in 1991, according to the National Center for Women & Information Technology, at the University of Colorado in Boulder.
Yet, disproportionately, women bring much more social changes in their communities. For such an ambitious project, Jennifer Shaw is not without friends. When she decided to leave her full-time position to dive head-first in Bella Minds, others, who were a part of NYTechWomen, rallied to her support. One notable supporter is Lisa Mayer, another female entrepreneur and the CEO of My Social Canvas, a company that creates social impact by involving the community in designing for a cause. Lisa's startup has been supporting entrepreneurs across the country by selling designs by students in high school and college in unique apparel collections.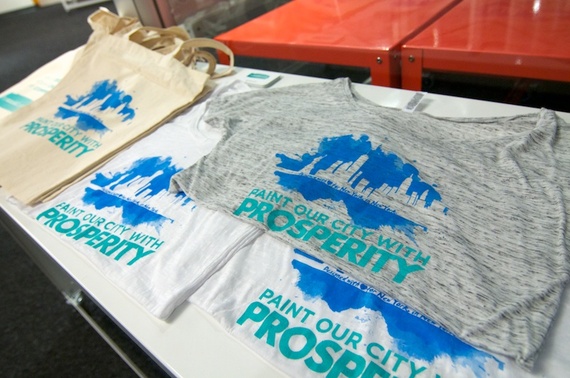 My Social Canvas' Paint Our City with Prosperity Collection sold to support another woman entrepreneur.
Through December 8, 2013, My Social Canvas will be selling their "Paint Our City with Prosperity" collection to help raise funds and awareness about Bella Minds and to support Jennifer's goal of providing scholarships and technology education to rural women.
These funds will go to women who use what they learn to change their communities, to create better lives for themselves, and to become better prepared to get ahead in today's workplace. The idea of women helping women, who in turn pass on the torch, culminates in something where every effort pushes the next wave of efforts. Lisa's charity-focused apparel collection has already funded ten entrepreneurs through micro-finance and supported three student designers through scholarships, and is sold in 25 Whole Foods Market locations in New York City and the Northeast.
Perhaps over time, these consistent, sometimes small and sometimes ambitious, efforts made by women to pull each other upward will pay off. Women can build their own network. As more women become aware of the potential for new career opportunities and rewarding technology jobs that exist, they may be compelled to gain the necessary and highly marketable skills to not only survive but thrive in the new technology know-how economy. Jennifer's hometown, Alliance, is one of many across the U.S. where women will benefit from Bella Minds. This initial project of educating 25 women in technology is just the beginning. Jennnifer Shaw, Bella Minds, and their partners who believe in the mission will continue to work tirelessly until all women have access to the opportunities that technology can offer them.
REAL LIFE. REAL NEWS. REAL VOICES.
Help us tell more of the stories that matter from voices that too often remain unheard.