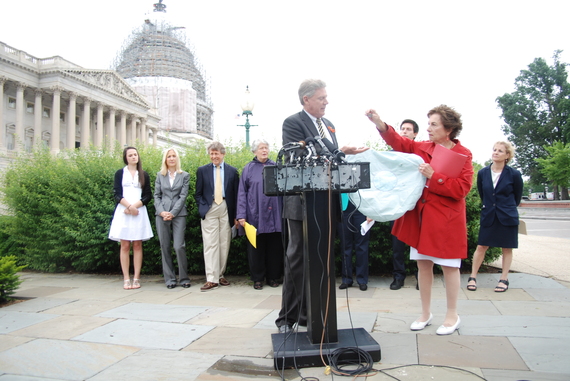 Rep. Pallone and I present a defective Takata airbag and shrapnel during press conference today. Angelina Sujata (far left, in white), was struck in the chest and injured with shrapnel from a Takata airbag three years ago.

Members of Congress, Victim of Takata Airbag Failure, Consumer Advocates Support Legislation
On Tuesday, June 2, the House Energy and Commerce Subcommittee on Commerce, Manufacturing, and Trade will hold a hearing on the Takata airbag recall.
While it is important to fully understand the cause of the Takata airbag failure, there are steps Congress can take immediately to enhance auto safety and oversight. That should begin with the enactment of H.R. 1181, the Vehicle Safety Improvement Act - legislation I introduced in my role as Commerce, Trade and Manufacturing Subcommittee Ranking Member with Energy and Commerce Committee Ranking Member Frank Pallone (NJ-06), Oversight and Investigations Subcommittee Ranking Member Diana DeGette (CO-01) and other Committee Democrats earlier this year.
Pallone, DeGette, Angelina Sujata (a victim of Takata's defective airbags), consumer advocates and I held a press conference in advance of the hearing to make clear that Congress can help prevent another year of recalls like 2014 - which set all-time records. Please see their quotes below:
"I am glad that the Committee is refocusing on the Takata recall, but the analysis has taken too long - we need action. The Vehicle Safety Improvement Act would increase auto safety reporting, oversight, and accountability and help reduce the likelihood of another Takata-like failure. We should advance the bill to the floor and pass it without delay. The American people can't afford to wait."
-Congresswoman Jan Schakowsky (IL-9)
"Air bags are meant to save lives, not take lives. Yet, a supposed safety feature has become a safety hazard in more than 40 million vehicles. The safety of automobile passengers must be a top priority in Congress. And while oversight is important, it's time for legislative action, starting with the Vehicle Safety Improvement Act."
-Congressman Frank Pallone, Jr. (NJ-6)
"Whenever any of us gets behind the wheel of a car, we need to trust that our car, and every vehicle on the road around us, is safe. The Vehicle Safety Improvement Act helps restore a culture of safety among automakers, parts suppliers, and federal regulators. We can't eliminate every single car accident, but we can help to prevent unnecessary ones. And that will keep us all safer."
-Congresswoman Diana DeGette (CO-1)

"I've experienced firsthand the pain that a lack of reporting and sufficient oversight can cause related to a vehicle defect. Airbags are supposed to save you, not hurt you. I am hopeful, though, that lessons can be learned from the tragedies that stemmed from defective airbags and vehicles and that the Vehicle Safety Improvement Act of 2015 can help to create this much needed change."
-Angelina Sujata, victim of defective Takata airbag
"This year's record number of recalls clearly signals that reforming the current process needs to be a legislative priority. AAA applauds the leadership demonstrated by Representatives Pallone, Schakowsky, and DeGette by introducing legislation that will help provide NHTSA with the tools and accountability measures to ensure that vehicle safety is managed in a timely and efficient manner. Providing consumers with improved, easy to access and understandable information will help restore motorists trust with the recall system."
- Avery Ash, Director of Federal Relations, AAA
"For years, NHTSA's ability to be tough regulators has been hampered because of starvation budgets and paltry penalties for industry shenanigans at the expense of safety. This federal agency has one of the most important public health and safety missions in government. Every single person in the United States is affected by the actions of NHTSA. We have seen what happens when this agency is a lap dog instead of a watch dog. This legislation changes that and puts consumers in the driver's seat."
-Joan Claybrook, President Emeritus, Public Citizen and former NHTSA Administrator
"Congress passed the TREAD Act in 2000 to prevent mass vehicle defects in the wake of Firestone tires on Ford Explorers that killed over 300 people in rollover crashes. Yet more mass vehicle defects have come down the road since then including Toyota unintended acceleration, Jeep fuel tanks, GM ignition switches and Takata airbag inflators. Unless Congress moves now to pass H.R. 1181, more mass vehicle defects will occur killing hundreds of Americans."
-Clarence Ditlow, Center for Auto Safety
"Advocates for Highway and Auto Safety strongly urges the House Energy and Commerce Committee to act now to advance H.R.1181. This bill includes commonsense and cost-effective solutions to problems revealed in numerous congressional committee hearings examining government missteps and auto industry cover-upson deadly vehicle safety defects. Many of these same problems were pinpointed in investigations on the Toyota sudden acceleration fiasco in 2007. Eight years later, safety defects due to faulty GM ignition switches and exploding Takata airbags have caused more than 100 deaths and 200 injuries and left millions of consumers driving cars subject to a recall notice. This legislation is long overdue and we can't afford any more delays."
-Jackie Gillan, President, Advocates for Highway and Auto Safety
"HR 1181 gives NHTSA the power and resources it needs to actually carry out its lifesaving mission. Passing this bill will save lives and significantly improve America's public health and safety. Setting it aside will lead to unnecessary deaths and injuriesand leave families without the lifesaving protections they need and deserve. Consumers should not be left in the dark about life-or-death defects."
-Jack Gillis, Director of Public Affairs, Consumer Federation of America & author, The Car Book
"NCL supports this long overdue legislation to strengthen our ability to keep consumers safe on our highways and roads. The transparency, higher fines, and making NHTSA more responsive more quickly are all crucially important and will help save lives and prevent injuries."
-Sally Greenberg, Executive Director, National Consumers League
"Whether you are renting a car from a rental car company, or buying a new or used car, or getting a loaner, from a dealer, it should be safe."
-Rosemary Shahan, President, Consumers for Auto Reliability and Safety (CARS)
"Millions of U.S. cars have been recalled for safety defects. Yet it's perfectly legal for auto dealers to sell used cars to consumers before they are repaired. This dangerous gap in federal law is one of many addressed by Reps. Schakowsky and Pallone in the Vehicle Safety Improvement Act of 2015, which the House should take up without delay."
-William Wallace, Policy Analyst, Consumers Union
Popular in the Community