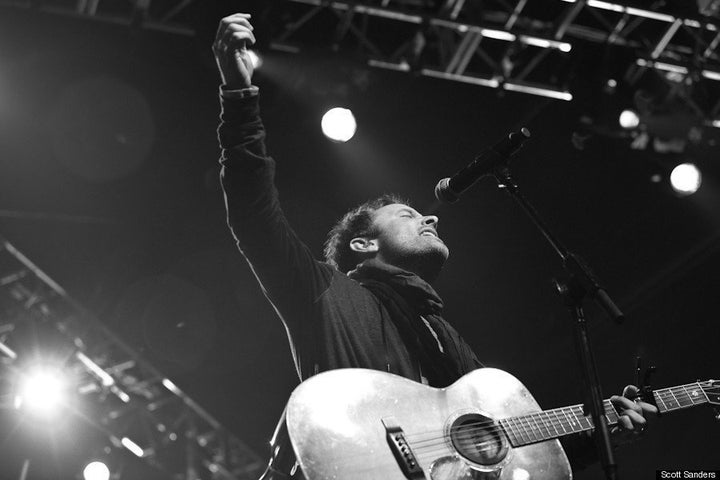 For a musician all but unknown in New York or Los Angeles, Christian rocker Chris Tomlin had a standout December. As his new album, And If God Is With Us, climbed up the charts early in the month, his year-old Christmas album caught a seasonal updraft, giving Tomlin two albums in Billboard magazine's top 20 at the same time.
Tomlin's rare distinction represents a first for the Christian music industry, and cements the dominance of the subcategory of Christian rock called Praise & Worship, of which Tomlin is the undisputed leader. And it is another milestone for a multimedia, hydra-headed organization known as Passion, which gave Tomlin his start and whose in-house label, Six Steps Records, produces his albums.
Part revival meeting, part charity event, part national networking session, Passion drew some 22,000 college kids this week to Atlanta, where they filled Philips Arena and the nearby Georgia World Congress Center for four days of prayer, preaching, philanthropy and, of course, music. Besides the David Crowder Band and British praise rocker Matt Redman, Tomlin, capping his astonishing run, played to roaring throngs who chanted along with every word of his songs. A companion event, with room for 8,000 attendees, will be held in April in Forth Worth, Texas.
The Fort Worth event represents a return to Passion's Texas origins. Tomlin was a student at Texas A&M in College Station in the early 1990s when he heard about a Monday-night Bible study at Baylor University in Waco, run by a 30-something seminary student named Louie Giglio. Soon Tomlin was making the hour-and-a-half drive to Waco every week to hear Giglio teach. "He was talking about things in a way that made you want to bring glory to God," Tomlin recalls. By 1995, Giglio's study sessions were attended by some 1,100 kids, about 10 percent of the Baylor student body.
Giglio's Bible study also included a lot of music, mixing traditional hymns with a style of rock-based worship songs that featured plenty of repetition in the lyrics, making them easy to sing along with and easy to remember. Tomlin began writing music that fit the format. "I never wanted to be an entertainer," he says. "I didn't want people staring at me while I sang. I wanted them to sing along."
The mantra-like repetition of praise music has invited scorn from some music critics (Tomlin, of course, begs to differ, and in a phone interview shortly after Christmas, offered a defense by belting out the refrain of the Beatles' "Let It Be"), but its usefulness, and power, as church music is undeniable. Tomlin tells of playing in an AIDS orphanage "in the middle of the bush in Africa," where he was stunned to find that the children knew his hit "How Great Is Our God" by heart.
In 1995, Giglio and his wife, Shelley, moved to Atlanta to tend to Giglio's ailing father, but college students remained his primary mission. The first Passion conference, in 1997, drew 2,000 students to Austin, Texas. A year later, they hosted 5,000. In 2000, more than 40,000 kids came to a one-day meeting in Memphis. In 2005, Tomlin, who had been listening to others perform his music at Passion, began to take the stage himself. He has accompanied the Passion crew on two world tours.
Besides Tomlin's platinum best sellers, Six Steps' 12 live recordings of Passion music have sold more than a million CDs -- enough to create a common misconception that Passion is only the music it creates. "It's ironic," Giglio said in an e-mail just before Passion 2011 kicked off. "We're a theological movement from which the songs and music spring."
In that sense, Passion is an emblem of the youth movement that has recharged evangelical Christianity over the past few decades. As in the mainstream's revolution of the 1960s and '70s, it's difficult to separate the musical phenomenon from the spiritual one, or to measure the long term effect of guitar-heavy, ecstatic gatherings like Passion.
For outsiders, the purpose of Passion can be hard to grasp. The focus of the four days is honoring Jesus Christ -- in Giglio's words, "to make him famous, as in make him known among all people." But most everyone at Passion seems to be a fan already. There is no altar call for conversions, and no follow up when the students return to campus.
"It's not a Billy Graham crusade," says Tomlin. "It's gathering people to inspire and ignite a flame."
Other Passion organizers say they bring college-age Christians together for mutual support at a time of intense change and self-definition. "It reminds them that they are not alone," says Mike McCloskey, a Six Steps executive who is one of 17 full-time planners for Passion events. "It's realizing that we can do more and should do more."
But the kids themselves have something simpler on their minds. As one Passion 2011 attendee, a 20-year-old woman from Waveland, Miss., explained to a Christian website as the conference ended, "I came expecting God to do something great."
Popular in the Community