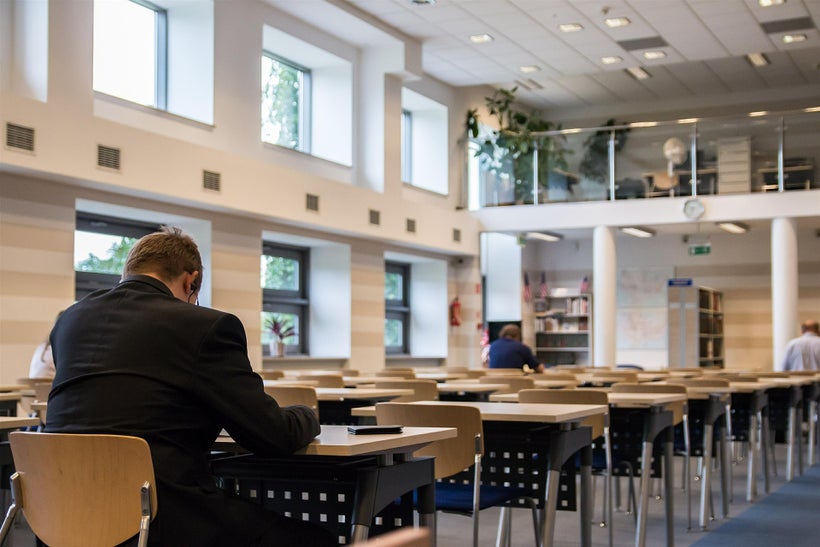 As someone born and bred in Singapore with the intention of studying in the U.S., I've always wondered what my American friends thought of the tropical island I call home. That is, if they haven't already been influenced by Neil Humphreys's Complete Notes on Singapore and equipped with more knowledge about kopitiams than me. The last time I had such a conversation was during a networking session in Bangkok, where I was on a gap-year internship.
Unperturbed by the usual discourse on the Michael Fay incident and chewing gum ban, I probed further for some other entertaining tidbits on American perceptions of Singapore. Interestingly, my acquaintance brought up how Singapore topped the list in the Program for International Student Assessment (PISA) tests, a proxy for global education rankings. He further insinuated that Singaporeans pay a high cost for their stellar academic results in the form of stunted socio-emotional growth.
To be fair, he probably isn't wrong thinking that way. Singapore's global reputation has always been synonymous with that of its foremost founding father, Lee Kuan Yew, whose punctilious ways and penchant for hard-nosed economics are known to all. After all, Lee once remarked in 1968 that "poetry is a luxury we cannot afford".
Superheros reside in schools
No matter the veracity of that statement, times have changed. Today, educators such as Charles Fadel advocate emphasizing character education in schools now that practically no skill-based question is left unanswerable by Google. I've found that some subjects more than others, particularly Literature, fit better with the idea of a holistic value-based education. Now, it's perfectly understandable if you think I'm unabashedly promoting my favorite subject in school. But let me tell you why I love Literature so much in the first place.
I was fortunate enough to have a superhero as my Literature teacher in middle school. His name is Darrell. For those with even the slightest understanding of Asian culture, particularly that of a society steeped in its Confucian values, you may expect me to excuse myself for my irreverence; in this part of the world, teachers are held in the highest regard and addressed only by a salutation coupled with their last name.
But that is not going to happen. One of Darrell's superpowers is to build an amazing rapport with all his students, myself included, by demonstrating a real willingness to ask challenging questions and tackle established notions of propriety. On the day of our first lesson, the 6'1" tall Darrell stepped into the room with all smiles and began by making a request, "Please call me Darrell!" Apart from the unusual request, his very existence as an educator in a public school challenges the stereotype of how an Asian classroom works.
Don't get me wrong, Darrell is more than qualified with the appropriate school teacher certification wrestled from the National Institute of Education (NIE), which only accepts the top 30% of each cohort. Ensuring the best and brightest enter the education sector as lifelong educators has long been a cornerstone of Singapore's education policy. I've come to realize, however, that this does not automatically guarantee the training of educators who are inclined to cultivate in their students a strong passion and purpose in learning.
In this regard, Darrell is a real exception. Whenever we had Literature lessons together, our class of 23 students was always captivated by the material Darrell had on hand. Notwithstanding the fact that a lot of time and effort went into the preparation of each of his lessons, Darrell always had a way to meet us where we were and not where we should be. In that hour alone, nobody else (except perhaps President Bill Clinton himself) could have delivered the same lesson with more finesse than Darrell.
His secret sauce? It is quite the paradox. He respects his students as responsible young adults with the potential to be self-sufficient, high-achieving individuals and the capacity to develop a heightened sense of socio-emotional awareness while being unafraid to tell us that we have much more to learn. At the same time, he imparts to students both his knowledge and an incredible zest for life shaped through his own experience with Literature.
It was until much later that I discovered his skills in the classroom were honed not only in the trenches of grad school but also by his mom, Linda, who is a veteran educator herself. The old adage that "it runs in the family" couldn't have been more true.
The Art of Teaching
In 2015, a delegation of educators from Massachusetts visited Singapore as part of the Global Education Innovation Initiative at Harvard University. Their visit eventually culminated in the publishing of Fifteen Letters on Education in Singapore. Of pertinence are the key attributes, including the need for a clear and bold vision, for educational success and sustainable educational reform highlighted in the book.
It is no surprise that Between The Lines, an educational institution in Singapore founded by Darrell, embodies that vision through the development of its own proprietary program in education. Just as Singapore's educational success wasn't built in a day, so too wasn't the LINES Approach created instantly. The most magical thing about being Darrell's student is to have experienced first hand the development of that approach.
As someone who never stops learning, Darrell continuously experiments with new teaching methods, often with the use of technology. Ironically, the lesson that stood out for me most had nothing to do with tech at all. Once, Darrell had the entire class stand. Only those who were able to successfully answer some content mastery questions on the novel we were working on, Chinua Achebe's Things Fall Apart, were allowed to sit.
Now this may seem like some punitive threat to weed out the sloths among us but it certainly didn't feel that way with Darrell. Admittedly though, my classmates and I were rather apprehensive at first, fumbling with our books for the last time before putting them away. As it happened, I had not prepared well and wasn't too optimistic about my chances.
When my turn came, I was pleasantly surprised by the ease with which I was able to answer the question. What I initially thought of as an exercise in content regurgitation turned out to be a test of how well I identified with Nwoye, a character in the novel. Without actively realizing it, Darrell's lessons had, little by little, nurtured empathy in me. By the end of all the lessons, I felt at one with the novel's characters, not unlike how a seasoned pianist could grasp the nuances of the musical score whether or not any practice was done the day before.
More Poetry please
When a superhero says your results are only a snapshot of how well you are doing at a particular instant and not indicative of your final destination in life, there really isn't any reason not to believe so! I was far from being the student with the best grades but soldiered on to the very end with the conviction that my passion for Literature provided. I told myself that whatever the outcome, I would be satisfied for it beats doing something you don't like to do any day.
On the day the results were released, I couldn't have been happier. I scored an A1 for Literature! Together with Mr. Ahmad, Darrell more than doubled the distinction rate at my school from 37.4% to 78.2%. Given that the cohort size increased 5-fold from the previous year to 220 students, that was no mean feat. But what did I say about superpowers?
All this was possible only because Darrell had a clearly defined goal from the outset to help students journey through their school years with purpose and passion. Singapore's excellent PISA test scores are merely the by-products of the empathy and love of learning in students instilled by a largely underappreciated and dedicated group of educators to which Darrell belongs.
Their superpowers work best when channeled through a subject like Literature, allowing for students to develop their personal voice, belief and self-motivation at the age they need it most. In fact, all these qualities can be grouped under the larger characteristic of mindfulness, a character trait much appreciated by employers today.
We certainly need more poetry, not less.
Calling all HuffPost superfans!
Sign up for membership to become a founding member and help shape HuffPost's next chapter
This post was published on the now-closed HuffPost Contributor platform. Contributors control their own work and posted freely to our site. If you need to flag this entry as abusive,
send us an email
.