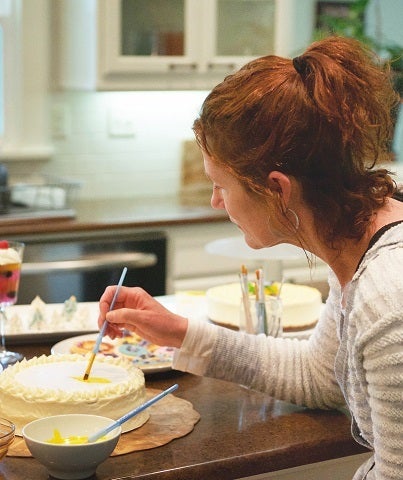 Sixth in a series of articles celebrating unexpected innovators whose passions propelled them sideways into creating products that contribute to personal and societal well-being on multiple levels.
Did you grow up, like I did, with that little cardboard box lurking in the baking cupboard, containing four tiny squeeze bottles filled with lurid colors that could magically transform the dullest cupcake frosting into rainbow magnificence? Who, you wondered, ever conceived of such a splendiferous notion?
Actually, it turns out that altering the color of food to make it more appealing goes way back, even as far as Egypt in 1500 B.C., where natural extracts and wine were used to punch up otherwise boring confections. By the 19th Century, additives containing lead, mercury, and even arsenic were routinely used to enliven culinary offerings (often with disastrous health results). In the 20th Century, these noxious elements were superseded by dyes derived from coal-tar and other synthetic processes.
There is considerable controversy over the effects and safety of these current colorants, with cogent arguments on both sides. But for those who prefer to err on the side of caution, especially when their children's health may be at stake, there is a movement toward demonstrably safe & natural dyes that provide the requisite rainbow delights without the possible negative consequences.
Enter Ashley Phelps and ColorKitchen. Trained as an artist, Ashley graduated from UCLA and moved to San Francisco; there she painted and exhibited, working professionally as a muralist and art teacher. Because she was chemically sensitive, she had a hard time working with artist paints that commonly contain formaldehyde as a preservative, and with solvents. In searching for gentler alternatives, she learned that even "non-toxic" children's paints contained these chemicals, though they were labeled as safe.
Then one day her landlord from Ethiopia showed her his house-paint made out of cactus, and it got her thinking that there must be a way to make a natural and chemical-free alternative for arts and crafts paints. After embarking on an enthusiastic quest for information about historical and current iterations of coloring agents, she developed a line of natural arts & crafts paints for kids, called Glob Colors. And they were made from food-grade ingredients, so they were entirely safe for wee budding artists.
Now Ashley was hooked. Next up was a food-dye kit for Easter eggs, a visual-arts extension of her budding romance with safe colorants. From there it was a short step to dyes for food meant to be consumed, as she came to realize that there was a distinct lack of natural healthy choices in that sector of the market, specifically for dessert-making. And what could be more artistic than creating beautiful desserts?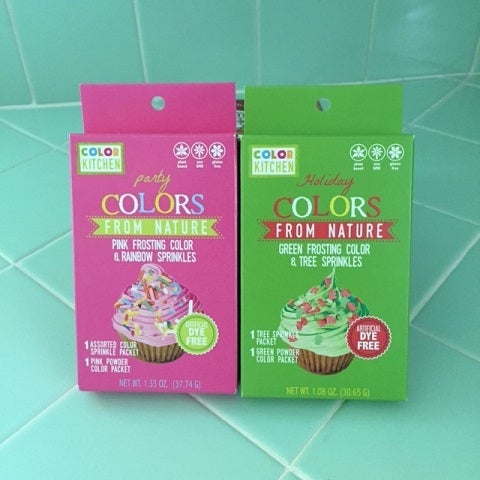 Thus was born ColorKitchen, offering artificial-dye-free, plant-based, vegan, gluten-free, non-GMO food colors. Ashley realized that baking and decorating, in her own words, "tap into personal values of happiness, femininity, creativity, and love". Creating colors that enabled health-conscious parents to allow their children previously-forbidden treats became not only a creative endeavor but a way to restore a little magic to events in a family's life.
"I am proud to have created a natural, plant-based solution, so parents can color a birthday cake and not worry about their child's health. I see my colors as bringing joy and happiness to health-conscious parents and their children, so that celebrations can be enjoyed fully."
And her tasks don't end with perfecting successful colors – those colors have to work in recipes for confections of all sorts. So developing and testing recipes is a necessary part of her repertoire, and one that she embraces with delight.
For Ashley, it comes down to this: "Making the products is a creative process for me. And when I get feedback from parents that their child is no longer restricted from enjoying sweets because of the artificial dyes, it makes me happy. My mom was a nutritionist and we weren't allowed to eat candy or sugar, so I know what that feels like. No child should be denied birthday cake!"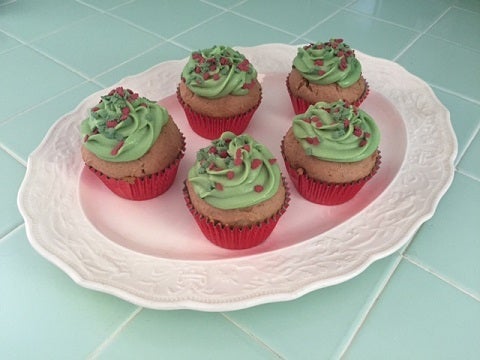 Holiday Sweet Potato Cranberry Cupcakes
1 cup organic whole wheat flour
3/4 cup organic unbleached white flour
4 tablespoons organic unsalted butter, softened
1 whole egg + 1 egg white, room temp
1/2 cup cooked sweet potato
1 teaspoon vanilla extract
1 packet Color Kitchen pink coloring
1/2 cup Paradise Meadow Whole Cooking & Baking Cranberries*
6 ounces reduced-fat cream cheese, room temp
2 tablespoons organic unsalted butter, room temp
1/2 teaspoon vanilla extract
1 box Color Kitchen Green Frosting Color & Tree Sprinkles
*available at many supermarkets and at www.paradisemeadow.com/products
Pre-heat oven to 350 degrees. Line a 12-cup muffin pan with holiday-colored liners and spray with non-GMO canola spray.
In a small bowl whisk together flours, baking soda, & salt. In a larger bowl, cream butter & sugar until light & fluffy, about 3 minutes. Add whole egg, beat well; add egg white, beat well. Add sweet potato & vanilla, beat until combined. Whisk pink color packet into milk. Add flour mixture one half at a time, alternating with half of milk, beating on low until just combined. Fold in cranberries.
Divide among muffin cups, filling each 2/3 full. Bake about 21-23 minutes, until a toothpick comes out clean. Cool in pan for 10 minutes, then remove & cool completely.
Make frosting: beat cream cheese, butter, vanilla, & green color packet until smooth. Frost cooled cupcakes and decorate with tree sprinkles.
[A version of this post appears in the November issue of Better Nutrition Magazine.]
Popular in the Community