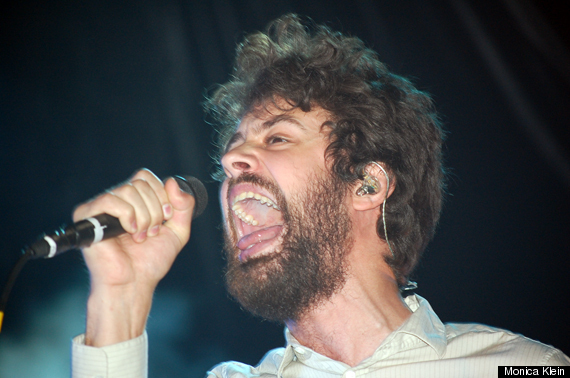 It's hard to imagine many things nicer than an evening like last night in Prospect Park. After several sweltering days in the city, things had cooled down a few degrees, the night was clear and the F-train was running in both directions. And so, while Passion Pit's electro-pop is probably better suited for a much smaller venue with less grass and more dance floor, the pleasant evening more than made up for the lack of intimacy and excess of mosquitos at Prospect Park's Celebrate Brooklyn Bandshell.
"This is the biggest show we've ever played," Michael Agelakos, Passion Pit's leadman, confided to the audience with awe, before asking who had been at the smaller Terminal 5 or even tinier Pianos shows. Passion Pit's Prospect Park show sold out in two days, and scalpers swarmed the entrance to the park. With the crowd anxious to continue dancing, Agelakos was alone in his desire to contemplate and converse on the speed of Passion Pit's ascent from his Boston dorm room to Celebrate Brooklyn.
With only an EP (Chunk of Change), one full length (Manners) and a handful of remixes and covers (notably, and recently, of Katy Perry's "California Gurls" and a cover of Smashing Pumpkins' "Tonight, Tonight"), they easily made it through most of their discography. They opened with a bleepy and almost sleepy-dance hit, "I've Got Your Number," giving the crowd a chance to adjust their ears to the effervescence of Passion Pit's syths and snares and their eyes to the bright, rainbow lights that backed them.
Angelakos has called the falsetto he is famed for an act, telling the Village Voice last year, "Oh, that? That's like a character I do with this project. I don't usually sing that way." It's a character that's caught, growing from a musical valentine to an ex-girl friend into a blog-hit before being propelled into the mainstream with features on teen dramas Gossip Girl and Skins. And admittedly, the crowd was there for this character, Angelakos' signature shrill, rising anthems. But it was Angelakos' slips out of character, only available live, that were most revealing, demonstrating a musical talent more complex than the easy fun of their discography. Moreover, the slips were relieving, grounding the otherwise intensely colorful sound.
Their biggest, and also most dance-floor-ready hit, "Little Secrets," rounded out the long set, but few filtered out as the rainbow bright-lights shut off. They returned to stage for three more songs, including their popular cover of "Dreams" by The Cranberries and their break out hit, "Sleepyhead."
"People make fun of me for always thanking everybody, but we're just in awe of everything that's just happened in the past year," he kept saying. The thought was endearing, but the concern unnecessary. Some straight from work, others far too young to enjoy the metallic-bottle Budweisers, the willing crowd was anxious during Suckers and Tokyo Police Club's opening sets, eager for Passion Pit to take the stage. Sprawling, outdoor shows like last night's are hard to pull off; the sound, the weather, the energy -- there's an endless number of variables to account for. Last night, the sound was good, and the weather better, but the uncritical and excited crowd seemed ready to have a good time regardless. Tonight's show at Governors Island, bigger yet, should be as much of a thrill, for band and audience alike.
1. I've Got Your Number
2. Make Light
3. The Reeling
4. Moths Wings
5. Swimming In The Flood
6. To Kingdom Come
7. Let Your Love Grow Tall
8. Live To Tell The Tale
9. Folds In Your Hand
10. Smile Upon Me
11. Little Secrets
Encore:
12. Eyes As Candles
13. Dreams (The Cranberries Cover)
14. Sleepy Head
Popular in the Community