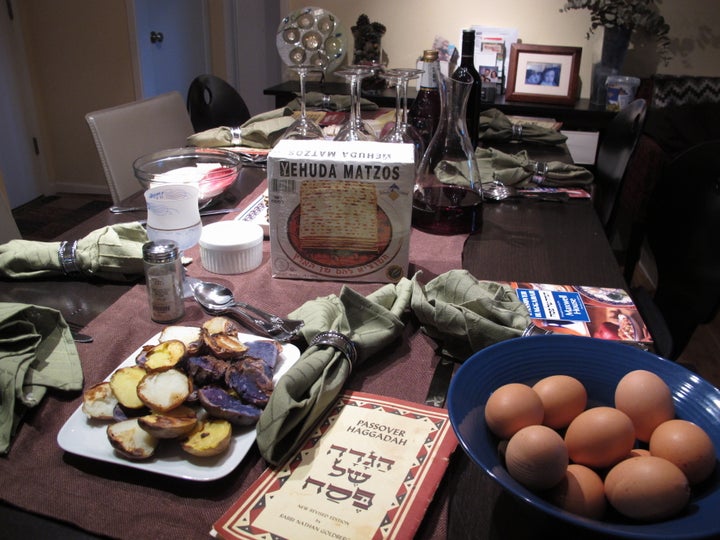 Why is this night different from all others? Because now you can spend it without making a mess in your own kitchen!
When I was growing up in Toledo in the late '50s and early '60s, every year at Passover we would go to my cousin's house for the seder. Besides the food, I was thrilled because it meant I was never the youngest and never had to do the four questions! My little cousin Gary got stuck with it instead. There were about 40 people every year and it was a pretty big deal. The food was also a pretty big deal. The women in my family were excellent cooks and there was a friendly game of "can you top this?" going on.
The traditional seder was always served. It started with chopped chicken liver on matzo, then matzo ball soup. My grandmother made big soft fluffy matzo balls, which were so delicate they almost separated at the touch of a spoon. I loved them! For the salad there was the dreaded gefilte fish, which I hated but my dad loved. In my father's family they grew up with the tradition of having two main meals at the holidays so we had beef brisket and a goose on the table. My dad loved everything fatty, the fattier the better. My mom's twice-baked potatoes stuffed with sour cream and butter and topped with paprika, were usually present as well as her huge ring mold of baked tomato casserole, sautéed green beans with almonds in the center. She loved her ring molds.
Dessert was a family favorite recipe of homemade fudge. And don't ask me for that recipe. Kajsa Alger (my partner at STREET) and I have tried and failed many times to recreate it. But most importantly, I almost always found the Afikomen. I don't know if I was just overly competitive or that Uncle Leonard liked me best, but I had a nice collection of silver dollars going. So my seder memories are filled with recollections of fun, wonderful food, not a whole lot of religion, but lots of family and warmth.
So when we set out to do a seder at STREET, these were the qualities I was trying to recapture. I figured we could improve on the food, having so much more global influence to draw from, but the rest would have to somehow magically come together. And it did!
The first two years, my good friend from Argentina, George Rimalower, did a beautiful seder ceremony. He said it would be 30 minutes and it was 40 (not unusual if you know George...) but everyone loved it! Even though no one knew each other it was as if we were one big happy family. George brought up the youngest guest to sing the four questions and, like a good teacher, helped him through the rough parts; we sang about the little goat, dayenu, drank wine, lit candles, named the plagues. All in all, it was actually the most fun at a seder I've had as an adult.
Each year we've tried to do a menu that draws from different cultures and ethnic backgrounds. This year, trying for a twist on the old favorites, the STREET "Seder to Savor" menu will include choices like: heirloom spinach soup with matzo balls, lamb musubi, a Hawaiian inspired dish of lamb on saffron rice with grape leaf, pickled almonds, and pepper sauce, matzo-encrusted spring nettle cakes with mustard sauce and smoked halibut, Russian eggplant with buttermilk sauce and mint oil; for dessert there will be coconut macaroons dipped in Moroccan spiced chocolate, cause remember-- we never could figure out that fudge.
I grew up in a Midwest Jewish family where, for me, Judaism was as much about lifestyle and culture as the religious traditions. Although my family was not particularly pious, I still identify and feel my heritage very strongly. I even lived on a kibbutz in Israel as a teenager, picking apples and pears. It reinforced my feelings of belonging to a family where everyone helps each other, shares their lives, their stories, their backgrounds, and celebrates the bond no matter which country they come from or how they practice.
Doing Passover at the restaurant is something that actually brings me closer to my religion than anything I've ever done in my personal life. The environment that invites anyone to come and join in, even if they have no family in town, to have fun, laugh, belong, share good food -- that's the spirit of Judaism that I have lived by.
STREET is my second home... something I've worked hard to fill with warmth and a feeling of family. So even though it's in a restaurant, and even though I'm actually at work, I feel like I'm having a seder in my home. My parents would be so proud.
Calling all HuffPost superfans!
Sign up for membership to become a founding member and help shape HuffPost's next chapter