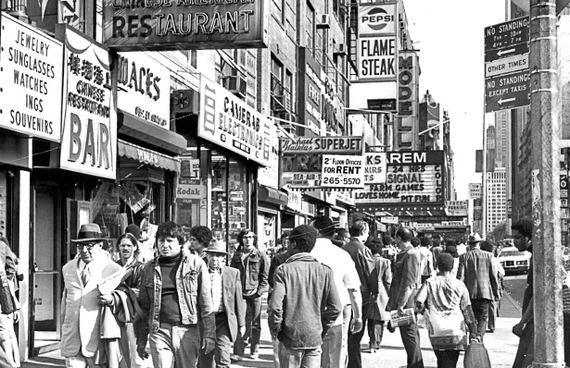 Restaurants, museums, parks, residential buildings. These are a few of the changing features of New York City causing the cultural landscape of the city to evolve.
New York in the 1970's was a mixture of cultures, classes, and people with diverging motives for moving there, all co-existing in one city. The industrial neighborhoods, like the Meatpacking and Garment Districts were providing jobs to the burgeoning working class and artists were looking for their big break. These are just a few of the topics discussed by pro-preservationist Jeremiah Moss and development aficionado Nikolai Fedak in an interview for New York Magazine on the evolution of the city and its future.
With landmarks being redeveloped for new use, such as the partial conversion of the Verizon Building at 140 West Street, and industrial neighborhoods repositioning themselves as fashion and "foodie" destinations, the landscape of the city is noticeably changing. While the city may no longer be identical to its past, the changes are encouraging a new "diverse and growing population," embracing New York's historical identity and purpose.
Despite a growing population, New York's neighborhoods are actually less dense than they were in the 1970's, according to a housing report by New York University's Furman Center. In 1970, a typical New York neighborhood had 57,900 people living per square mile and today, there are only 53,400 people in the same area.
With the extra space available and high numbers of residents moving to New York, there is a need for the areas to be developed. The researchers at the Furman Center claim the results support "the argument that New York can accommodate more housing development without becoming overcrowded," following neighborhood re-zoning.
As New York is already facing residential development boom, there is pressure on developers to both accommodate the growing population, but also to maintain the city's historical culture. The city continues to evolve, as it will always do as a result of new populations and contemporary necessities of life, and it is up to its builders to create the most valuable city for its past and future residents.
Popular in the Community