Jackie and I are facing an upheaval in the form of construction work in our apartment, and we spent one recent day filling box after box with books, kugelhopf molds and cancelled checks from the 1970s, which have ceased to be financial documents and are now mementos.
This was hungry and thirsty work, and we needed - deserved - a delicious dinner. But the task was also tiring, which meant that neither of us had much energy left for cooking once we'd yanked the cork out of a bottle of wine. There were leftovers kicking around the place, but we had earned a treat: Something exciting but with the merest handful of ingredients was what we needed.
There's always dried pasta and dried chiles in the house, and almost always a little chunk of shrink-wrapped guanciale - Italian-style hog jowl, cured but not smoked. And happily there was also a container of the most basic of tomato sauces: a can of good Italian peeled tomatoes simmered for half an hour with olive oil, a peeled half-clove of garlic, a few sage leaves and salt. That suggested pasta all'amatriciana, didn't it? Well, it did to me, anyway.
The most traditional recipes for this dish are very simple indeed. There's a Roman blogger (living in Dublin - go know) who offers what she calls a "Taliban" recipe in the sense that it is very, very dogmatic, with bold-face type and emoticons to warn you, for instance, that "onion is never used. NEVER USED!" but that "in the day, they used to use lard [instead of olive oil], and I assure you that ... this is something special!"
Such a strict approach normally annoys me, but traditional Italian dishes somehow lend themselves to this kind of diktat. In any event, this woman's instructions were just what I wanted to hear: slice guanciale; cook it with half a dried chili in a little lard or olive oil until it is lightly golden (she uses a ripe medical metaphor for the color: something to do with jaundice); add tomatoes; simmer for 10 minutes; meanwhile, cook pasta such as bucatini; add pasta to sauce with grated pecorino, but remove the dried chili; eat. She, of course, insists on certain quantities, but that's not what I needed from her: I just needed to hear that we could eat in a quarter of a hour and that neither Jackie nor I would have to slice an onion or even peel a clove of garlic.
I've already described how I made it, because I toed my Roman blogger's line on procedure. But I'll provide some quantities, which differ from hers owing to my own preferences and, more relevant, to the size of my piece of guanciale. (And the fact is that the brief list of ingredients and the final bold flavor are more important than a half ounce of pecorino here or there.) I used a little more than 4 ounces of guanciale, thinly sliced (she rightly says that if cut into matchsticks it can be tough) and gilded in a tablespoon of delicious lard in a skillet large enough to, eventually, hold the pasta, with a dried chili. The Talib in me warns you that if you have only tasteless supermarket lard in the house you should use olive oil (or nothing) instead. This yielded an awful lot of fat, and I spooned half of it out of the pan once the guanciale was done, later restoring a spoonful, mainly out of orneriness. Of my very simple chunky tomato sauce I used nearly a cup, and around 2-1/2 ounces of grated pecorino romano cheese. This was for two 100-gram portions of bucatini - I switch to metric measures here because I buy my dried pasta in kilogram bags, so 100-gram portions work out evenly. Anyway, 4 ounces is far too much.
I've made this dish scores of times, usually in a slightly more restauranty way, with a little garlic or a little onion or a little deglazing of white wine - or, heaven help me, with a grinding of black pepper. But tasting it in its pristine form I realized that these extras add nothing of substance to a dish that is pretty much perfect without the flourishes. Notable that it took a long day of work and the ensuing weariness to get me there. And I promise I'll make it the simple way from now on.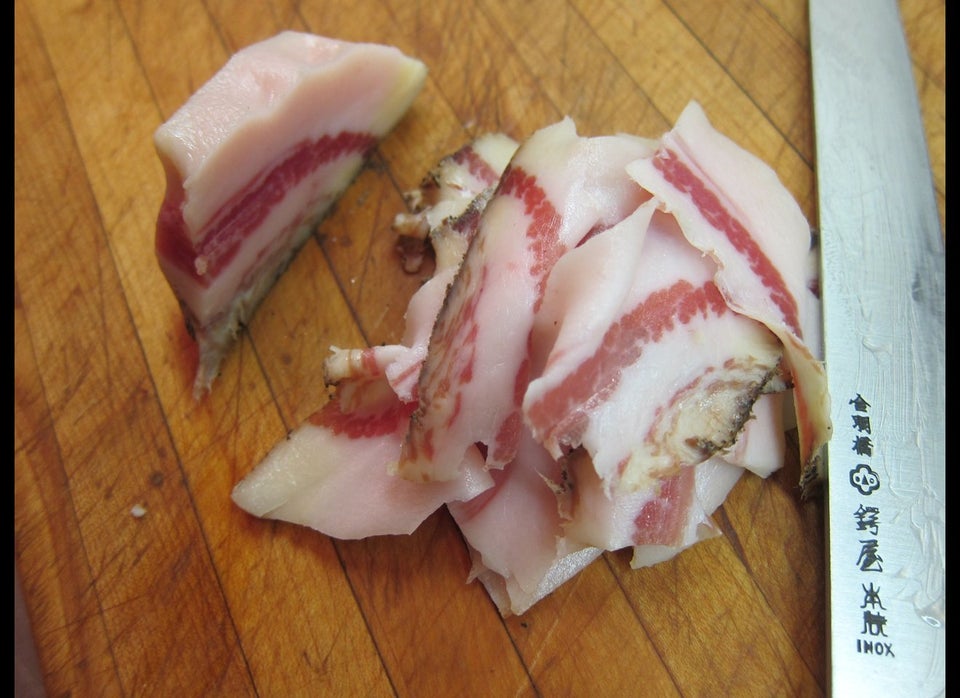 The Simplest, Best and Most Authentic Pasta All'Amatriciana
Related