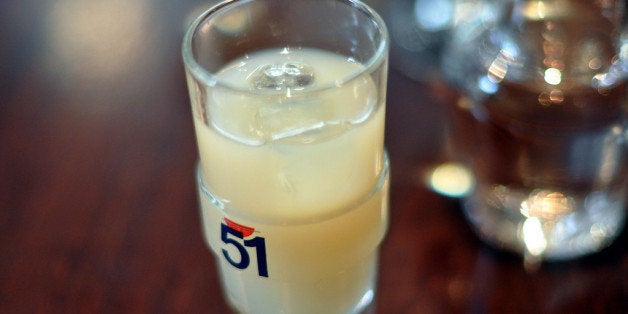 We know you don't need a lot of reasons to drink your way through winter. With so many great hot, boozy drinks to choose, from, why wouldn't you? But rather than wallow in self pity at how many of your toes are frost-bitten and how long it's been since you've been able to feel your nose as you nurse your hot toddy, we suggest giving up the winter cocktails for something a little more uplifting.
Wouldn't you like to be plucked out of the sub-zero temperatures that this year's winter is bringing and find yourself sitting in a sun-basked terrace in the south of France? That's a resounding yes, we're sure. And we'll tell you how to do just that, without having to get on the plane: by drinking a glass of pastis.
Pastis is THE aperitif of Provence. Walk through any town along the coast and you'll find this drink on all the cafe table tops. It pours out of the bottle as a dark-yellow liquid which lightens to an off-white color similar to the sand on the beaches of France. And it goes down your throat like a ray of sunshine. This anise-and-licorice-root-flavored liqueur has been around since the 1930s and has been a staple aperitif throughout France since -- and with reason, it's that good.
To enjoy Pastis, serve 2 ounces of the liqueur in a small Collins glass with a pitcher of mineral water on the side. Add water to the Pastis (at about a 1-to-5 ratio) and watch the magical color transformation. The reason you dilute Pastis is because it's 45 percent alcohol, so drinking it straight would be like sipping on a glass of gin. And the reason each person dilutes their own glass is because Pastis mixing is a personal thing, and Pastis drinkers respect individuality.
So put down your old fashioned and let Pastis jolt you out of your winter stupor with a bolt of flavor (because yes, it tastes just like you're chewing on a piece of black licorice) and a reminder of sunnier times.
If you aren't into licorice, check out these other great aperitifs.