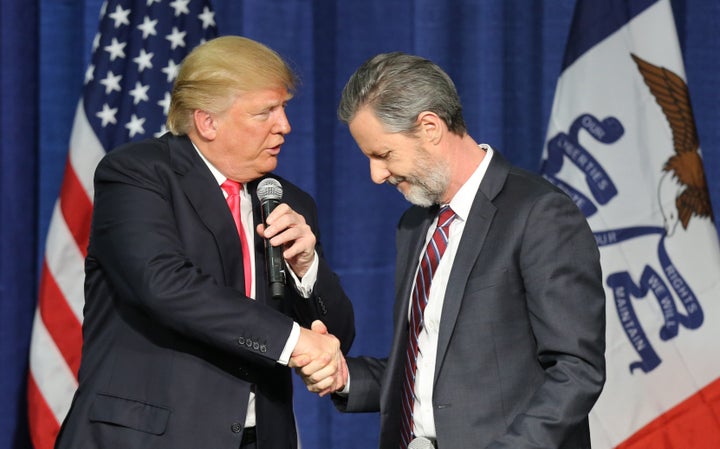 An evangelical pastor claimed he was kicked out of and permanently banned from Virginia's Liberty University after he criticized Jerry Falwell Jr., the Christian school's president, for aligning "with the darkest contours of Trumpism."
Jonathan Martin, an author and preacher from Tulsa, Oklahoma, said he was at the university Monday night attending a concert by musical group Johnnyswim, when campus police came to take him away.
Martin had expressed a desire on social media days before to organize a prayer session on Liberty's campus. On Monday, he said he was told by police that if he ever returned to the university's campus, he would face arrest.
"What does it mean for a college administration to be this afraid of free speech? What precisely do they fear?" Martin wrote on Instagram. "[Jerry Falwell] openly encourages his students to carry guns, but fears public prayer from Christians who openly embrace nonviolence."
"This confirms everything I've heard about the authoritarianism of Falwell, who, like the president for whom he serves as a full-time apologist, does not easily tolerate robust dissent," Martin wrote.
Martin did not immediately respond to a HuffPost request for an interview.
In a statement sent to HuffPost, Liberty University said that Martin was given a "trespass warning" Monday night for "public safety reasons."
The university argued that Martin, who is not a student, faculty member or employee, had not followed proper protocols for scheduling events on campus.
"Members of the Liberty University community are always welcome to engage in peaceful debate, intellectual inquiry and protest, but for public safety reasons, organized events by outside groups require advance notice and participating in the appropriate application process," the statement read.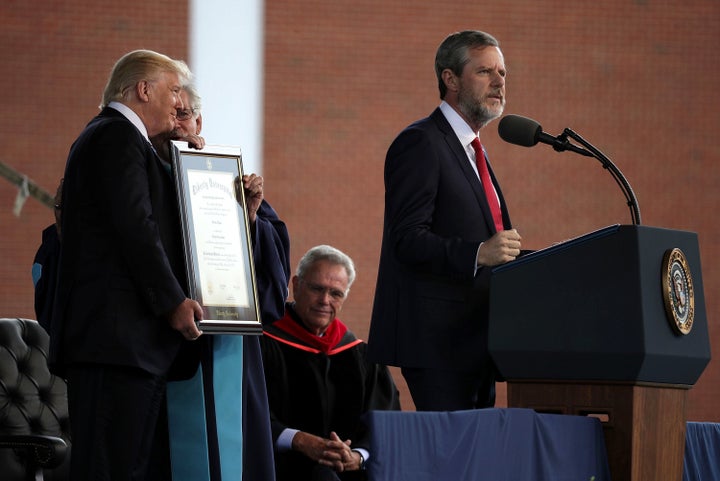 More recently, Falwell claimed he was "so proud" of Trump's former chief strategist, Steve Bannon, for taking on the Republican establishment at the White House. Bannon, executive chairman of the conservative Breitbart News, has claimed in the past that his website is a "platform for the alt-right."
Falwell's steady support of the president reflects the views of many white evangelicals, who as a group have been overwhelmingly supportive of the presidency. But there have been divisions within American evangelicalism over the president's goals and tactics, a reality that has played out at Liberty University, where both current students and alumni have expressed displeasure over Falwell's overt political ties.
On Oct. 27, Martin wrote on Twitter that he felt led to organize a "time of praise & peaceful protest at one of the most hostile environments for the gospel in the US: @LibertyU."
"I think it's an important site strategically: ground zero for the counterfeit faith that is sweeping many evangelical churches right now," he wrote.
"That's all, for now-praying for God's grace to guide us to know what faithful witness looks like in this unique season," he wrote.
Wahl said that Martin was receptive to students' requests to keep the event focused around prayer.
"We spoke, and he was very receptive to student input," Wahl wrote in an email. "It seems that he did not intend to lead any kind of a protest when he was here ― he wanted merely to pray with however many students wanted to join him in prayer for the school. The prayer was something that a number of students discussed with him. So it was in part his plan, and in part the plan of students."
Due to the "late hour of notice" about the 7 a.m. prayer, Liberty University said that the only effective way to prevent the unauthorized event from happening was to give Martin a trespass warning.
"The judgment was made that it was safer to stop the event before it started than to attempt to turn away an unknown number of people who traveled to Liberty's campus. Either option likely gives Mr. Martin's cause the publicity he apparently seeks," the statement read. "The University cannot be concerned with whether its actions provide additional oxygen to either side of a debate but rather must be concerned about safety and security of its campus."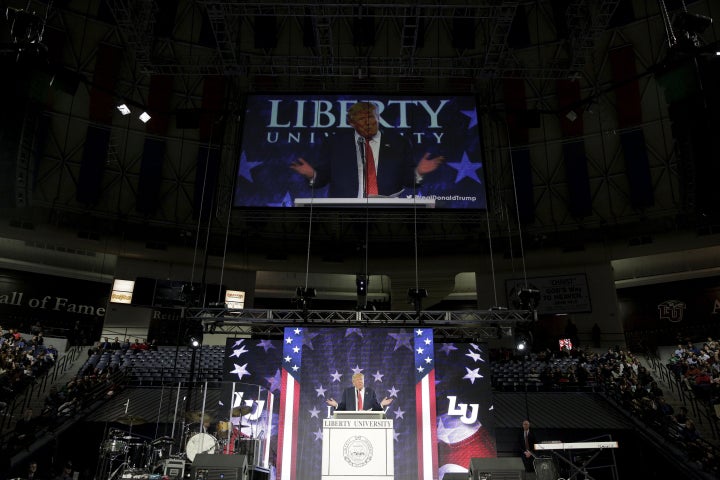 Martin claimed the response from the university was linked to his criticism of Falwell.
"This was evidently in response to my strong criticism of @JerryFallwellJr's alignment not only with the darkest contours of Trumpism, but expressly with Steve Bannon & the alt-right he represents," Martin wrote on Twitter. "I was openly considering some sort of future action oriented around prayer & repentance, but came this time only for the show & for...a time of prayer tomorrow morning to seek divine guidance as to what faithful, humble-but-clear Christian resistance might look like."
The prayer gathering proposed by Martin took place without him at 7 a.m. on Tuesday, Wahl told HuffPost. A few students also accepted Martin's invitation to pray with him off campus.
Wahl said that he believes Falwell's views don't reflect the values of most students at his university.
"Many have the perception that Liberty students are a bunch of mini Steve Bannons which could not be further from the truth. Maybe 1% of campus is like that," Wahl wrote.
"Christianity is centered on man's sinfulness and need for forgiveness. It has absolutely nothing to do with Nationalism, or any other creed that craven, dishonest men may want to attach to it."
Support HuffPost
The Stakes Have Never Been Higher
Before You Go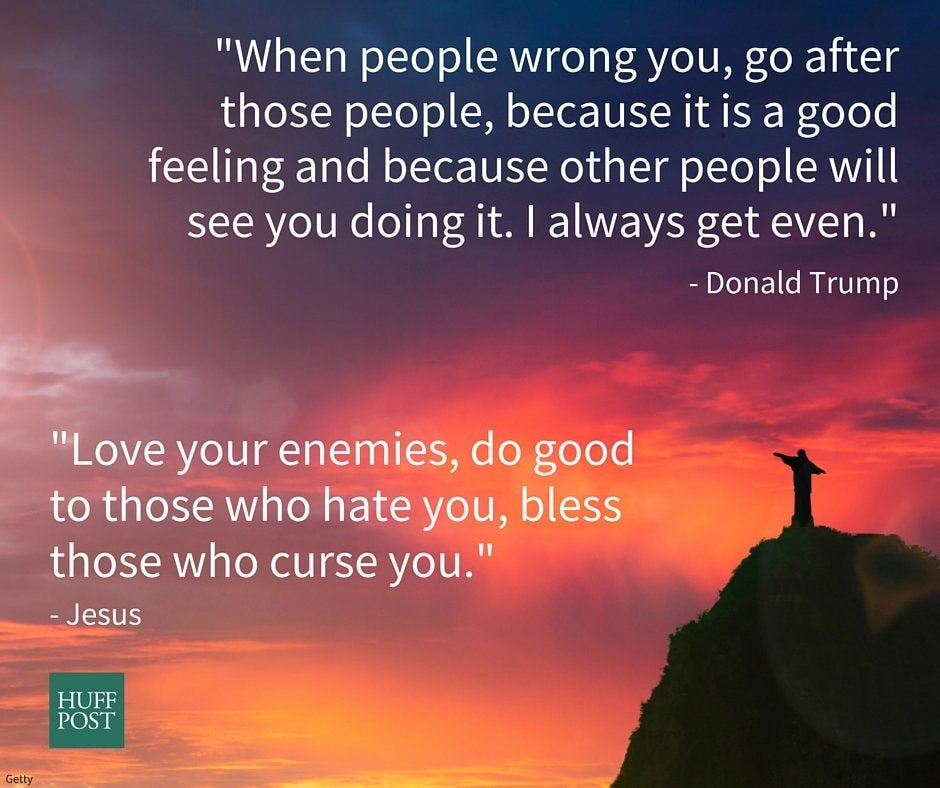 Donald Trump Vs. Jesus Christ
Popular in the Community