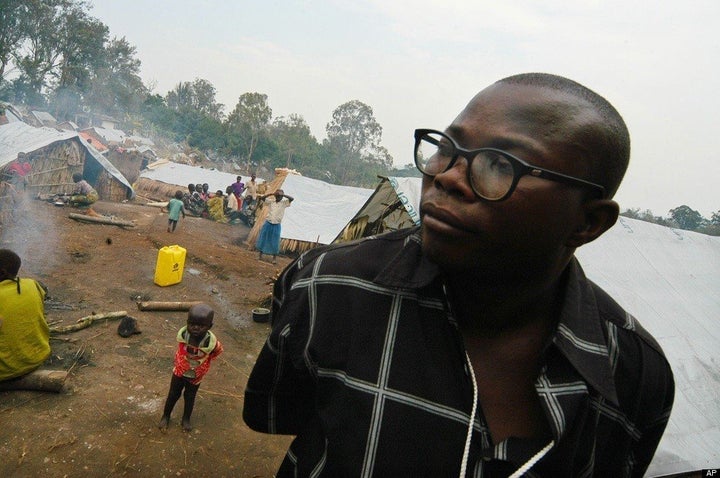 This past July, I got a call saying that a dear friend had suffered severe kidney failure and wasn't expected to live. Pastor Marrion P'Udongo has been called the "Oskar Schindler of Congo," a man who's helped save and nurture hundreds of lives in a country where war has claimed millions.
To the people of northeastern Congo, Pastor Marrion was both a saint and a hero, providing shelter to the hunted and hope to a community withered by violence. And to journalists like myself, he was an ace fixer and translator -- one of the few people to offer access into this complicated and often incredibly dangerous conflict. Over the past decade, the pastor has worked for just about every major news organization in the world. Chances are if you've read a story about Congo in recent years, or seen one on television, the pastor probably helped make it happen.
As colleagues and I scrambled to get the pastor to nearby Kampala, Uganda, for emergency dialysis, I thought about what an immense loss his death would be -- not to us reporters, but to the embattled country itself. For the pastor, working for journalists was just a way to finance his own war against the war, a battle he waged alone and most always at the risk of his own safety.
In early May 2003, his town of Bunia was invaded by ethnic Lendu militia looking to gain control over area gold mines. This sideshow of Congo's bigger war -- fought largely over the country's vast mineral resources -- pit the Lendu against their rival Hema, who owned many businesses in Bunia and whose militia controlled the mines. As gunboys -- many under the age of 16 -- marched through town, they pulled Hema residents from their homes and executed them in the streets. The Hema, close cousins of the Rwandan Tutsi who were targeted in the 1994 genocide, fled by the hundreds to a nearby United Nations base for refuge, only to be locked out. With no place to turn, many ran to the home of Pastor Marrion, whose own wife Juliette was a Hema. For days, as bodies of neighbors and relatives filled the streets, the pastor sheltered over 70 people in his small living room.
Gunboys finally discovered them one afternoon and kicked down the door. One by one, the group was stripped naked and marched into the road to be shot, along with the pastor, his wife, and their three children. But before any bullets were fired, one of the lieutenants recognized the pastor. He'd once been a member of his congregation.
"This pastor can't die," he argued with his commander. "He is too good a man to be killed like this." The commander ordered the gunboys away and looked at the pastor. "I should kill you and everyone here," he said. "But something is telling me no."
Miraculously, he then ordered the militia to escort the group to the UN headquarters, which had since opened its gates to the displaced. Once they were gone, the militia returned and looted everything in the pastor's house.
Years later, that same commander was arrested by the Congolese government and put in prison. The first visitor he received was the pastor himself.
"The reason I am alive is because of him," he said, breaking into one of his signature laughs that caused his eyes to disappear beneath his round cheeks. "My chief, we are living because of the grace of God!"
In the following years, as fighting caused millions to flee their homes and into the bush, only to be raped and pillaged by soldiers and militia, the pastor became a kind of lighthouse for the multitude of scattered souls. He ministered in the squalid displaced camps throughout northeastern Congo, where spirits were broken and sickness claimed dozens each day. He helped operate St. Kizito Orphanage, started by Catholic nuns in Bunia to house 135 children whose families were killed during the war. With pastor as chief fundraiser, the sisters now fend for themselves.
Often, the pastor would venture alone into the bush with a megaphone and sacks of food in search of child soldiers -- many orphaned themselves during the fighting and left as easy prey for militia. Despite routine death threats, he convinced many to disarm, and if possible, try and become children once again.
"We should not just preach that people who believe in God will go to Heaven," he once said. "We should know how to spare their lives when they're still on this earth."
The pastor is now languishing in a Kampala boarding house, weak and unable to travel, except for his weekly trips for dialysis. His doctors say that in order to live, he desperately needs a kidney transplant. The nearest place for the operation is Johannesburg, South Africa; we're also working with doctors in neighboring Rwanda who may be able to help. The price tag for such a procedure is about $76,000.
In your lifetime, there are few moments when you're given the opportunity to directly save another person's life. And as Schindler said, "Whoever saves one life saves the world entire." In a place like Congo, nothing rings more true. The country needs its hero now more than ever, not just to offer hope to the broken and scattered, but to make sure their stories get told. So I ask you now, who's with me? Who's going to help me save the guy?
For more information, e-mail me at: thepastormarrionfund@gmail.com
Related
Popular in the Community