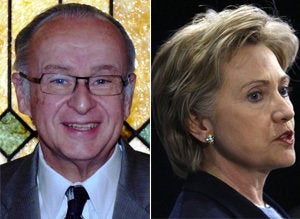 On Tuesday, Sen. Hillary Clinton re-stoked the flames of the controversy surrounding Sen. Barack Obama's former pastor, saying she would have long ago distanced herself from Rev. Jeremiah Wright if she had attended his church.
"He would not have been my pastor," Clinton told a gathering of the campaign press corps, repeating a line she used earlier in the day on a Pittsburgh radio program. "You don't choose your family, but you choose what church you want to attend."
But the pastor at the church that Clinton did once attend has recently expressed public support for Wright. He's even proclaimed it a "grave injustice" to make a judgment on Wright based off of "two or three sound bites," and criticized those who would "use a few of [Wright's] quotes to polarize."
Last week, Dean Snyder, the senior minister at the Foundry United Methodist Church in Washington D.C. -- which the Clintons famously attended while in the White House -- released a little noticed statement offering a sympathetic defense of the totality of Wright's work.
"The Reverend Jeremiah Wright is an outstanding church leader whom I have heard speak a number of times," Snyder wrote. "He has served for decades as a profound voice for justice and inclusion in our society. To evaluate his dynamic ministry on the basis of two or three sound bites does a grave injustice to Dr. Wright, the members of his congregation, and the African-American church which has been the spiritual refuge of a people that has suffered from discrimination, disadvantage, and violence. Dr. Wright, a member of an integrated denomination, has been an agent of racial reconciliation while proclaiming perceptions and truths uncomfortable for some white people to hear. Those of us who are white Americans would do well to listen carefully to Dr. Wright rather than to use a few of his quotes to polarize."
Snyder, it should be noted, was not the pastor at Foundry during the Clinton years. That was the previous minister, J. Philip Wogaman. Moreover, there seems to be confusion as to exactly what church Clinton now attends. Her campaign did not return requests for comment.
However, Foundry was cited on numerous occasions as a steady presence during the first couple's time in the White House. And in January 2001, Bill Clinton gave a farewell speech to the congregation, thanking the church for its work in the city as well as for its "courage" to welcome gay and lesbian Christians.
Snyder, according to the church's website, became senior minister in 2002. "Before his appointment to Foundry, he served as director of communications for the Baltimore-Washington Annual Conference of the United Methodist Church. His writings on theology, Biblical interpretation, and Christian mission have appeared in dozens of publications."
And in a recent New York Times article, even he acknowledged that some in his congregation were aghast at Wright's remarks.
"During staff meetings this week at his church," the Times reported, "Snyder said he noticed the rising awareness among some African-Americans of white Americans, he said, 'who don't understand the history of black people in this country and the role of the black church as a prophetic voice, and that in church you can say things that you couldn't in larger society.'"
Popular in the Community