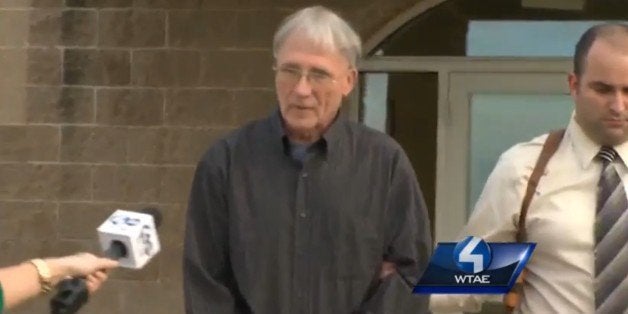 Ray Scott Teets, a Pennsylvania pastor arrested Thursday for indecent contact with a minor, had a prior conviction in a child sexual abuse case, which his seminary school was allegedly aware of and did nothing about, according to Maryland attorney Stephen A. Markey III.
Markey told The Huffington Post he personally notified a Baptist seminary school Teets attended in Kentucky during the 1990s that Teets had pleaded guilty to child sexual abuse in 1988. At the time of this story's publication, he had been unable to find his original files to identify the school.
The Huffington Post confirmed Monday that a man by the same name and address as Teets attended The Southern Baptist Theological Seminary and graduated in 1993, according to that school's alumni association and a spokesman.
In 1992, a Baltimore judge and jury ordered Teets to pay a 15-year-old female victim $500,000 in punitive damages. Markey said he represented the victim in the civil suit against Teets.
"After the verdict I learned he was in a Baptist school studying to be a minister," Markey said. "I filed a garnishment of any pre-paid tuition that he may have had. I attached to [the request] a copy of the complaint and the verdict that showed he had been convicted of the rape. I did that solely to let them know that they are teaching a rapist –- that they are going to make a rapist a minister. I never heard back from them."
Teets, 66, was arrested in Pennsylvania Thursday and charged with unlawful restraint, corruption of minors, unlawful contact with a minor and luring a child, among other charges.
According to the criminal complaint, Teets, a pastor at Fallen Timbers Community Church in Springhill Township, Pa., held secret meetings with an 11-year-old girl who used to attend his church. Earlier this month, Teets was allegedly captured on surveillance video at the girl's home, meeting with her behind a storage shed.
The girl's family notified police and they interviewed the child. She allegedly told them that Teets had reached down the front of her pants and touched her genitals. She also alleged that Teets told her he wanted to have sex with her.
According to WTAE.com, Teets admits meeting with the girl, but denies he inappropriately touched her.
Markey said it is the same song and dance that Teets, once a physical therapist for the Orioles and Colts, gave Maryland police in 1988. The charges are also eerily similar.
"The 15-year-old girl I represented was going to a private school that required students to do an internship," he said. "Teets was with a physical therapy group at the time and she had been his patient. She asked him during a therapy session if she could do her internship at his office, because that was a job area she thought she might have an interest in."
Markey said Teets agreed to let the girl shadow him. The day before she was to do so, he allegedly asked her to meet him at his house so she could go with him to consult a group of gymnasts.
"He gave her a little tour and then said, 'Hey, there is something going on with that knee of yours. I can see it is acting up again.' She sat down, raised her knee for him to look at, and he threw her down and raped her," Markey said.
The girl recounted the incident in court during the civil trial.
"He pushed me back on the bed and then he performed oral sex on me and then he raped me," she told the jury, according to a 1992 article in The Baltimore Sun. "I tried to push him off me [but] his grip got tighter."
The victim, who is not being identified by HuffPost because she was a minor at the time of the assault, did not immediately come forward. It was not until the following year, when a state attorney was giving a presentation on date rape, that the young woman mustered up the courage to tell her family what happened.
"The state police confirmed it occurred," Markey said. "[Teets] took a lie detector test, which he failed. The person who [conducted] the test confronted him about results, and Teets ultimately admitted there was penile penetration, but said it was consensual."
Teets ultimately pleaded guilty to child sexual abuse. He received a two-year suspended sentence and five years' probation. He was also ordered to perform 500 hours of community service.
The victim and her family were upset with the verdict, which ultimately influenced them to file the civil suit. Markey said his client, "wanted vindication."
During the civil suit, Teets was represented by attorney Roy F. Mason, who pointed the finger at the victim and asked that the case be thrown out.
"Mr. Teets did something that was morally wrong. No question," Mason said in court, according to an archived report in The Baltimore Sun. "The plaintiff, we contend, did something morally wrong, too. She came before you and didn't tell the truth about what happened."
The victim, the newspaper reported, denied she ever consented.
"The defense has tried to prove I had some capacity at age 15, a sophomore in high school, to consent to the acts of a 39-year-old, a monster," she said.
The victim also said she was frustrated that other former patients, who alleged Teets had also abused them, were not allowed to testify in court.
A jury deliberated for seven hours over two days before deciding the victim did not consent to sex with Teets.
The judge ordered the firm who employed Teets as physical therapist to pay $46,000 for medical expenses and pain and suffering. Teets was ordered to pay $500,000 in punitive damages to the victim.
Speaking with The Baltimore Sun after the verdict, the victim's father said, "We would have never been here if he would have gotten what he deserved in another courtroom."
Teets also spoke with the newspaper after the verdict, saying, "From my standpoint, this is just about money. The things that are important to me, my marriage and God, they can't take that away from me."
Markey said he is not surprised Teets is again in the news for alleged sex crimes.
"It doesn't surprise me," he said. "I am going to guess they are going to find another line of young victims. This guy is a piece of garbage."
Markey also said he blames the seminary school Teets attended for giving him access to the girl that has made the most recent allegations against Teets.
"Why would they let him in school? Why didn't they do more? It blows me away, but doesn't surprise me," he said. "I predicted it and said it was all but a guarantee, which is why I let the school know."
Markey said he hopes the family of the latest alleged victim, "goes after that school."
Teets is being held on a $250,000 bond. A woman answering the phone at his residence Friday had no comment on his arrest.
UPDATE: Tuesday, Nov. 26 -- James A. Smith Sr., chief spokesman for The Southern Baptist Theological Seminary, sent the following statement to The Huffington Post:

"Ray Scott Teets graduated from The Southern Baptist Theological Seminary in May 1993 with a Master of Divinity degree.

"We have no record of any contact from any source indicating any moral concern about this individual, prior to a media report published on Saturday, November 23, 2013.

"The Southern Baptist Theological Seminary does not require a criminal background check for admission, but does require all applicants to be affirmed by a recognized local congregation. The congregation must formally recommend the applicant as an individual in whom it has confidence of a call to Christian ministry and evidence of Christian character.

"The Southern Baptist Theological Seminary requires and expects all students and faculty to demonstrate moral character consistent with the Christian ministry."
Clarification: This post has been updated to include the name of the Baptist seminary school Teets attended in Kentucky, called The Southern Baptist Theological Seminary, and comment from a spokesman for the school. The spokesman and the school's alumni association confirmed a man by the same name and address as Teets attended and graduated in 1993.
A previous version of this post did not identify the specific institution Teets attended, and the Baptist Seminary of Kentucky confirmed that Teets had not attended. That school only began admitting students in 2002.
Calling all HuffPost superfans!
Sign up for membership to become a founding member and help shape HuffPost's next chapter
BEFORE YOU GO
PHOTO GALLERY
Priests And Sexual Abuse