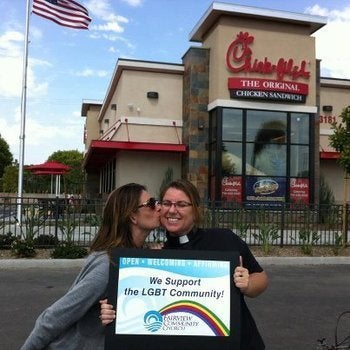 National Same-Sex Kiss Day at Chick-Fil-A elicited some major smooching around the country.
On Friday, same sex couples and allies showed their support for marriage equality at the fast food restaurant that has become embroiled in controversy after its President and COO, Dan Cathy, came out against gay marriage based, supposedly, on his Christian values:
"I think we are inviting God's judgment on our nation when we shake our fist at Him and say, 'We know better than you as to what constitutes a marriage,' and I pray God's mercy on our generation that has such a prideful, arrogant attitude to think that we have the audacity to try to redefine what marriage is about."

But Pastor Sarah Halverson disagrees.
On Friday, the Reverend showed her support for marriage equality in front of a local Chick-Fil-A wearing a clerical collar with a rainbow colored sign that read: We Support The LGBT Community.
The photo of her being kissed on the cheek by her secretary Cindy has been buzzing around the internet: "It was a powerful experience," Rev. Halverson told The Huffingtonpost, "I felt compelled to be there to stand as a compassionate loving voice for justice."
According to the OC Weekly, Rev. Haverson is the Pastor of Fairview Community Church, which affiliated with the American Baptists and the United Church of Christ. The church is welcoming and inclusive of all people, including LGBT identified. In response to Dan Cathy's remarks she told the OC Weekly:
"It's heartbreakingly sad to see people using the Bible and Christian rhetoric to make people feel like they don't belong in God's House."
See other photos from the Chick-Fil-A Kiss Day