Gone are the days when a banner advertising a revival service was enough to get Americans excited about going to church.
Pastor Lawrence Bishop II, of Solid Rock Church in Monroe, Ohio, was willing to be bruised and trampled by a bull named Bonecrusher in order to spread the gospel.
The "cowboy pastor" transformed his church into a bull ring on a recent Wednesday night, ABC reports. Bishop managed to hold on to the raging bull for about three seconds before being bucked to the ground. Then he climbed onto the stage and gave a sermon.
After this wild ride, at least 300 new believers responded to Bishop's altar call and were baptized that night.
Bishop's daredevil tactic got us thinking about a few other times the spirit moved religious leaders -- maybe a little too far -- to experiment with ways to spread the word.
In an effort to reach unchurched "rednecks," the Kentucky Baptist Convention hosted "Second Amendment Celebrations," during which churches served steak and gave away guns as door prizes. Chuck McAlister, a former pastor and traveling evangelist who presided over the events, called his strategy "affinity evangelism" because it used a common interest to attract potential converts and turn them into a community.
The tactic reportedly brought more than 1,500 men to make "professions of faith" in 2013.
"You have to know the hook that will attract people, and hunting is huge in Kentucky," McAlister told USA Today. "So we get in there and burp and scratch and talk about the right to bear arms and that stuff."
The raffle winners needed to pass a federal background check before they could claim their prizes at local gun shops.
There are hundreds of churches across the country that are incorporating MMA fights into their men's ministries, according to documentary filmmakers Bryan Storkel and Daniel Junge.
Some churches offer fight viewings, while others host bloody MMA battles on church property. Even though Jesus instructed his disciples to "turn the other cheek" rather than use violence, some pastors look to the mythical fighting prowess of biblical leaders like David and Samson as examples.
In a trailer for the Storkel and Junge's 2014 film, "Fight Church," one pastor explains, "We'll just be a couple of God-fearing men punching each other in the face."
In 1972, a small-town pastor named Herb Shreve bought his son a motorcycle in an attempt to bridge a growing gap between father and son. It worked. Two years later, Shreve attended his first motorcycle rally and saw thousands of people he felt needed to hear the gospel. So he formed the Christian Motorcyclists Association, which now as 1,200 chapters around the U.S.
The CMA has sparked similar motorcycle ministries. At Northeast Texas Bikers Church, for example, Pastor Dominic Crescimanno preaches at a pulpit shaped like a motorcycle and prays over his parishioners' bikes.
Pastor Ed Young, of North Texas' Fellowship Church, decided in 2012 to get a little creative with his Easter sermon. He used a real lion and lamb as props to demonstrate the message that Jesus is both the lamb of God and the lion of the tribe of Judah. The stunt certainly captured his congregation's attention, but Young was criticized by members of the local humane society.
During a sermon series on doing what others say is impossible, Pastor Troy Gramling, of Florida's Potential Church, teamed up with stuntman Mike Buse -- who's better known by stage name "Mr. Dizzy" -- for a legitimately explosive illustration. As Gramling's cheering congregation looked on, the pastor sat in a car that was blown up, and emerged unscathed.
Related
Before You Go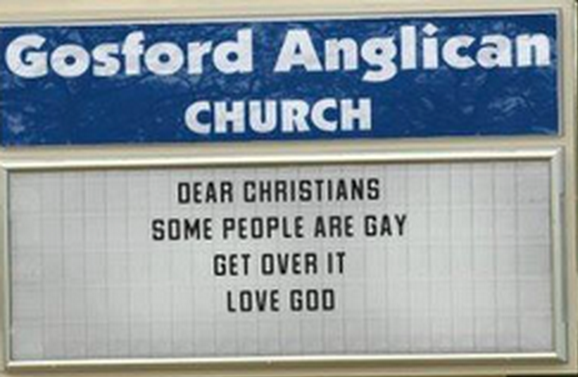 Controversial Church Signs
Popular in the Community