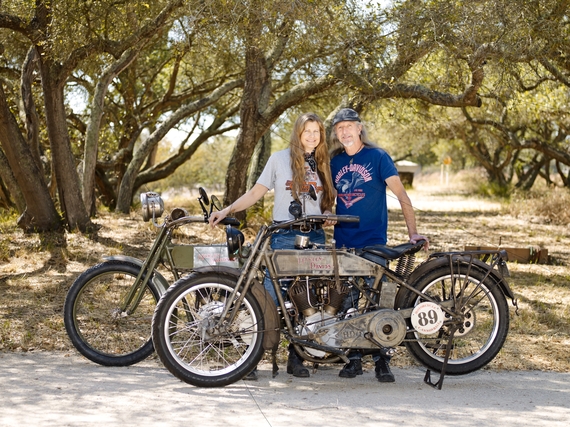 When legendary singer/songwriter (and Doobie Brothers co-founder) Pat Simmons and his wife, author and well-known motorcycle enthusiast, Cris, hit the road on antique motorcycles this week, they will be thinking about more than just scenic Americana landscapes as they rumble coast-to-coast.
It was three years ago this month when their son, Pat Jr., then in his early 20s, was diagnosed with testicular cancer. After surgery and several rounds of chemotherapy, he's doing wonderfully today. In fact, just a couple of weeks ago he became a father to a son; Pat and Chris's first grandchild.
They will be back home in Hawaii to see him soon, but first there's the matter of this coast-to-coast "Motorcycle Cannonball" rally starting September 10, which they're partaking in to help find a cure for cancer.
"My husband and I both love motorcycles and have been riding for most of our lives," Cris told me. "But we love our son more, and so to be riding for a good cause like is something we could not resist."
The organization they are riding for to raise funds Stand Up To Cancer, is described as "a groundbreaking initiative created to accelerate innovative cancer research that will get new therapies to patients quickly and save lives now."
The couple is no stranger to long distance motorcyle riding, or the Cannonball event in particular. This time out they are riding 1914 and 1915 vintage Harley-Davidson Motorcycles across the country starting from Atlantic City, NJ and winding up in Carlsbad, CA 16 days later. All of the motorcycles in the rally (which is limited to 100 riders) are at least 100 years old, and the Simmons are officially dedicating their ride to their son Patrick, his wife Darci and their new baby.
As to what it is like to ride an antique bike for this kind of distance, well, that's another story altogether. "We rode in the first Cannonball back in 2010," Pat shared. "I was used to older bikes, and Cris took to them pretty easily. She's just an amazing rider with far more experience than me when it comes to distance." As for maintencace issues with 100+ year-old bikes, Pat added, "They don't really have any suspension. Because they shake and rattle so much, you've got to be checking the nuts and bolts all the time. Along with draining the the crank case at every stop. Everything is mechanical obviously, no electronics. And I don't think 100 years ago anyone imagined these bikes being used like this. But they are incredible machines and the public may never have a chance to see anything like this collection so it's a nice time to be a part of some real American history, along with an important cause."
Cris, a much-respected expert who has written extensively about motorcycles as both an author and journalist, concurred. "It really is a unique opportunity not just for us, but for people that want to take part and support the rally. The hotel parking lots become like little mechanical bays where we are all helping each other and people can visit and hang out. The camaraderie is wonderful; there's nothing like it." Cris wrote a book, "The American Motorcylce Girls, 1900 to1950," and I wondered if it helped her relate to project like this. "Yes," she laughed. "I definitely now kind of feel like one of them. Their pioneer spirit is alive on a ride like this. It's going to be great; 3304 miles. And we really look forward to seeing people as well as helping to raise money for a great cause."
You can follow the event at www.motorcyclecannonball.com, and make plans to see it all, based on their daily schedule of stops and events.
The ride will no doubt be an inspirational adventure for Pat and Cris Simmons, traversing some of this country's most majestic plains, open country, deserts and mountains. But no doubt the Simmons' might be trying to stay on schedule just a bit harder this time out. The call of a great cause and the open road is one thing. But the call of a new-born grandchild is something else entirely, and no doubt he'll one day, thanks to his grandparents, better understand the magic of music, motorcycles and hitting the road to help make people better.
Calling all HuffPost superfans!
Sign up for membership to become a founding member and help shape HuffPost's next chapter