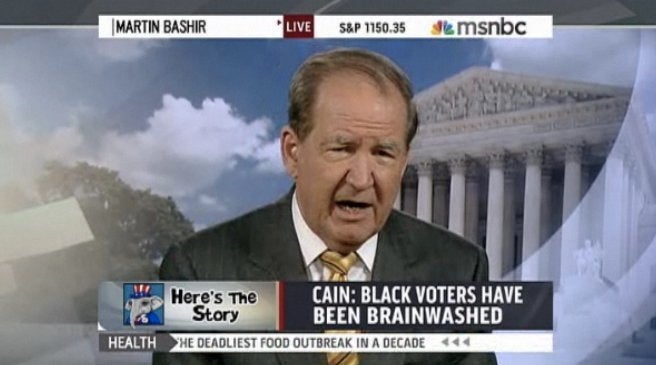 The president of MSNBC criticized Pat Buchanan — the network's controversial pundit who has been missing from the air for months — during interviews on Saturday and said it is not certain that Buchanan will remain a paid contributor to the network.
Buchanan has been absent from MSNBC since late October, just after his latest book was released. The book, "Suicide of a Superpower," contained typically incendiary musings on race and immigration, and Buchanan even appeared on an openly "pro-white" radio show to promote it.
It's not altogether certain what made "Suicide" so different from Buchanan's other work. After all, he has been a lightning rod around issues of race and religion for decades. However, there was also a public call for MSNBC to fire or punish him from African American, Jewish and gay rights groups. Hundreds of thousands of people also signed a petition calling for Buchanan's removal.
MSNBC had not commented on Buchanan's absence until president Phil Griffin spoke to reporters from Deadline and the New York Times during the annual Television Critics' Association tour in California on Saturday.
"The issue has become the nature of some of the statements in the book," Griffin said. "I don't think the ideas that [Buchanan] put forth [in the book] are appropriate for the national dialogue, much less on MSNBC." He said he and Buchanan were going to meet to discuss the latter's future on the network, but that he has not yet made up his mind.
Popular in the Community