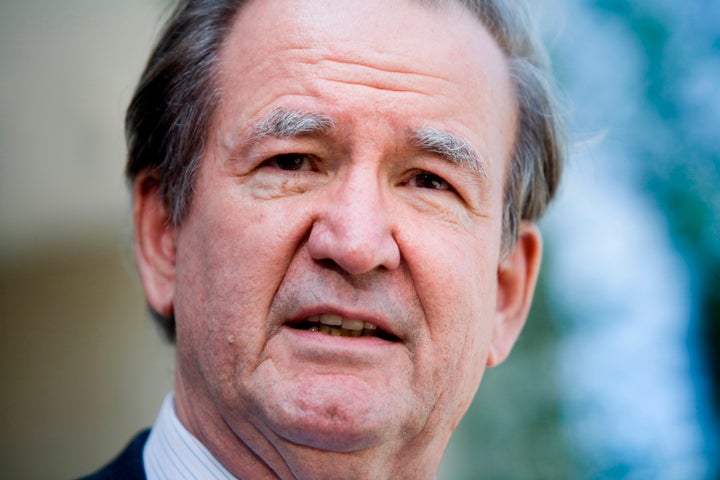 But one network on which Buchanan hasn't talked up the book is the one that actually employs him, MSNBC. Buchanan, a former Republican presidential speechwriter who later ran for the White House as a fiery populist candidate, hasn't appeared on MSNBC since Oct. 22, a few days after his book hit the shelves. The book, however, wasn't discussed. [See Update]
Yet Buchanan has still managed to spark another race-based controversy that's embroiling the network.
Buchanan argues in "Suicide of a Superpower" that "ethnonationalism" is tearing the United States apart and that the "European and Christian core of our country is shrinking." In his dire introduction, he warns that the "nation is disintegrating, ethnically, culturally, morally, politically." And he strikes the same themes during his TV and radio appearances promoting the book.

ColorOfChange.org, a civil rights organization that earlier targeted Beck's Fox News advertisers after he called President Barack Obama a "racist," urged its members on Oct. 25 to sign a petition pushing MSNBC to drop Buchanan. ColorOfChange took issue with Buchanan -- whose book includes a chapter titled "The End of White America" -- appearing on "The Political Cesspool," a "pro-white" radio program, the previous weekend.
The Anti-Defamation League, which has criticized Buchanan in the past for appearing on a show boasting white nationalist views, also took him to task for his latest appearance along with his book's subject matter.
"Buchanan has shown himself, time and again, to be a racist and an anti-Semite," ADL National Director Abraham Foxman said in a statement. "It is especially disturbing that he continues to be given a platform to espouse his views at a mainstream network like MSNBC, where he is presented as a knowledgeable and respected analyst. Buchanan continues to show his true colors by espousing hateful, bigoted statements in his new book." In a letter, Foxman urged MSNBC President Phil Griffin to take away Buchanan's platform on the network.
"Well, this is -- Abe Foxman runs the Anti-Defamation League," Buchanan said. "And I think he's called me even worst names than he's calling this radio station. So I really don't credit -- I think there's an awful lot of smearing being done by the Anti-Defamation League, frankly, over the years of individuals who simply disagree maybe with a U.S. policy towards Israel and a lot of name calling."
Buchanan added that he's been on 100 radio shows and questioned whether he needs to "get the list from Abe Foxman" in advance. He said that James Edwards, host of "The Political Cesspool," was "very interested in the race issue," while noting that he "wouldn't be on a program if somebody started calling racial or ethnic names."
MSNBC hasn't responded to the concerns raised by ColorOfChange or the ADL, according to both organizations.
Rashad Robinson, ColorOfChange's executive director, who has blogged on The Huffington Post, said in a statement that "MSNBC's motto is 'lean forward,' but their silence in the face of Pat Buchanan's bigoted ideology is incredibly backwards."
"While Buchanan hasn't appeared on the network since our campaign started, MSNBC has to do more than hide him away and hope we will forget about his years of advancing extreme and dangerous opinions," Robinson continued. "If MSNBC wants to be seen as a trusted mainstream source of news and commentary, it needs to end its silence and fire Pat Buchanan."
MSNBC declined to comment for this article. However, an MSNBC executive said that the network is taking the concerns seriously, while contending there had been a conscious decision -- predating any outside criticism -- not to have Buchanan on air promoting the book. The issue at hand, the executive said, was the views expressed in the book rather than any policy against promoting books written by on-air talent. Although Buchanan made one appearance since the book was published, it was not discussed on air.
Indeed, MSNBC recently hosted glitzy book parties for "Hardball" host Chris Matthews at the Gramercy Park Hotel in New York City and at the Hay Adams Hotel in Washington, D.C. And Matthews has discussed his new book on John F. Kennedy on his own show and others on the network.
So presumably, Buchanan's book -- as opposed to others written by MSNBC stars -- simply doesn't mesh with the network's stable of liberal opinion.
Host Rachel Maddow, for one, sparred with Buchanan over race issues following the 2009 nomination of Supreme Court Justice Sonia Sotomayor, telling the conservative pundit that he's "living in the 1950s."
More recently, Buchanan drew fire in August for describing President Obama to host Al Sharpton as "your boy" -- a comment he said wasn't intended as a slur, but instead referred to Sharpton being in Obama's corner. The following month, Buchanan echoed comments by Republican presidential candidate Herman Cain about black voters being "brainwashed," when he told host Martin Bashir that they have "bought a lot of liberal propaganda on the liberal plantation, and I think he's right."
Buchanan has long served as a Republican counterweight during on-air political debates at MSNBC, which over the past year has added more Republicans to the mix, including former Republican National Committee chief Michael Steele and 2008 McCain campaign manager Steve Schmidt. While both Steele and Schmidt defend Republican ideals and size up the 2012 race, neither is likely to offer gloomy warnings about the breakdown of Western civilization. Buchanan, who did not respond to a request for comment, recently joked about his views straying far from those of others at the network.

While discussing Buchanan's new book on GBTV, Beck suggested that Buchanan could be completely open on his show. "It's OK, I know you work at MSNBC. I know the lion's cage you have to go into," Beck said, grabbing Buchanan's hand and mock consoling him. "You don't have to even mention you were here. It's OK."
"What you don't understand is that I'm like a Jesuit missionary to the Iroquois over there," Buchanan said, chuckling. "No, that's my home network, and I enjoy working over there."
Beck broke out again in laughter. "I believed him," he said. "I believed him."
UPDATE: This piece incorrectly stated that Buchanan had not been on MSNBC since Oct. 15. That's because a TV Eyes search did not turn up any results for Buchanan after Oct. 15. In fact, he appeared on MSNBC last on Oct. 22. The book was not discussed.
View a slideshow below of the media appearances Buchanan has made while out promoting his book.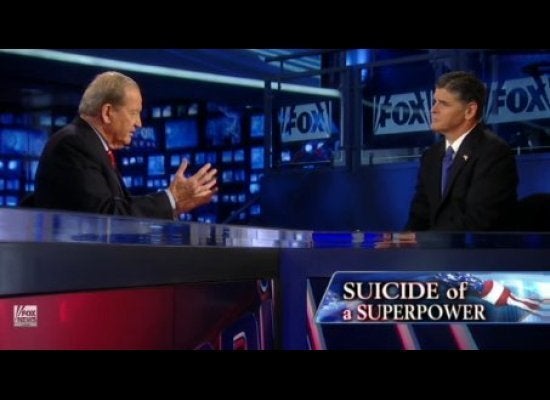 Support HuffPost
The Stakes Have Never Been Higher
Related
Popular in the Community