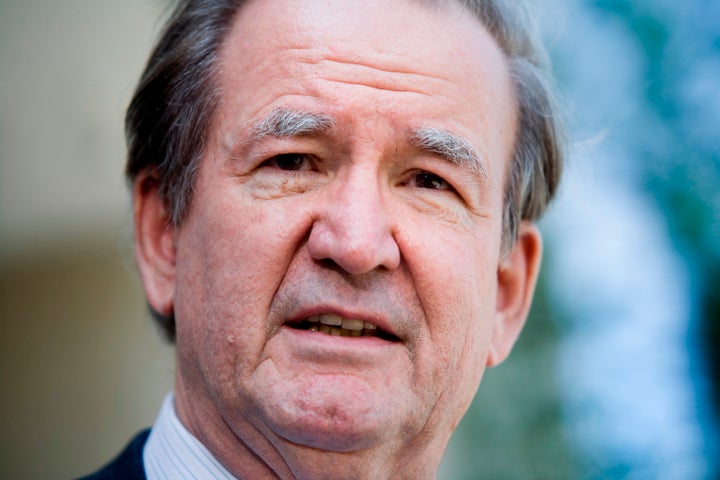 Pat Buchanan's continued absence from MSNBC is once again gaining notice.
Back in November, HuffPost's Michael Calderone reported on Buchanan's disappearance from the network in the wake of yet another controversial book. At the time, the commentator —usually a frequent MSNBC presence— had been missing from the channel since Oct. 22, though he was popping up on many other outlets to promote the book. At the time, an MSNBC executive told HuffPost that the network had made a conscious decision not to have Buchanan hawk his work on air.
During the book tour, Buchanan drew heavy criticism for appearing on "The Political Cesspool," a radio show some have denounced as white supremacist and which openly calls itself "pro-white."
Since then, though, Buchanan has not appeared once on MSNBC — meaning that he has been off the air for over two months. The absence has been notable, and on Friday, the Inside Cable News blog wondered aloud what was going on:
It would not be unreasonable for one to conclude based on this that Pat's book may still be keeping him off MSNBC's air. Will it be permanent? That's the $64,000 question. The fact that he's been off MSNBC during GOP primary season is a big deal.
Buchanan was always a somewhat unorthodox presence on MSNBC, especially given his hyper-controversial history. It is possible that the network decided there was too much of a downside to having him on the air going forward. Whatever the reason for Buchanan's absence, MSNBC isn't talking: the network refused to comment to both Inside Cable News and to The Huffington Post. Buchanan also did not immediately respond to a request for comment.
Related
Popular in the Community