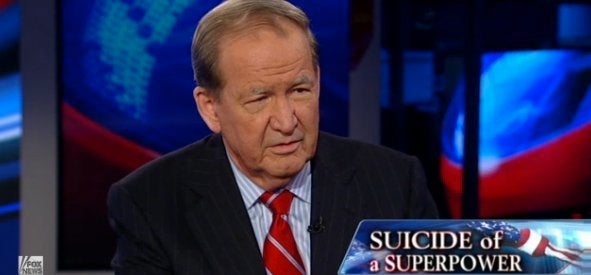 Pat Buchanan made a series of charged remarks about the racial makeup of the U.S. during an appearance on Sean Hannity's Monday show.
Buchanan was talking about his new book, "Suicide Of A Superpower." One of the chapters is entitled "The End Of White America." Hannity said that Buchanan labels white Americans as an "endangered species" in the book. He asked Buchanan to respond to what was sure to be a controversy about the chapter, since Buchanan is never anything less than a lightning rod for his racial views.
"Are you against minorities?" Hannity asked. "Not at all," Buchanan said. He said that the chapter was merely an attempt to examine what he thought would happen when whites no longer formed a majority of the American population.
"America is going to look very much like California right now," Buchanan said, going on to paint a very gloomy picture of the state (bankruptcy, a "black-brown war among the underclass," and so on), and claiming that, in Los Angeles, "half the people there don't speak English in their own homes."
Buchanan said that the people of color in California "are not bad or evil people," but that they are bankrupting the state. He concluded, "What happens when all of America is like that, when every American city is like LA? ...What California is today, America is in 2041 if we don't change course."
Buchanan then went on to discuss the voting patterns of various racial groups in the U.S. Noting that African Americans and Latinos vote overwhelmingly for Democrats, he predicted that the Republicans faced a dire future thanks to the current demographic trends. Buchanan seemed to think this was not a very good thing.
Buchanan, of course, is no stranger to controversy. Most recently, he drew fire for saying that African Americans were living on a "liberal plantation."