Sen. Patrick Leahy (D-Vt.) said Wednesday that emails being withheld by Senate Republicans show that Supreme Court nominee Brett Kavanaugh may have lied under oath during his prior confirmation hearings in 2004 and 2006.
The Democrat claimed that six emails from Kavanaugh's time in the George W. Bush White House may contradict testimony Kavanaugh gave when being confirmed for his federal judgeships. But according to Leahy, Senate Judiciary Committee Chairman Chuck Grassley (R-Iowa) has labeled the emails as "committee confidential," meaning they can't be released to the public.
"There is simply no reason they can't be made public," Leahy said during confirmation hearings Wednesday.
Leahy's assertion shined a bright light on the fact that committee Republicans are rushing the judge's nomination through without disclosing a huge number of documents related to his work in the White House counsel's office under Bush.
Grassley only requested between 10 and 15 percent of the documents from Kavanaugh's time in Bush administration, and only 7 percent ― 457,000 documents ― have been provided to the committee. Of the documents that have been turned over, Grassley is refusing to publicly release 189,000. The committee asked for no records from Kavanaugh's time as White House staff secretary.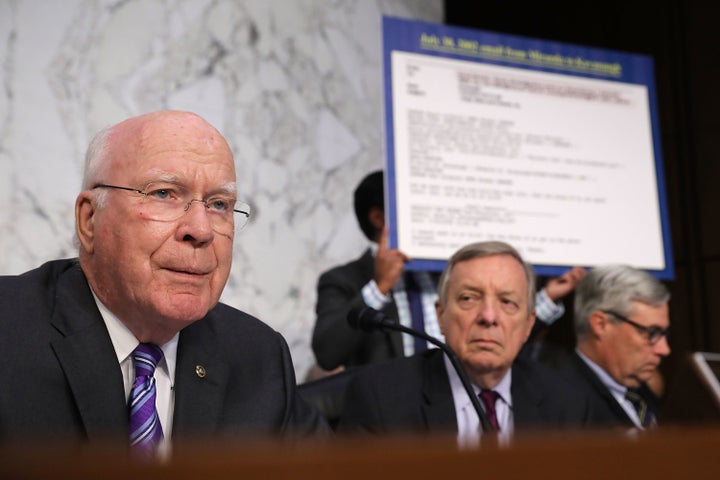 The six emails in question related to a scandal from 2002 and 2003 in which a Republican Judiciary Committee staffer named Manny Miranda stole emails from the committee's Democrats that included strategy memos about how they would question Bush's judicial nominees.
Leahy alleged that Kavanaugh, in his role preparing those judicial nominees for their confirmation hearings, knew he had received these stolen emails from Miranda detailing the Democrats' strategy on the nomination of Priscilla Owen to the U.S. Court of Appeals for the Fifth Circuit. Kavanaugh claimed in both his 2004 and 2006 confirmation hearings that if he did receive those documents, he "never knew or suspected" that they were stolen.
Under tough questioning by Leahy on Wednesday, Kavanaugh stated that what he said in 2004 and 2006 was "100 percent accurate." Leahy's line of questioning first focused on three emails that are available to the public, then later alluded to the six emails that are not.
Leahy brought up an email sent on July 19, 2002, from Miranda to Kavanaugh and another Bush official that, according to the senator, asked "why the Leahy people were looking into financial ties between two special interest groups and Priscilla Owen."
Kavanaugh proceeded to read the email and concluded, "I don't really have a specific recollection of any of this, senator, but it would have not have been unusual [to say] ... 'The Leahy people are looking into this and the Hatch people are looking into that.'"
Then Leahy asked about a January 2003 email.
"Mr. Miranda forwarded you a letter from me and other Judiciary Democrats to then-Majority Leader Tom Daschle," the senator said. "The letter was clearly a draft. It had typos and it wasn't signed. Somebody eventually leaked its existence to Fox News."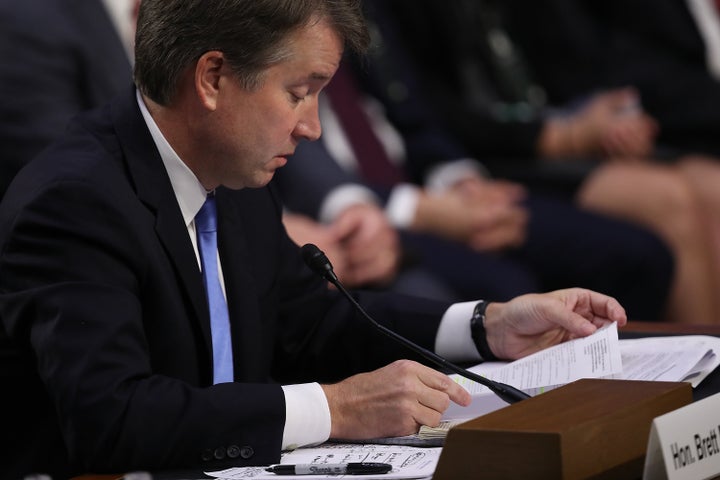 "Here's the thing," Leahy continued. "You had the full text of my email in your inbox before anything was said about it publicly. Did you find it at all unusual to receive a draft letter from Democratic senators to each other before any mention of it was made public?"
Kavanaugh pointed out that the only reply he made to this particular email was asking, "Who signed this?" According to Kavanaugh, this meant that he did not realize that the document was a draft and, therefore, remained oblivious that the document had been stolen.
Leahy then wanted to know if Miranda ever asked Kavanaugh to meet outside of the White House or the Capitol.
"I can't rule that out," Kavanaugh answered.
Leahy continued, "Did he ever hand you material separately from what would be emailed back and forth?"
"I don't know the answer to that, senator," Kavanaugh said before hemming and hawing about how sometimes the Democrats and Republicans on the committee worked together.
After his failure to remember whether he met with or received documents by hand from Miranda, Leahy asked Kavanaugh about another specific email. This was the first allusion to confidential emails the committee was not disclosing to the public.
"When you worked at the White House did anyone ever tell you they had a mole that provided them with secret info?" Leahy asked.
Kavanaugh said he didn't "recall the reference to a mole."
Leahy got more specific: "You never received an email from a Republican staff member with information claiming to come from spying?"
"I'm not going to rule anything out," Kavanaugh said, echoing previous denials. "If I did, I wouldn't have thought the literal meaning of that."
"Wouldn't that surprise you that you got an email saying that they got that from somebody spying?" Leahy pressed.
Kavanaugh, realizing that Leahy was talking about a document without revealing it, responded with his own question: "Well, is there such an email, senator?"
This led Leahy to turn to Grassley: "We'd have to ask the chairman what he has in the confidential material."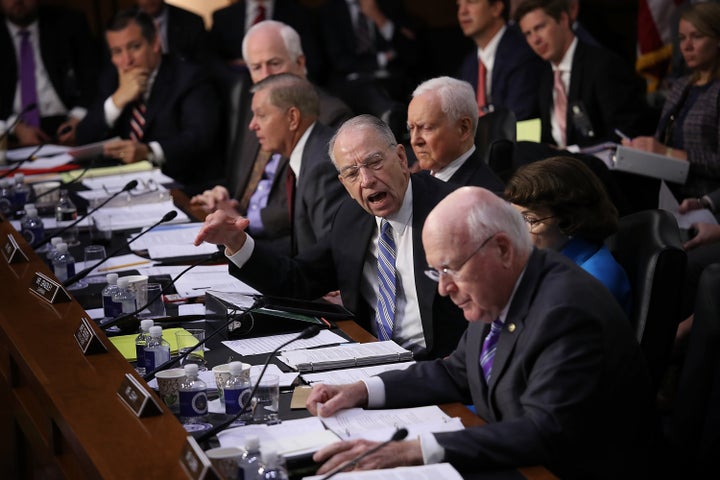 Grassley responded angrily that all of the documents that the committee has made public from Kavanaugh's time in the White House counsel's office are publicly available online. Leahy replied that the email he referenced is marked "committee confidential." Grassley, angrily yelling, declared that 80 percent of the emails the committee got from the archives are available to the public.
Leahy replied to both Kavanaugh and Grassley: "I'm concerned because there is evidence that Mr. Miranda provided you with materials that were stolen from me. And that would contradict your prior testimony. It's also clear from public emails ... that you had reason to believe that materials were obtained inappropriately at the time."
"Mr. Chairman, there are at least six documents that you consider committee confidential that are directly related to this, including three documents that are already public," Leahy added. "These other six contain no personal information. No presidential-act-restricted material. There is simply no reason they won't be made public."
Grassley said that he would produce the documents Leahy referenced: "He's going to get what he wants. And I think there's five of them."
Popular in the Community