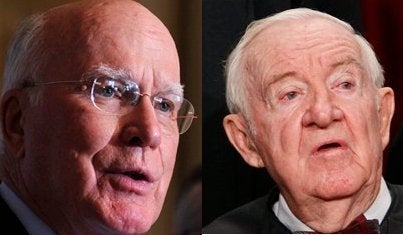 This January Senate Judiciary Chairman Patrick Leahy (D-VT) held a weighty conversation on the judicial landscape with Supreme Court Justice John Paul Stevens, a man who he had come to know well over the past 35 years.
Over the course of the discussion, which took place in the Justice's chambers, Stevens left the clear impression that he would retire from the bench within the year, according to sources with knowledge of what was said. It was serious enough that the Vermont Democrat felt compelled to ask the justice for permission to inform the president of the matter -- permission that was granted.
"I won't go into what the conversation was specifically about," Leahy told the Huffington Post in an interview on Tuesday. "But I did feel the conversation I had with him was important enough to bring it up with the president."
Since then, Leahy said, the White House has "done a great deal of work. They had already begun work and after my conversation with the president they sped it up."
The meeting between Leahy and Stevens marked the launching point of a delicate and sure-to-be contentious process that the Obama administration and Democrats in Congress face to fill a Supreme Court seat. Stevens had given hints prior to then that his 34 years on the bench was coming to a close -- not least of which including hiring only one clerk for the term. But as recently as April 4, Stevens gave interviews with both The New York Times and The Washington Post, in which he suggested that he'd retire within a few years, but perhaps not immediately.
At the White House, preparatory work for a Supreme Court vacancy has been going on for some time. In some respects, it's never stopped. Within the White House Counsel's office there is a permanent judicial nominations team tasked with staying on top of federal judiciary openings (including the Supreme Court) year-around. The administration, meanwhile, retains copious files on potential nominees, in addition to the vetting work it did on those considered for the last high court opening. After Leahy relayed what Stevens had told him, the administration ramped up the intensity of their analysis of potential candidates.
The advanced notice has helped the administration. When Justice Stevens announced his retirement last week, the president already had a short list of fewer than ten potential nominees. On the other side of Pennsylvania Avenue, Leahy is working to make the confirmation process both crisp and smooth.
In his interview with the Huffington Post, the Vermont Democrat predicted that senators would raise a wide range of legal issues at the confirmation hearings, including questions of national security and the recently-decided Citizens United case, which granted corporations the right to spend unlimited funds on political campaigns.
"This is an extremely activist Court," Leahy said of the current bench. "They basically re-wrote the law so they could allow a company to pay men more than women for the same amount of work... they allowed corporations to come up with an interpretation of the law no one has ever had before... and now with Citizens United they are basically saying that if China thinks that someone is running for office so they could have tougher rules on toys coming from China they can set up an American subsidiary and spend millions to defeat that person. It flies in face of precedent from Teddy Roosevelt on through."
For Leahy, the goals of the nomination hearings are two-fold, he said: to use the platform to shine a spotlight on some of the recent decisions of the Court and to get the president's nominee confirmed. The Vermont Democrat's foremost task is to make sure that confirmation session doesn't get too contentious.
Much of that, however, depends on who is nominated. As expected, Republicans are already issuing warnings that a bitter battle could ensue should a non-mainstream candidate be selected.
"If he chooses a mainstream judicial nominee I suspect it will go much easier," Sen. John Cornyn (R-Tex.) told a group of reporters on Tuesday. "If he decides to pick a fight by picking somebody who is an ideologue then there will be fireworks... it will give you all a lot to write about."

Asked about comments like these, Leahy said he lamented the partisanship that had gripped Supreme Court confirmation hearings. Discussing a separate conversation he had with Stevens, he reflected on the fact that only three current members of the Senate were around when President Ford nominated the now-retiring justice to the Court. Those senators were Leahy, Sen. Robert Byrd (D-W.V.) and Daniel Inouye (D-HI). Back then, Leahy said, the average confirmation time period was 2.5 weeks. "Can you imagine that happening today?" he asked.
"In two to three weeks every Senator is going to know whatever they need to know about [Obama's next] nominee," he added. "And if some want to score political points by delaying and delaying that is one thing. But I don't think it is good of the country or the court. I think it lessens the credibility of the court."

Popular in the Community